Ready for Trollstock this Saturday?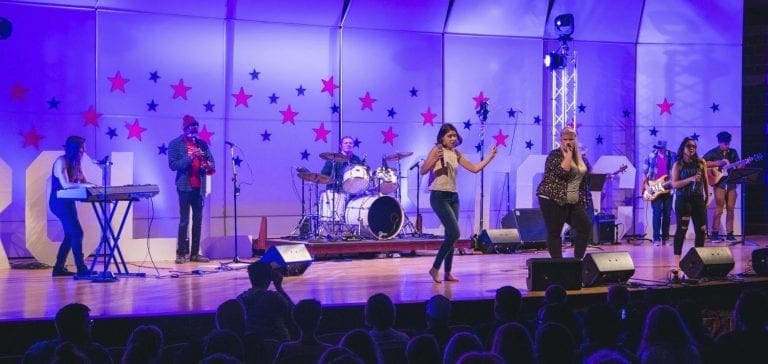 –By Alexis Knake '19
How Trollstock officially got started is still a mystery to us all. Of course, there are random stories passed down, various myths…
But how did Trollstock really get started?
It has been said that long ago, Trinity held an entertainment show known as "Woodstock," which is where we get the name Trollstock now.
Things looked a lot different at Woodstock than they do now. It was held in the lawn behind Tibstra, and anyone could come up and perform, like an open mic style.
What we do know, is that Trollstock is definitely something you do NOT want to miss. Each year, the Student Activities Chair Head gets the opportunity to take Trollstock into his or her own hands and create a spectacular show.
And this year, may be looking at something even GREATER. Yes, you heard that right. This year at Trollstock, leader Breanna Eissen has some exciting things hiding in her back pocket. A theme you can look forward to seeing is one that resembles that movie loved by many, The Greatest Showman.
This year's Trollstock theme? Glamorous Circus.
And what comes with going to a circus? Yes, Popcorn!! Garrets popcorn will be provided for every person attending. If Garretts isn't enough incentive to get out of your dorm room, maybe seeing your highly talented classmates will! So, what else can you expect to see this year?
Well, you can expect to see fewer acts than previous years. According to Eissen, the focus is more towards the actual show itself, so the number of acts will be condensed into the most unique, exciting, and talented entertainment.
Another unique factor added to this year's Trollstock is the addition of an opening and closing number that includes every one of the acts of Trollstock and Trinity's own Gospel Choir.
"I hope that this year's production will feel very theatrical, and that it leaves the audience feeling inspired and joyful," said Eissen.
With all that and more, we hope to see the biggest crowd yet at this year's Trollstock.
Come out and support your fellow Trolls as they conquer the stage and show you what they are made of. Because whether it's Woodstock or Trollstock, or however this tradition got started, it has brought so many different kinds of people together to share laughs over creative acts and entertainment.
It really will be one of the greatest shows!
The 22nd Annual Trollstock will take place on Nov. 3 in Ozinga Chapel Auditorium. Doors open at 7 pm. Admission is FREE. Can't make it to the event?   Live Stream  it and check out all the amazing acts!
---