Student Groups Collaborate to Serve at Feed My Starving Children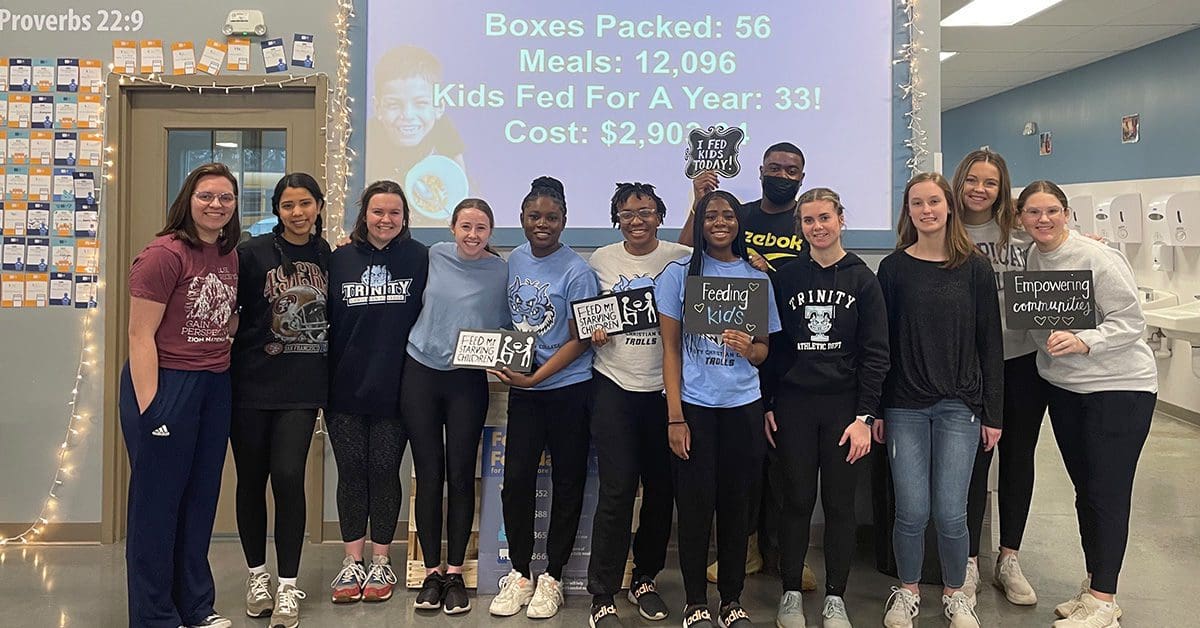 Students (left to right): Annika Biel, Gaby Hernandez, Mandi Csuka, Sarah Conners, Love Delfin, Bethany Moultrie, Lillian Rucker, Jaden Taylor, Megan Tamminga, Olivia Oostema, Regan Steenwyk, Sydney Vandenbos
-Sarah Conners '25
Student Activities (STAC), Serve, and Future Teacher Association partnered to take Trinity students to Feed My Starving Children on February 15th. The reason behind this collaboration was that each organization, STAC, Serve, and Future Teacher Association, wanted to create an event that would not only bring students together but also create a space for students to find compassion and value in the meaning of service. Placing this event on a Wednesday was meant to create an opportunity for students to try something new and meet new people.
For some of the students that went on this trip, it was their first time going to the Feed My Starving Children packing location, so we were all very excited to be going together. Once we arrived, we all eagerly walked through the door and were greeted by the wonderful staff. From there, we put on hairnets, listened to instructions and stories about Feed My Starving Children, and were sent off to start packing. We each were assigned different jobs while also needing to work together as a team to pack the bags. Each bag of food we made contained: vitamins, vegetables, soy, and rice. Students would hold the bags open, put the food into them, weigh them, and seal them.
One of the wonderful things about serving is the opportunity to meet new people. While we were at our stations, we were also paired with other individuals that had chosen to volunteer at Feed My Starving Children that day. It was wonderful to work with other individuals who were dedicated to serving.
A fun stand-out moment we had as a group was to celebrate by screaming with excitement when we completed a whole box filled with bags of food for children. We even set time limits to see how many boxes we could finish in ten minutes.
At the end of our session, we all took a moment to pray for the children who would be sent the food, for the volunteers at our session, and all the volunteers that have participated in serving with Feed My Starving Children. This was another key aspect of our experience because we must remember to serve and live among God's grace and love together.
Before we left, we had a debrief with the staff and all volunteers to see how many meals we packed during our time serving. To our surprise and excitement, we packed a total of 12,096 meals to feed thirty-three kids for a whole year!
On the ride back to Trinity, we spent some time reflecting on the service experience. Some common reflective words that students used were "heartwarming," "eye-opening," "love," and "gratefulness." This last part of the serving experience was important because we could take time and reflect on what the experience meant to us and what we had learned. In addition, each student expressed gratitude for their decision to participate in this event.
Overall, it was a wonderful event involving learning, teamwork, harmony, and community. I am so glad that STAC, Serve, and Future Teacher Association were able to collaborate and make this event possible.
To learn more about these student groups and more, click here.
---