Thompson's Artwork Exhibited in Barcelona Show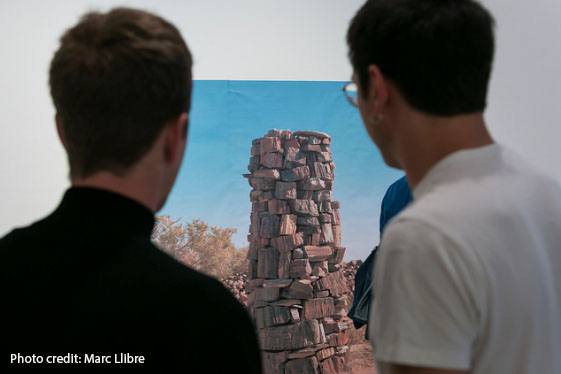 Art can transcend language and cast a magical spell. And the artwork by Ryan Thompson, professor of art and design and department chair, is doing both at an exhibition in Barcelona.
The show, "An Exhibition as a Spell," runs through July 14 at the Centre Civic Can Felipa. It includes pieces from Thompson's "Bad Luck, Hot Rocks" project. Thompson's project draws on photos of petrified "rocks" from the Petrified Forest in the Painted Desert of Northeast Arizona, and copies of some of the hundreds of "conscience letters" people have left over the years after returning the pieces of wood they had taken, a common practice but prohibited under national park regulations.
The exhibit is curated by Caterina Almirall. Along with Thompson, other featured artists include Alejandra Pombo, Batia Suter, Duncan Gibbs, Francisco Ruiz Abad, Ilana Halperin, the Muse, and Quim Packard.
According to the show's organizers, "Magic is a form of relationship between the natural world and the cultural world, and conjures up the attempt to control what is unknown. Words, stories, are the way of ordering the world, and therefore being able to inhabit, control, understand. From artistic practice, in a transversal way, we can understand mechanisms of knowledge and structure of the world. In the form of a story, the exhibition is presented as an opportunity to think about the relationship between language and things, as the language gives shape to the world and the world forms things as we know them. An exhibition is also a ritual of which we decide to participate.
Whether spoken aloud or not specified, words are used to access and guide magic power. Magic involves the use of language. Even beyond human and linguistic capabilities, we can think of other beings, creatures, objects, materials that develop their powers and their spells. In this exhibition, we want to think about the relationship with the environment in a constitutive way. Each object is tailor made for other things, and we also tailor these objects (dogs, volcanoes, mushrooms, words, rocks …)."
---