Trinity Athletics Named Champions of Character Five-Star Institution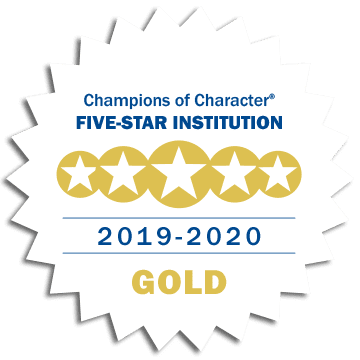 Trolls don't just believe in sportsmanship and integrity during athletic competitions–they live those values in every aspect of their lives. And Trinity is pleased to receive the Champions of Character Five-Star award from the National Association of Intercollegiate Athletics (NAIA).
The award was given to 181 NAIA colleges and universities across the country based on five core values: character training, conduct in competition, academic focus, character recognition and character promotion. Along with these categories, schools can also earn points through exceptional student-athlete GPA's and through receiving limited ejections during competition.
For the 2019-20 academic year, Trinity achieved Gold status, which means the Athletics Department scored 90 or more points out of 100 on the criteria listed above. After the final scores were calculated, the College ended with the highest possible score of 100 points. Trinity earned the Champions of Character Five-Star Institution award every year since the 2003-04 academic year. This is the third time the College acquired Gold status.
The Chicagoland Collegiate Athletic Conference (CCAC), which Trinity is a member institution, was also named a Five-Star Conference. This award is given to conferences if at least 60 percent of its members receive the institutional award. Trinity is one of three colleges in the conference to receive a perfect score, and one of nine schools to earn Gold, Silver or Bronze status.
To learn more about this award and see a full list of recipients, visit the NAIA website.
---