Trinity Business Major's Team Wins 1871 EY Diversity Challenge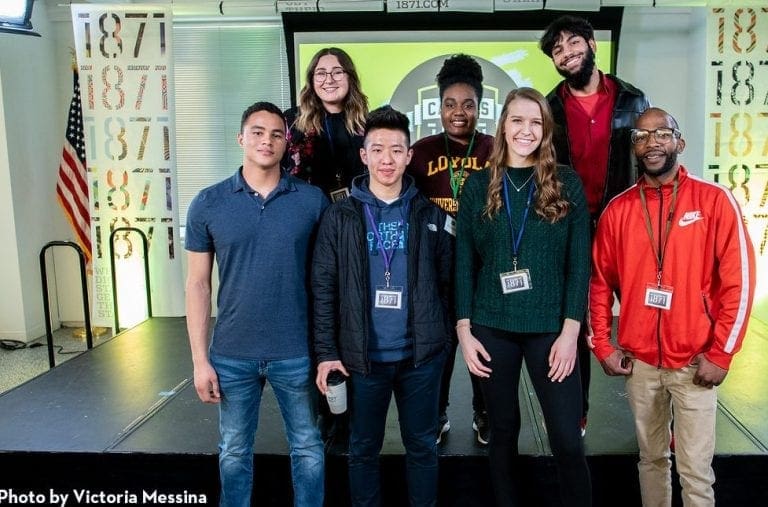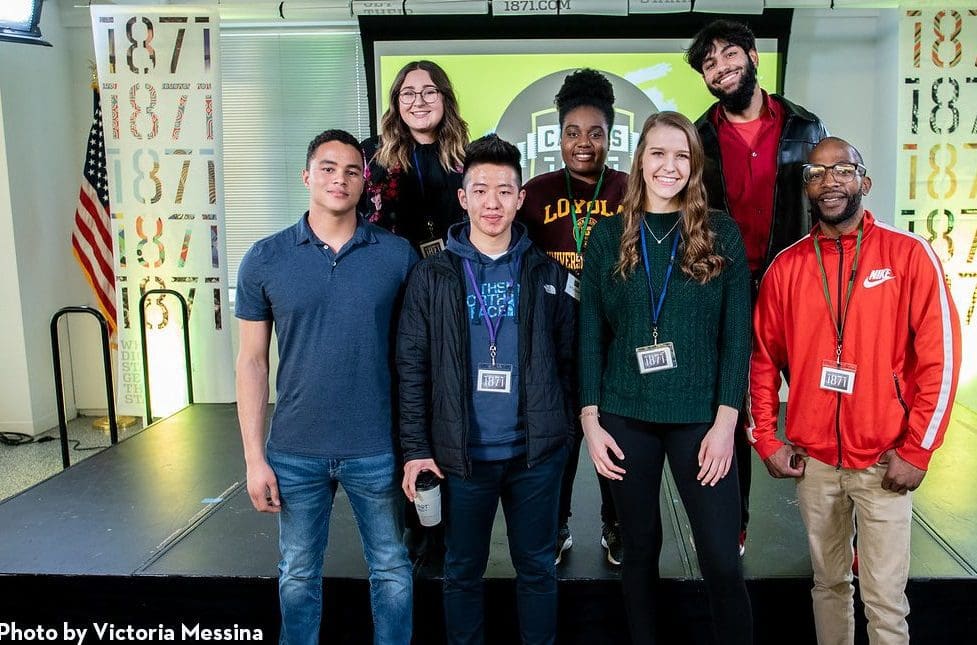 Trinity business major Mady Zula '21 was "surprised but excited" when she and her team of seven students from Chicago-area colleges took first place in Ernst & Young (EY)'s Diversity Challenge at 1871, Chicago's technology and entrepreneur center. Her team's winning concept centered on an app they designed to solve a real-world problem for global professional services firm EY: how to attract a more diverse job applicant base.
Zula and 12 other Trinity students took part in the event, held April 5 and 6 at 1871 headquarters in Chicago's historic Merchandise Mart.
The competition challenged more than 100 students from other Chicago area colleges and universities. Zula learned about the competition through Trinity's Fusion 59 entrepreneur club, and was attracted by the opportunity to network with other business majors. But she admits to being intimidated at first, because she was the only Trinity student on her team, which also included students from Loyola University, the Illinois Institute of Technology, DePaul University, and the University of Chicago.
But intimidation soon turned to excitement as she and her teammates began analyzing the issue at hand.
"EY is already doing a great job with diversity," she said. That made the project more challenging. Teams had 24 hours to brainstorm solutions and develop a presentation to the panel of EY judges in a "Shark Tank"-style concept pitch.
Zula's team built their solution around a prototype mobile application that was designed to encourage undergrad applicants age 18-25 from diverse backgrounds to apply for jobs at EY and prepare them for an interview. The proposal included a home page, logo, and a detailed rollout plan.
App users earn points at different stages of usage, from signup to taking quizzes and participating in workshops offered by EY. The app also enables student applicants to upload their resumes and communicate directly with EY staff through email. "We wanted the app to be similar to LinkedIn, but be specific to EY," Zula said.
During the judging process, she and her teammates discovered that all of the other teams had similar ideas of how EY could broaden applicant diversity, but none had developed an app and a solid plan to launch it. In fact, her team laid the groundwork so well that EY could actually launch the app in real life, she said.
Team collaboration was important, and members were grouped by major. Zula's team included tech, marketing, and management majors, so all disciplines were represented.
The days were long: The Saturday brainstorming session ran from 8 a.m. to 10 p.m., and the Sunday pitch session from 8 a.m. to 1 p.m. But although it was "extremely exhausting," it was also "a lot of fun," and the team format made it easy to form strong friendships with her fellow teammates.
Zula double majors with management and marketing, and events like the 1871 experience are helping her to learn what she's good at and what's fun for her. "It was an incredible weekend! I learned a lot and was able to connect with other students in Chicagoland," she said.
Along with Zula's team winning the overall title, Soraya Limon '20, a social work major, participated on a team that won its division.
The 1871 team was also impressed with what participating students brought to the table. "Our entire community cannot stop raving about their tremendous efforts, knowledge and eagerness to get involved with the tech and entrepreneurship communities here in Chicago," said Jessica Childress of 1871.
Trinity Students from a range of majors participated in the EY Diversity Challenge in April
Nolani Schnabel- Entrepreneurial Management
Emily Schmidt- Accountancy
Mady Zula-Marketing
Josh Olson-Marketing
Mike Melody-Biblical Studies
Pat Hogan-Marketing
Dan Reiling- Computer Science
Ariel Love-Psychology
Kailah Price-English
Alec Visser-Computer Science
Joseph Wagner- Computing
Kynasia Hughlett- Communication Arts
Soraya Limon-Social Work
---