Trinity Celebrates Commencement 2018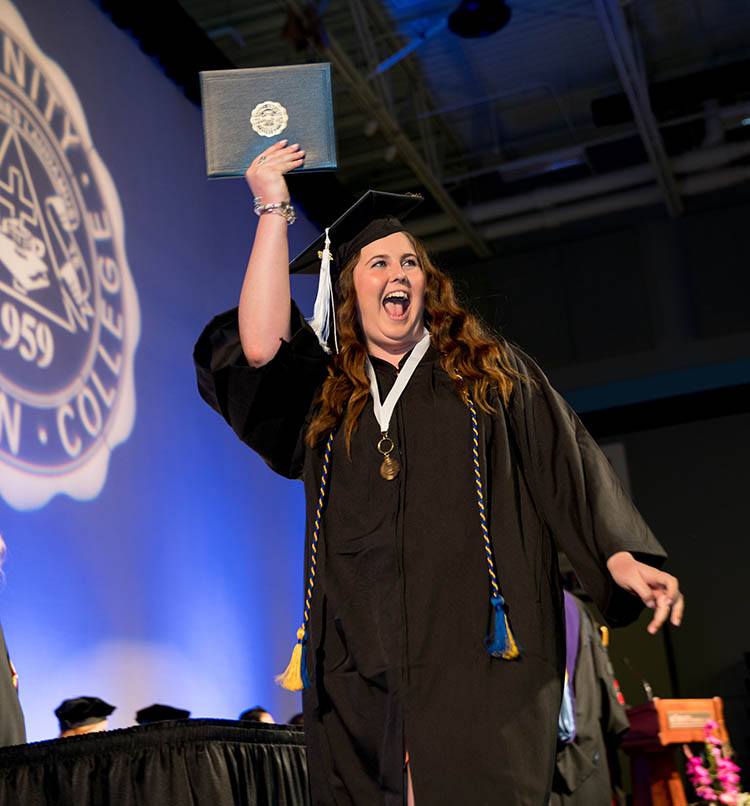 With excited hope for the future and fond looks back at their time here, Trinity 2018 graduates and family, friends, and faculty celebrated commencement on May 5.
"This graduating class represents a dream fulfilled," Shirley Stavinga, the daughter of College Founder Dr. George DeJong, told graduates. "You are God's children, and this gives you a unique opportunity. This is just what the founders prayed and planned for. You are their legacy," said Stavinga, whose father passed away on April 8 at the age of 100.
The graduates who received bachelor's and master's degrees and professional licensures are ready to make their impact for God, for good, and for the world in a variety of occupations and academic pursuits.
"Graduation and finishing up my last semester of college is definitely overwhelming, but in the best way," said Casey Huisenga, a business marketing major who has a full-time position with the University of Chicago after graduation. "I'm so grateful that I got to experience both academic and professional development, as well as personal and spiritual growth."
Sarah Tews, who received a Bachelor of Social Work degree, will be continuing her studies at graduate school at Aurora University. Chanel Odom-Jones, who majored in psychology, political science, and communication arts, is starting a job in Washington, D.C., working for a New Jersey senator. Zachary Austell, a marketing major, has a position with Enterprise Rent-a-Car. Caleb Jonkman, a business communication major, will remain a part of the Trinity community when he starts working  full-time in the Advancement Department. "I'm excited to use my gifts for the College," he said.
The graduation ceremony began with a welcome from Robert Buikema, chair of Trinity's Board of Trustees. Omar Sweiss, J.D., LL.M., assistant professor of business, gave the invocation and urged graduates to use their eyes, ears, and hearts.
Trinity's Gospel Choir, led by Director Nicole Saint-Victor, performed "Wave Medley" by Jeremy Simpson, as well as "You are My Strength" by William Murphy.
President Kurt D. Dykstra, J.D., spoke of DeJong's legacy and introduced Stavinga. Stavinga shared her memories of how the College was transformed from the Navajo Hills Golf and Country Club to Trinity Christian College and of her father's dedication and commitment.
"Our father was the last living founder of Trinity Christian College, and he was very personally interested in what happened at Trinity," she said. "In all the time since the first class arrived–almost 60 years ago–he offered his fervent prayers, and his support never wavered. He thanked God for the blessings that Trinity has received. He sang the praises of the many people working behind the scenes, the professors, the staff, our capable presidents, and the students who worked hard to learn and reflect God's love in their lives. This is what he cherished most."
Trinity's Provost Dr. Aaron J. Kuecker, Ph.D., then presented the Professor of the Year award to Dr. Clay Carlson, Ph.D., associate professor of biology. Kuecker spoke of Carlson's excellent and creative teaching, investment in undergraduate research, and his own research. "His Christian commitment and professional excellence pervade every corner of his work," Kuecker said.
Kuecker also presented an honorary bachelor's degree to Kenneth Boss ex '71, Trinity's director of planned giving, to a standing ovation from graduates and faculty.
Aaron Johnson '18 provided the benediction.
---