Trinity Hosts Inaugural Chicago Innovation Tournament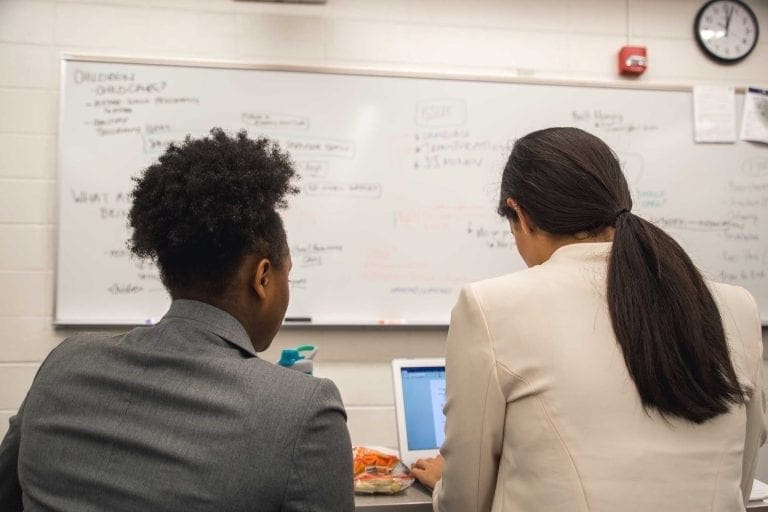 Providing business solutions to social problems—that was the goal of the first Chicago Innovation Tournament, which Trinity hosted on Oct. 7. And the goal was met and surpassed, according to Prof. John Wightkin, assistant professor of business and chair of Trinity's business department.
Seven teams from five different colleges competed in the Chicago Innovation Tournament, which addressed the issue of refugee resettlement in the United States.
"I was particularly excited to see how entrepreneurship can be used to make a difference in the world," he said. "Entrepreneurship is not only about starting a business. It's more about innovating, thinking creatively, experimenting, collaborating, problem solving, and presenting effectively. Using entrepreneurship as a way to look at the world, we can solve more than just business problems."
Two experts spoke on the refugee resettlement problem: Kenneth Elisapana, Executive Director & Founder South Sudan Voices of Hope, and Alison E. Bell, Senior Resettlement Manager of World Relief DuPage/Aurora. Then, student teams had three hours to arrive at a solution and develop and practice their presentation. After two rounds of pitches, winners were selected. The team from the University of Chicago placed first, a team from Trinity placed second, and a team from Roosevelt University took third.
Marketing major Komaria Carpenter '21 heard about the tournament in one of her business classes and decided it sounded like an interesting opportunity. She was partnered with other Trinity students, including  Eden Foreman '18, a communication arts major, Kailah Price '19, an English major, and Jose Silva '21, a music production major. "It was super fun, and it was great that not everyone was a business major," said Carpenter.
Price agreed that the interdisciplinary nature of their team was one reason the team came in second place. "We all brought different perspectives."
Silva encourages others to participate in next year's tournament. "It was a great growing experience, and it allows you to think outside your personal bubble."
---