Trinity Remembers the Life and Legacy of Martin Ozinga III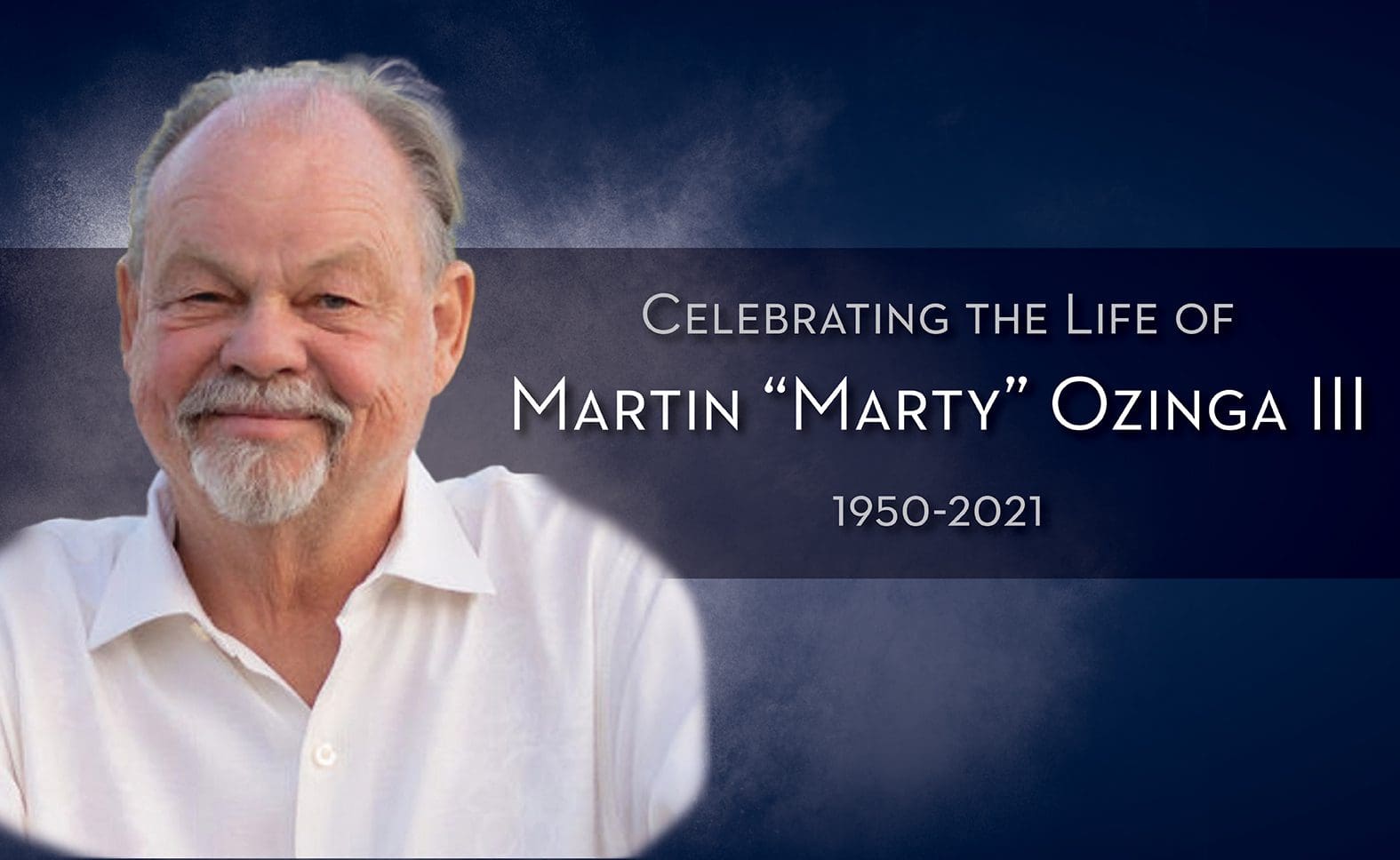 Trinity Christian College mourns the sudden and unexpected passing of Martin Ozinga III on Monday, April 26, even as it celebrates his good and faithful life. Ozinga was 71.
Ozinga served multiple terms on Trinity's Board of Trustees, and served as Chair of the Board from 2014 through 2015. In a message to campus on Monday afternoon announcing Ozinga's passing, President Kurt D. Dykstra highlighted Ozinga's longstanding, deep, and generational commitment to Trinity. "Marty continued the legacy of his father Martin Ozinga II, one of our founders, of great care and concern for Trinity Christian College. He was kind and generous to so many and surely to us as a place. The reminder of his faithfulness to Trinity can be seen in nearly every square inch of the campus – from buildings and hard surfaces, to support of programs, to support of employees, and, of course, to the provision of scholarship money for students."
It is not unusual to refer to the broader Ozinga family as Trinity's "First Family." As Dykstra noted, "We here at Trinity were a special recipient of Marty's time, talent, and treasure. That generosity started with his father, continued with him, and now is passed to the next generation of the Ozinga family – some of whom are our alumni and one of whom, Aaron '03, presently is a Trustee on the Board of Trustees."
Marty Ozinga III most recently served as the chairman of the Board at Ozinga, a fourth-generation family business known for its excellence, mission-mindedness, and innovation in the areas of concrete and logistics. Throughout Illinois, Indiana, Michigan, Wisconsin, and Florida, the company is instantly recognizable by its red and white striped concrete mixer trucks.
In an announcement of Ozinga's passing, the Company highlighted his significant impact on and leadership of the company. Ozinga began working for Ozinga at age 15 as a $1-per-hour laborer in the company's first yard in Evergreen Park, Ill. By 18, he was driving a ready-mix concrete truck for union wages while earning a degree in psychology. He became general manager in 1973 at age 23 and, in 1985, succeeded his father as president of Ozinga. Marty was married to his wife Ruth for 40 years until her passing in 2010. Ruth, too, was active at Trinity, participating as a member of Trinity's Women's Guild, designing banners for the College and, along with her husband, serving as co-chair of Trinity's 50th anniversary capital campaign. In 2006, Marty III and Ruth were honored with Trinity's Global Service Award.
Together, they raised their six sons, four of whom attended Trinity.
In 2012, Ozinga III handed over the operations of the family business to his six sons and their cousin Jeff, representing the fourth generation of Ozinga ownership.
According to Trinity's Associate Vice President for Advancement Dennis Harms '89, Ozinga's generosity has impacted generations of Trinity students. "Ozinga has long been known as one of the largest employers of Trinity business alumni. Marty not only believed in the College, he put it into practice by hiring Trinity alumni to work in many key areas of his company. When the business program started a business advisory committee, Marty was an active participant," he said.
Ozinga, with other members of his family, also supported several endowed and funded scholarships that have benefitted hundreds of Trinity students over the years. The company was also a regular sponsor and supporter of Trinity events, including the annual Trinity Athletic Club Golf Classic.
He was, as Dykstra noted, "as committed to Trinity as any person could be to a college."
Ozinga is survived by his wife, Melissa, his six sons, their wives, and twenty-nine grandchildren. He was a brother of the late Ken (Judy) Ozinga and Beverly Ozinga, brother-in-law of the late Theodore (Niki) Gombis and Dr. Leon (Kathryn) Gombis and a fond uncle of many nieces and nephews.
Ozinga's funeral will be held on Monday, May 3, at 11 a.m. at the Martin & Janet Ozinga Chapel on the campus of Trinity Christian College. COVID capacity limitations, social distancing, and masking protocols will be used to ensure the safety of those in attendance. The funeral service will be livestreamed. Colonial Chapel is handling the arrangements and both obituary and funeral details are available at its website.
---