Trinity Theatre Students Participate in Annual KCACTF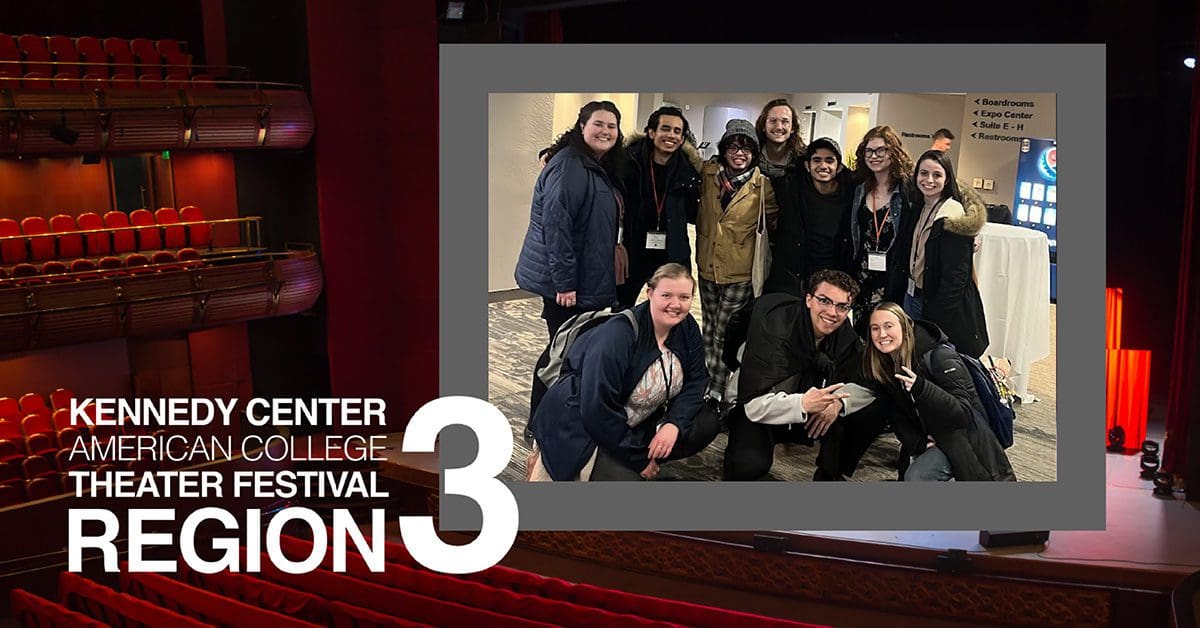 -Kate Meyrick '17
This January, Trinity Christian College Theatre students, faculty, and staff made their way to Michigan to participate in the Kennedy Center American College Theater Festival for Region 3. This annual festival and conference series (also known as KCACTF) was established in 1960 to exemplify excellent work at university theater programs across the nation through awards, presentations, workshops, competitions, and performances.
Trinity's Theatre program was well-represented at the conference. 7 Awards of Merit recognizing acting, production, and design were presented to Jared Peters, MJ Huizenga, Mikey Moore, Jr., Hailey Piorek, Mariel Martin, Morgan Meinders, and Ethan Santema for their excellent contributions to the production of By the Bog of Cats in Fall 2022.
During the Festival events, Hailey Piorek '23 presented her Unrealized Scenic Design and Stage Management Prompt Book as part of the Design Technology Management Competition. Mikey Moore, Jr. '24 also presented at this competition, focusing on his costume design for By the Bog of Cats. Miles Williams, Carlie Jenkins, Jacob Contreras, Christian Contreras, Abby Tillema, Adriana Klein, and MJ Huizenga all competed in the Irene Ryan Acting Scholarship Competition, with Adriana Klein advancing to the semi-finals. Miles Williams '23 was a first-time attendee at the KCACTF and plans to apply what he observed to his own performances this semester: "I was able to learn how important movements, gestures, and body language really impacts the character being portrayed."
Katie Oomkes '18 and Emma Schneider '19 accompanied students. Oomkes, Area Director for South and West Halls as well as the Technical Director and Theatre Coordinator at Trinity, noted that this is the first festival back in person since the COVID-19 pandemic in 2020. She and the students enjoyed being with other participants and creative artists. "There's always a lot of energy with theater people," she says, "so it was fun to be around a group of people who love the art form." Oomkes was also recognized by the Festival for her work in Scenic Design during the production of The Miraculous Journey of Edward Tulane (performed in the spring of 2022).
Schneider, Visiting Assistant Professor of Communications, expressed excitement at the opportunity this conference offers our students: "One of the benefits of it is you get to see such specific things, things that you're not going to be able to take a class for at Trinity… and you can take that experience back with you." She is particularly proud of those 7 Merit Awards given to our students, saying that "this is the most we have received" and "is a really great testament to the work our students did… it was beyond my expectations."
MJ Huizenga '24 highlighted some of the other workshops at the Festival that he found helpful, especially as he considers the Spring productions – which include a play that Huizenga wrote and will direct, called A Quiet Night in Suburbia. "I am beyond grateful for the Trinity community for giving me this opportunity," he said. "I see this production as a gift to the Trinity community." Huizenga hopes this play will inspire the audience to acknowledge areas of brokenness in their lives and start the process of healing and mending. Trinity Theatre plans to continue this initiative of producing a play written by a Trinity community member in future spring seasons.
Schneider finds great joy in watching students build a community based on trust, generosity, investment, and passion for the art form. "There is a place for everyone here," she says. "We can find ways for folks to be involved in any way they want to be involved… they work hard, and they see their fingerprints all over the production." Huizenga, reflecting on the unique composition of Trinity's program in comparison to bigger universities, said, "where we shine is our community… and our diversity. We are a program made up of students from all kinds of disciplines."
Williams, reflecting on what the Trinity Theatre community has meant to him this past year, said, "Everyone has welcomed me with open arms, which has helped me find out more of who God has created me to be in ways I didn't see before joining."
It is evident to me that the high quality of performance on display in our Trinity Theatre Program is because of the deep friendships and creative partnerships they have nurtured.
We hope you will join us in supporting their upcoming spring productions in 2023: The Fellowship Hall (Feb. 24 and 25; written and directed by Dr. John Sebestyen, Associate Professor of Communications), On a Quiet Night in Suburbia (Mar. 24 and 25; written and directed by MJ Huizenga), and the mainstage production of the comedy Delirium's Daughters (Apr. 21, 22, 28, and 29). Information and tickets can be found on the Box Office website.
---