Trinity Wednesdays from the Student's Perspective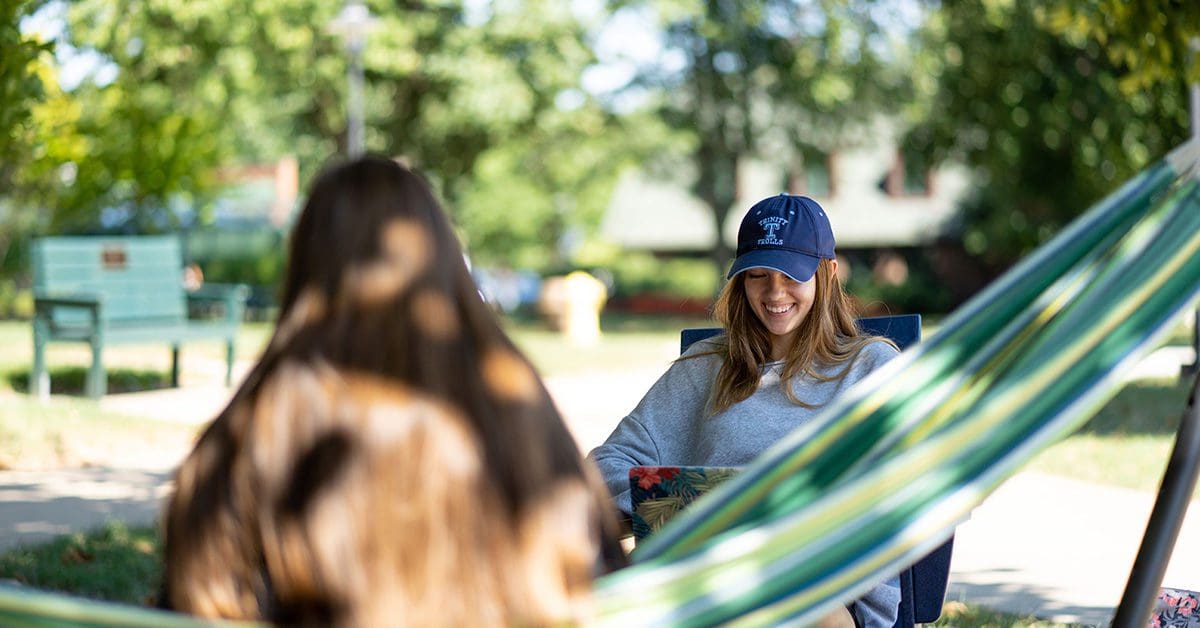 -Julia Oostema '23
This semester, Trinity re-imagined the traditional five-day week and shifted to a four-day class schedule. The goal was to provide students with the freedom and space to pursue their interests, catch up on homework, and take a deep breath. After about eight weeks of this new schedule, it seemed time to explore student perspectives and highlight a few examples of how students are using their Trinity Wednesdays thus far.
Biology student Andrew DeBlecourt ('25) spends his Wednesdays working at Parkview Orthopedics in Mokena, Illinois. Andrew's goal is to become a physical therapist, so working at Parkview is a great opportunity to gain experience and interact with patients before applying to graduate school. As a student-athlete on the track and cross-country teams, the new schedule is especially convenient because it makes juggling all these responsibilities more manageable. Overall, Andrew likes the new class schedule because "it eases stress on students and allows more flexibility and freedom."
Abby Tillema ('23) uses Wednesdays to catch up on schoolwork and engage her creative side. As a psychology major with minors in writing and theater, she has a wide variety of interests that allow her to have fun and be productive simultaneously. Abby is currently taking a sculpture class and preparing for her role in the mainstage theater production, so she spends much of her time working in the ArCC and memorizing lines on Wednesdays. Although the new schedule means that Abby is in class later on other days, she does enjoy having "a little break in the week to catch up and get [her] life together."
In addition to catching up on homework, Maggie Ortmeyer ('24) tries to prioritize rest and self-care on Wednesdays. As an English major, she has a fair amount of reading and writing to do, but in her spare time, she enjoys relaxing and spending time with friends: "Because all of us have busy schedules, it's hard to spend time with everyone throughout the week. Therefore, we usually plan some get-togethers on Wednesdays, such as going out to lunch, going for a walk, shopping, having a movie night, or cooking dinner together." If it's a particularly light week, Maggie might also use Wednesdays to call her family or watch TV.
Andrew, Abby, and Maggie are lovely examples of the wide variety of ways that students spend their days off, but they are not representative of the entire Trinity community. In addition to their responsibilities and commitments, staff and student leaders try to make Wednesdays more engaging and interactive for students by organizing community events. Every Wednesday, an email is sent out detailing events that students can participate in if they desire. Freshmen and transfer students, for example, are invited to the West Hall basement to enjoy pancakes, fellowship, and a designated study time after their morning foundations courses. Other options include a weekly book club, hammock rentals from SGA, multicultural music events, and local farmer's market trips.
Having free Wednesdays gives students the opportunity to spend their time in a way that makes sense for them. Whether that means preparing for the future, working on projects, or setting aside time to rest, these days are an essential and much-needed step toward greater student engagement and well-being.
To learn more about how Trinity has transformed the traditional week with Trinity Wednesdays click here.
---