Trolls Wrap Up Fall Sports Season with NAIA Appearances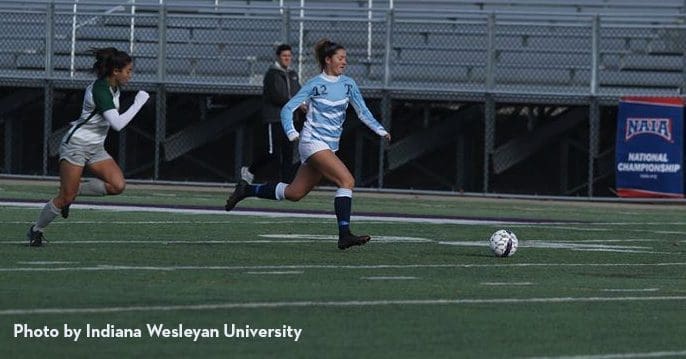 Women's volleyball, women's soccer, and men's cross country concluded their seasons over the weekend with competitions in the NAIA Nationals.
The Trinity women's volleyball team hosted the NAIA Opening Round on Saturday for the second consecutive year as they were paired with the Indiana University Kokomo Cougars. IU-Kokomo came out on top, beating Trinity in four sets.
In the first set, the Cougars won 25-18 . Trinity fought back in the second set, squeezing out a 25-22 win against the Cougars. The third set resulted in another win for IU-Kokomo as they took a late lead, winning 25-20 against the Trolls. And in the fourth and final set, the Cougars came back and took the lead from the Trolls to win in extra points with a score of 26-24.
This concluded the women's volleyball team's season. They finished with an overall record of 28-8 and a conference record of 17-1.
The Trinity women's soccer team also competed in a NAIA Opening Round match on Friday, hosted by the Indiana Wesleyan Wildcats. The first match was played between the Trolls and the Georgia Gwinnett College Grizzlies. Although Trinity kept possession for a great deal of the game, the Grizzlies ultimately scored in double overtime to defeat Trinity, 3-2.
The game concluded the 2019 season for the women's soccer team. They finished the season with an overall record of 17-3-1 and a conference record of 12-2.
Andrew Dobrescu of the men's cross country team competed in NAIA Nationals on Nov. 22 in Vancouver, Wash. On the 8K course, the sophomore finished in 250th out of 335 runners in the tournament. This is his first appearance at NAIA Nationals. This was the last meet for the team this season. He will compete in the spring with the track and field team.
---