Trustees Share Update on Diversity & Inclusion Work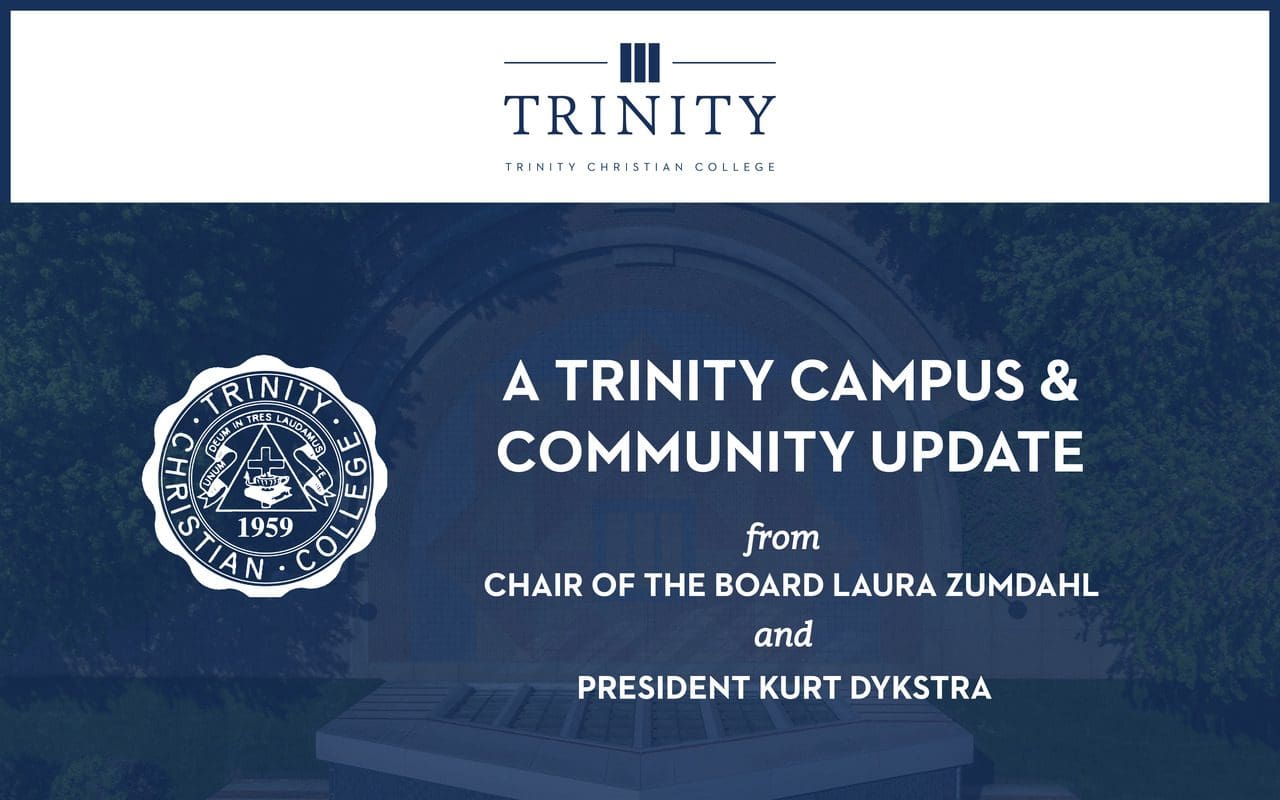 Dear Trinity Community:
Greetings from Trinity's campus.  We write this message as the Board of Trustees holds its winter meeting.  The Board has much to discuss during this meeting and this marks the first meeting for ten new Trustees whose diverse backgrounds, wisdom, and experiences are a great gift to the College.
Ordinarily, the Board of Trustees meets three times a year, with the Executive Committee meeting slightly more frequently.  Over these last twelve months, the Board has met more often; the times have demanded it.  There are a number of highly complex issues and challenges facing the College and this industry that collectively have required the Board to exert an extraordinary degree of thought, prayer, planning, and action.  That the Trustees volunteer their time to this significant undertaking is a reflection of their care for Trinity and for the cause of Christian higher education.
We write today to update the broader Trinity community particularly on one such vital and complex topic:  Diversity & Unity, particularly in regards to race, justice, and reconciliation.  While this is not new work at Trinity, the social unrest from the last summer and its continuing reverberations across society have spurred additional attention and reflection across the land and surely at Trinity, too.
In what follows, we aim to update you on some of what that attention and reflection has entailed and foreshadow some new initiatives that will begin even as soon as this month.
We know that these important conversations regularly occur across campus.  Many professors have initiated open dialogues in their classes.  Trinity's Office of Student Life has hosted various conversations, events, forums, and gatherings that have had strong attendance and interest.  We continue specific attention to recruiting and retaining a diverse student body, faculty, and staff.  Student Leadership groups across campus are regularly offering programs and conversations to share perspectives and learn from one another.  Faculty and staff have formed various discussion groups, together reading challenging books that explore the consequences of racism and exclusion.  Chapel messages have regularly explored God's call to justice and reconciliation and the services themselves have continued to foreground varied voices and Christian traditions that seek to recognize the diversity of the Christian traditions represented on campus.
Trinity alumni have hosted candid conversations about this College's own challenges over the years to become a multiracial, multi-culturally hospitable, sensitive, and responsive place.  Over the last couple of months, all alumni were invited by the Alumni Association to participate in a survey to better understand where Trinity excels in this desire – and where it must improve.  The data from that survey, which closed at the end of February, is being compiled and analyzed.  We look forward to sharing those results when that work is concluded.
All of these conversations, actions, and activities have been profitable, if uncomfortable at times.  We have heard old and new stories of marginalization, particularly from persons of color, stemming from actions and attitudes within our own campus that are at odds with our Christian convictions and commitments.  As leaders of the College, we have an opportunity to ensure that institutionally we are cultivating a Christian community where people of all races, cultures, and backgrounds can find shalom, inclusion, respect, and value.
The Board of Trustees, Governance, and Institutional Planning
The Board, of course, is a governance body and, in that capacity, has devoted time learning about, thinking through, and examining the ways in which Trinity institutionally can more fully be the place called forth from its Reformed Christian mission.  In the Fall, a working group of trustees examined the Board's own work and set forth a series of preliminary institutional review and study principles.  Then, as a new class of trustees was identified and elected in late 2020, certain members of that incoming class thought further with the Board and its leadership about how, when, and to what purposes such comprehensive institutional effort should occur.
This review and study have revealed at least three important items.  First, for many years, Trinity has cared deeply about diversity, belonging, justice, and unity.  The sampling above of recent engagements across the College is a reflection of this.  Second, the amount of work and care that has gone into these efforts does not mean that the work is concluded; rather, we recognize that Trinity still has much to do in this area.  We hear that reality in the voices of our community members and we see that in the vision of God's kingdom to which we aspire.  Third, all of these undertakings – whether existing or to be initiated – flow from Trinity's mission and because of it.  This work, like all that occurs at Trinity, is a consequence of the distinct understanding and belief of God's call upon the life of this College and the people who are a part of it.
The Select College Committee for Diversity, Unity, Reconciliation, and Belonging
Because of these understandings, the Board of Trustees has created a Select College Committee for Diversity, Unity, Reconciliation, and Belonging to more intensely and broadly (i) assess Trinity's existing strengths and areas of limitation; and (ii) draft a comprehensive action plan to guide and assess the College's efforts and initiatives going forward.
This College-wide select committee is an important action that reflects the commitment and urgency expressed by Trinity's leadership.  It builds upon earnest and faithful work done at Trinity over decades.  It is a reminder that the work toward Biblical justice continues with every generation and at all times.  The reconciling work of Jesus Christ – work that brings together, as the Apostle John writes in Revelation, all nations, tribes, peoples, and tongues – is our joyful work, too.  We are, in the language of Trinity's Mission Statement, coworkers with Christ.
This Select College Committee will be comprised of Trinity Trustees, Faculty, Staff, Students, and Alumni.  The Board has developed a preliminary charge to this Select College Committee with particular work for its attention while at the same time understanding that part of the wisdom of having such a committee is to benefit from the wisdom of such a committee .  The full membership of this body and key elements of its charge will be communicated to you before Easter.
Significantly, the work of this Select College Committee will result in a strategic action plan to guide future activities and measure institutional progress.  Such a plan is consistent with the College's Strategic Plan and is a further embodiment of it.
The work of this Select College Committee will span the balance of 2021.  It will interface with the Board at the Board's upcoming meetings in 2021.  We have also requested that the Administration provide guidance, information, assistance, and insight to the Select College Committee, particularly during the periods of time between the Board meetings.  While the work will span months, we will have regular points of communication with the Trinity Community, likely at quarterly intervals.
Importantly, too, the naming of this Select College Committee does not preclude the continuance of good work already underway or the launch of new undertakings.  Just the opposite!  There are various new initiatives presently in discussion and development, some of which we hope will be ready to announce yet this Spring.
On behalf of the College, we are grateful for your continued support of prayer, of time, of concern, of patience, and of resources.  We feel your prayers and deeply appreciate them.
The Trustees sincerely hold the College and its mission carefully in trust.  All of us receiving this message are a part of the Trinity community, care deeply for it, and earnestly desire that all members of the community flourish in every faithful way.  We trust, that with God's hand upon us all, this will be Trinity's continuing story.
Dr. Laura E. Zumdahl ('02), Chair, on behalf of the Board of Trustees
Kurt D. Dykstra, President
---