Women's Basketball Players Receive Honors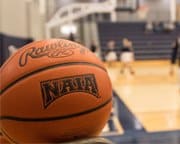 At the conclusion of the women's basketball season, several team members received post-season honors.
Junior Ally Giampapa (Bartlett, Ill.) led the team and was named to the CCAC All-Conference Second Team as well as to the NCCAA North Central All-Region Team as the Region Play of the Year. Senior Lauren Stokes (DeMotte, Ind.) was Honorable Mention All-Conference and also NCCAA All-Region. Senior Celina Wanta (West Bend, Wis.) was NCCAA All-Region Honorable Mention.
Giampapa was the team's top scorer and rebounder for the season with 15.2 points and 4.4 rebounds per game.  She scored 300 of her 518 points of the year from the three-point line where she was .365 percent accurate. In the conference she ranked 11th in scoring and during the season she achieved her 1,000 career point. In addition Giampapa had 92 steals for a 2.7 average, ranking third in the CCAC, and 2.5 assists per game.
Stokes was the second highest scorer on the team with an 11.4 point average. She scored a total of 389 points for the season and joined the 1,000 career point club. For the year Stokes shot .380 percent from the arc and .855 percent from the line. She led the team with 2.6 assists per game.
Wanta averaged double digits in scoring with 10.9 points per game. Along with Giampapa and Stokes, she also reached the 1,000 career point milestone. She was key to the team's defense as she averaged 4.1 rebounds per game and led the Trolls with 3.0 steals per game. She ranked second in the conference in steal average. In addition Wanta had 2.1 assists per game.
---