Guaranteed Admission Partnership Announced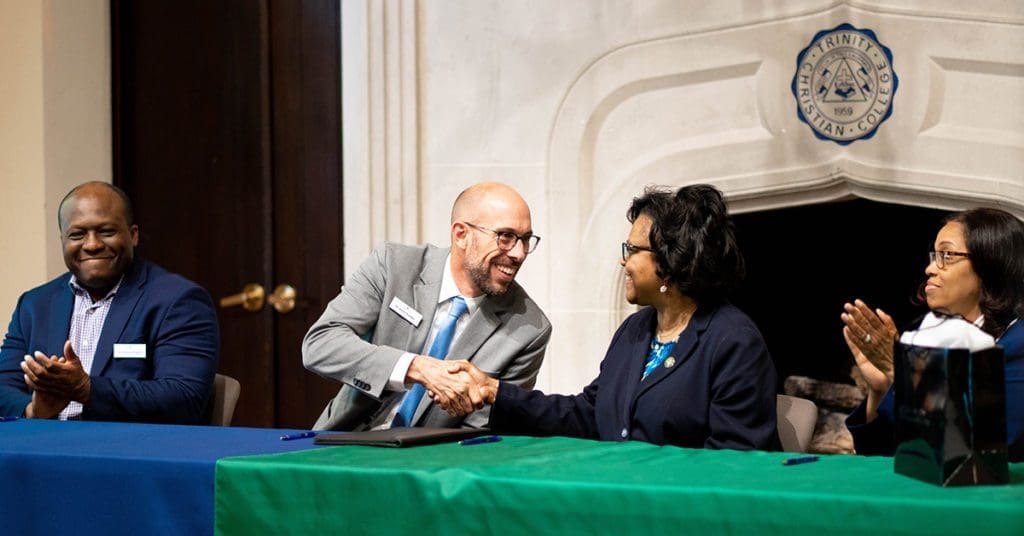 Contact:
Angie Fratto | Marketing and Media Manager | 708.239.4878
For Immediate Release
Palos Heights, Ill. – Yesterday at Trinity Christian College, two college presidents officially forged a long-standing partnership. Interim President Dr. Aaron J. Kuecker of Trinity Christian College and President Sylvia Jenkins of Moraine Valley Community College signed the Guaranteed Admission Partnership (GAP), establishing a smoother transition for Moraine's students as they enter Trinity. The GAP is primarily designed "to promote the utilization of…resources to offer students a range of educational opportunities [within] a collaborative partnership designed to facilitate successful transfer."
A significant component of the GAP agreement is a renewable $1,000 scholarship which will be stackable on the students' merit scholarships and other financial aid. This partnership was established on the heels of Trinity's expansive reimaging of the collegiate pricing and scheduling structures – all to make private Christian education affordable and accessible. The GAP agreement also maintains that "guaranteed admission pertains to students who have met the stipulated admission requirements [for Trinity]: a cumulative grade point average of 2.5/4.0 from all previous colleges attended, and a successful completion rate of 67% of all college courses attempted." Moreover, "Trinity prefers that Moraine Valley students transfer in with an associate degree with at least 60 transferable hours. Such students will have junior status conferred upon them at the start of their first semester at Trinity." While these two institutions had once established a partnership a decade ago, known as the "T-MAC," the GAP "is more comprehensive in scope and also expresses policies and initiatives that are more congruent with the future relationship between Moraine Valley and Trinity." The GAP effectively replaces the T-MAC and forms the foundation for further agreements to develop and implement. Some of these include major-specific transfer partnerships, dual enrollment partnerships, as well as joint information sessions, pedagogical exchanges among faculty, and more robust recruiting opportunities for transfer admission counselors.
These are just small examples of how the GAP will effectively bridge the "gap" for transfer students seeking degree completion at Trinity, an institution that has been providing quality, Christian-based education since 1959. For President Jenkins, the signing ceremony served as her last official duty as Moraine's President – while President Kuecker experienced his very first ceremony, with many more to come. In many ways, it was a passing of the torch for many significant partnerships to come between these two schools.
For more information on this and other partnerships at Trinity, click here.
About Trinity Christian College
Trinity Christian College, based in Palos Heights, Ill., is an accredited Christian liberal arts college offering more than 70 programs through bachelor's, master's, and adult degree completion courses. Founded in 1959, the College is a community of Christian scholarship committed to shaping lives and transforming culture. It is continually ranked in the top tier among Regional Colleges—Midwest by U.S. News & World Report. To learn more, visit trnty.edu.
---