Trinity Names Eggert and Osorio as Founders' Recipients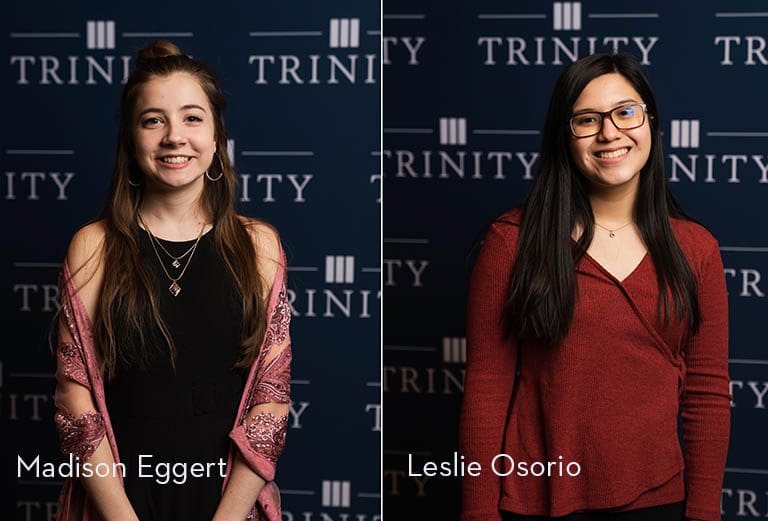 Trinity Christian College is pleased to announce that it has named Madison Eggert of Mequon, Wis., and Leslie Osorio of Mundelein, Ill., recipients of the prestigious 2020 Founders' Scholarship. The Founders' Scholarship is a renewable, full-tuition award available annually to two incoming freshmen.
Eggert attends Eastbrook Academy in Milwaukee, where she has played volleyball for four years. She plans to major in biology at Trinity.
"I am so excited and thankful to attend Trinity this fall with this generous award!" said Eggert. "I fell in love with the Christ-centered community that I found there. I am deeply grateful that I have the opportunity use this gift to help me on my journey to becoming a physician assistant."
Osorio attends Mundelein High School, where she is a member of the National Honor Society and a student leader in the Fellowship of Christian Athletes. She is also an executive board member of Puertas, a Latino cultural experience club. Osorio plans to major in nursing at Trinity.
"I am immensely grateful, humbled, and honored to be one of the recipients of the Founders' Scholarship," said Osorio. "This award has not only lightened my financial burden, but it will allow me to continue to pursue my educational dreams in healthcare and wellness. With the strong academic programs and a close-knit community centered in faith, I am confident that my time here will form me as a whole person and equip me for my future career and calling to serve others."
Among other criteria, the Trinity's Selection Committee for the Founders' Scholarship considers outstanding spiritual, academic, and social leadership.
---