Trinity Christian College Announces Fall SALT Classes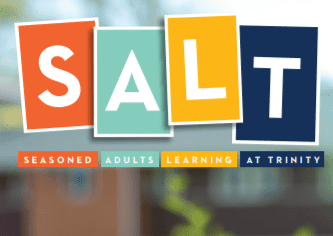 PALOS HEIGHTS, Ill.— Are you interested in ongoing education and lifelong learning? Then SALT (Seasoned Adults Learning at Trinity) may be for you! Trinity Christian College is pleased to reintroduce SALT as a membership program — and classes are starting soon! SALT is a program for those 55 years old and older.
The annual membership fee is $35, which allows members to participate in SALT courses and receive exclusive perks. Along with the membership fee, there is a fee of $15 for a one-session course, a $30 fee for a two-session course, and a fee of $40 for a three-session course.
Besides the opportunity to take classes, SALT members have other benefits: limited access to Trinity's fitness center, invitations to participate in post-lecture/performance discussions, an official on-campus parking sticker, free admission to regular-season home athletic contests, and personalized tours of art exhibits.
Upcoming Sessions:
One session offering
•    Growing Real Food in Chicago Public Schools, led by Corenna Roozeboom
Two session offerings
•    Calumet Beginnings and the Indiana Dunes, led by Dr. Ken Schoon
•    From Tradition to Texture: A Fiber Art Journey, led by Roz DeBoer
•    Graphic Novels: More than just Giant Comic Books, Great for Grandkids, Grandparents, and General Readers, led by Dr. Bill Boerman-Cornell
•    This Changed Everything: Video Viewings and Discussions of The Reformation, led by Dr. Aron Reppmann
Three session offerings:
•    America's Competing Visions of the World, led by Dr. Bob Rice
•    Behind the Headlines, led by Tom Panush
•    Environmental Issues and Creation Stewardship, led by Dr. Lou Sytsma
•    The People of the Great Depression, led by Cleo Lampos
•    Introduction to Pickle Ball, led by Jim Kwasteniet
•    Pullman—The Past, Present, and Future, led by Roger Wiers
Do you want to learn more about joining SALT and registering for classes? We'll send you a SALT brochure by request: contact Ginny Carpenter, program coordinator, at 708.239.4798 or email ginny.carpenter@trnty.edu.
About Trinity Christian College
Trinity Christian College, located in Palos Heights, Ill., is an accredited liberal arts college offering more than 70 programs of study, master's degree programs in counseling psychology and special education, and an Adult Studies accelerated program. Founded in 1959, the college is a community of Christian scholarship committed to shaping lives and transforming culture and is continually ranked in the top tier among Regional Colleges—Midwest by U.S. News & World Report. To learn more, visit trnty.edu
---