Trinity English Class Assignments Lead to Publication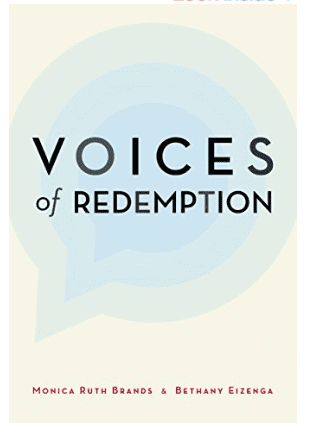 Students. Authors. Thanks to their experiences in Trinity's English classes, several students and recent alumni have seen their worked developed into a blog, Getting to Know Us: Our Foods, Our Cultures, and a book, Voices of Redemption, that has recently been released in an electronic version.
Getting to Know Us was written in English 103 last fall, according to Dr. Michael Vander Weele '73, professor of English. The essays, currently available online, feature recipes, reflections, and photos by students.
Getting to Know Us was inspired by Nina Mukerjee Furstena's Biting through the Skin: An Indian Kitchen in America's Heartland. "I liked the idea of a first-semester student having to contact a parent or grandparent for a recipe and realized that writing about diverse foods could also lead us to appreciate diverse cultures," Vander Weele said.
The students' first drafts focused on capturing a recipe and an occasion. "It became more difficult, by draft three, to include the cultural aspect of food. The first essay to do so really made us sit up and listen," he said. "As a class, we suddenly knew that not only would it be possible but also valuable–and interesting. The second step was when I knew that more than half of the class's essays could bear the weight of public notice and be both important and enjoyable for a larger public. Then the editing process, by both students and me, got serious," he said.
According to Vander Weele, the essays in the blog and the book went through multiple rounds of edits.
Bethany (Kerr) Eizenga '11 and Monica Brands '11, wrote Voices of Redemption. Originally published in 2012, it was recently released as an e-book. The book began as an English internship and evolved into a series of shaped interviews. It tells the personal stories of some of the people served by Roseland Christian Ministries and Roseland Christian Reformed Church in Chicago.
Vander Weele served as the publisher for the books. Graphic designer (and Vander Weele's son in law) Schuyler Roozeboom '04 created the cover, along with the publishing company for the book. Vander Weele is now the publisher for the company, Publishing for Community.
The Voices of Redemption eBook is available in several electronic formats. Hard copies are also available at the Bootsma Bookstore Café:
iBooks Store – for iBooks on iPad, iPhone and Mac
Kindle Store – for Kindle devices and Kindle app
Barnes & Noble – for Nook devices and Nook app
---