Trinity's BSN Graduates Score Perfect NCLEX Pass Rate for Fifth Time in Six Years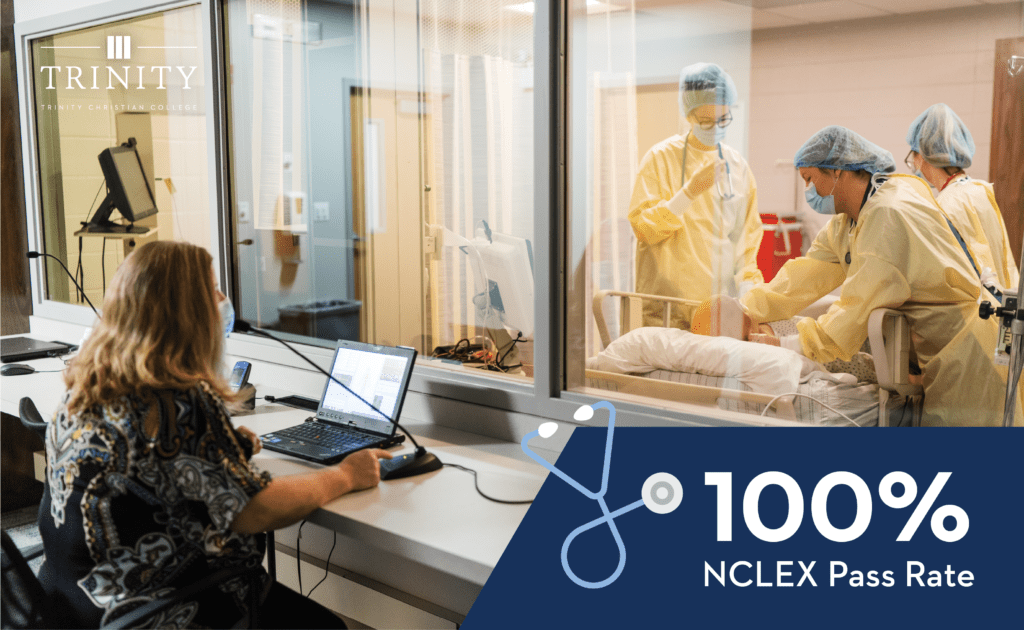 Contact:
Amy Stickel, Communications Manager
708.293.4918

For Immediate Release
Palos Heights, Ill.–For an unprecedented fifth time in six years, Trinity nursing graduates have achieved a perfect first-time pass rate on the NCLEX-RN exam. This success for Trinity's top-ranked program represents the highest six-year NCLEX average of any BSN or ADN program in Illinois.
According to Nursing Department Chair Tina Decker '06, D.N.P., "This year's 100% pass rate is especially significant with the challenging way the Class of 2020's last semester ended. In addition, there was a delay in when students were able to take the NCLEX due to COVID closing testing sites. We are so proud of the graduates for all they overcame to earn this 100% pass rate."
According to Kayla Kamp '20, Trinity gave her the knowledge and skills she needed to not just pass the NCLEX, but to immediately begin caring for patients in the midst of COVID-19. "Graduating in 2020 allowed me to really be thrown head first into nursing and helped me realize how prepared Trinity made me," she said. "Learning that the NCLEX was going to so much shorter than it has been in previous years was nerve-wracking because there was less room for error, but at the same time, I was confident in what we learned at school and the study tools that were given to me–as much as I may not have liked them at the time!"
While Kamp never pictured starting her nursing career in the middle of a pandemic when she was little and dreamed of being a nurse, the situation has helped her realize the impact can have, especially Christian nurses. "Although I don't think anything could have prepared me for what 2020 would bring, I think what I learned at Trinity was about as close as I could get to being ready to be a nurse in a pandemic!" she said.
The 100% pass rate isn't the only reason for celebration, as Trinity unveiled renovated nursing facilities this fall. Trinity's BSN students can now take advantage of state-of-the-art spaces that include:
The DeJong Simulation Lab featuring three high-fidelity simulators, which now includes an observation room;
The Veenstra Lobby, which provides a comfortable, flexible space for students to study, relax, and work together; and
The Trinity Alumni Nursing Association (TANA) Lab, which offers virtual conferencing technology and space for clinical group meetings and small classroom gathering.
Click here for a tour of the newly updated facilities.
The NCLEX-RN exams are administered by NCSBN, the National Council of State Boards of Nursing, through which boards of nursing act and counsel together to provide regulatory excellence for public health, safety, and welfare. The exam is taken after the student graduates from a bachelor's degree-granting nursing program.
Trinity's nursing program, which is ranked as the best BSN programs in Illinois by RegisteredNursing.org, is accredited by the Commission on Collegiate Nursing Education.
Click here to learn more about Trinity's nursing program.
---