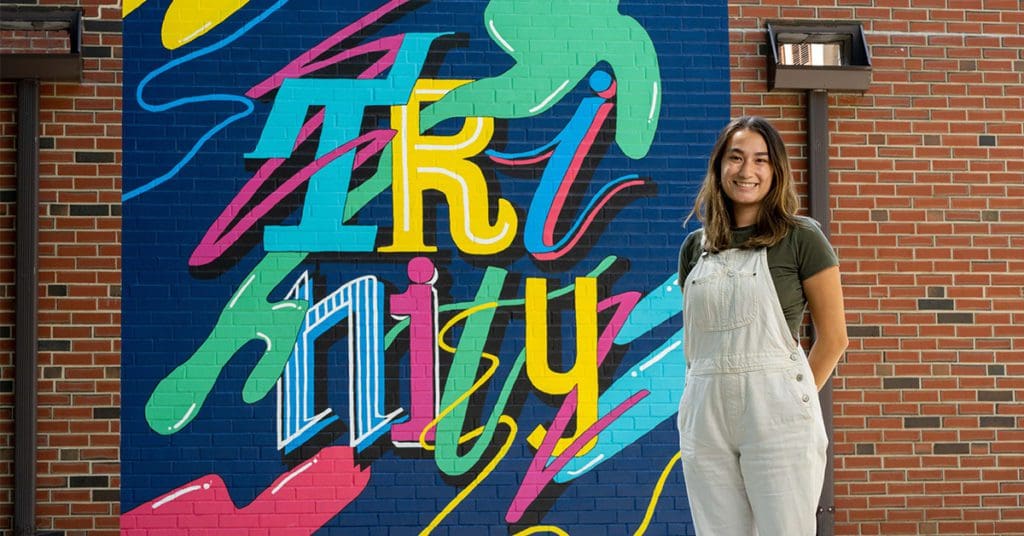 Graphic design major Yuri Coleman '24 came to Trinity because of the College's size and opportunities that such a close-knit community offers. "I love that I am able to establish close relationships with my professors and students," said Coleman, who is also minoring in marketing. "These are some opportunities I would never get going to a larger school. The community here is so encouraging, and I am incredibly motivated by the God-centered community and vocation we have on campus." 
The Glenview, Ill., native said her professors and fellow students have been an important part of her journey. "The professors here are so helpful when it comes to taking physical steps to pursuing my dreams and goals." Those dreams include someday using her skills at a fashion magazine where she can create layouts and shoot fashion photography.
Coleman was drawn to graphic design because of her passion for art and photography. "When I came and visited the art program at Trinity, I learned more about this field, and it was incredibly intriguing. I am able to combine my passions for art, photography, and graphic design and use that in the professional field," she said.  
The professors in Trinity's Art & Design department have given her the confidence to pursue her dreams and passions.  "Before choosing graphic design as my major, I was about to go into elementary education because I liked kids and I knew that it would be a steady and guaranteed career," said Coleman. "Art has always been a big part of my life but I was worried that I wouldn't be able to use my skills in any professional field and be successful. After talking to the professors and learning more about the field I was most passionate about, I actually became more confident in choosing graphic design and the art field. It may seem scary at first, but the professors are here to help you take your talents, passions, and enthusiasm and use that to become successful in whatever vocation you choose." 
During the summer of 2022, Yuri had the unique opportunity to work on creating and installing the first mural on the campus of Trinity Christian College.  "The whole experience of the mural was a great way to engage with the community in a way I haven't been able to in the past," said Coleman, "it was cool to have an impact with such a big project on the campus."
---