Trinity Christian College is thrilled to announce a transformational tuition approach designed to clarify and simplify the complex world of college pricing.
Beginning in the fall 2023 semester for incoming students, tuition will drop to $19,800!
This 40% decrease from our recent $33,800 tuition opens the door of access to any who wishes for the personalized benefits of a Christian, higher education and puts it within reach of families of different income levels.
Learn more about how we are transforming higher education into greater education below.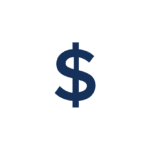 Accessible
We believe college should be accessible to all, and your top choice should not be limited by a bottom-line number. Transparent
We believe college pricing should be transparent and easy to understand. Realistic
We believe college tuition should be realistic and never sacrifice quality for pricing.
New Trinity Initiatives
Our Wellbeing Wednesdays Initiative launched in the Fall 2022 semester with a redesigned four-day academic schedule that leaves Wednesdays open for student wellbeing. Trinity is one of the few colleges that have taken a step this significant to foreground student wellbeing. We know that when our students are well academically, spiritually, emotionally, socially, financially, etc., they do well!
Our Earn, Network, and Learn Initiative is designed to create a network of paid internships that will allow students to earn academic credit, build professional networks, receive early access to career preparation, and earn tuition grants to reduce the cost of their education. A pilot program launched in the Fall 2022 semester and will expand in the Spring 2023 and Fall 2023 semesters.
Trinity is eager to announce the Tuition Transparency and Access Initiative, launching in the Fall 2023 semester for incoming students. This initiative is a bold change aimed at creating a more realistic, accessible, and transparent pricing structure for students navigating the college financial aid process for the first time. We are moving the price adjustment that usually comes very late in the aid process to the front end of the process, with a 40% reduction in the sticker price of tuition. This will enable students to far more quickly understand the cost of their education.
Frequently Asked Questions