WELCOME BACK TO AN EXCITING SEASON OF SALT!
SALT (Seasoned Adults Learning at Trinity) is a membership-based program for community members 50+ who are interested in ongoing education and lifelong learning. Our mission is to provide personal enrichment and education by offering interesting content and meaningful discussions through shared experiences.
TRACY H.
"Auditing classes has been such a positive experience in my religious life. I have learned/gained so much and I could never thank Trinity enough for the opportunities."
CHARLIE F.
"Preachers don't get into the details of what happens when you die like a college theology course."
KATHLEEN F.
"SALT is a valuable asset to the community."
LYNN T.
"SALT is a great program!"
Memberships Perks
Special discounts on Illinois Philharmonic
Orchestra and Southwest Symphony
Orchestra performances
Invitation to campus lectures and special discussions following lectures
Invitation to music department recitals and contests
Invitation to campus chapel services
Listener's passes to traditional classes
Free on-campus parking sticker
Access to Library Services
20% discount at Bookstore
Quarterly Newsletter
Discount in Trinity Dining Hall
Discount at Bootsma Café
Certificate of Completion for 3-session Classes
Memberships Fees & Costs
Membership Fee: $25*
Membership Costs
1-session Class: $20
2-session Class: $25
3-session Class:$30
Bring a friend to one class during each semester:  $10 per person/semester
Senior Break Days: $10 (Bring a friend:  $5)
Prairie State College Field Trip, Violins of Hope, April 17: $35
Lake Katherine Nature Center and Botanic Gardens, June 9, 2023:  $15
Listener's Pass (value $330):  FREE
*Member must be registered for at least one course per semester for membership to remain active. Annual membership is from April 1, 2023 – March 31, 2024.
SALT Coordinator
Dewoun Hayes is the Advancement & SALT (Seasoned Adults Learning at Trinity) Coordinator. She assists in the development of courses for adult learners 50 and older. Lifelong learning has always been her passion and she is grateful to be able to provide an enriching program to this community.
For almost 25 years, she has worked in higher education in the advancement division. Her experience includes event/meeting planning, fundraising, scholarship management, alumni engagement, and research. Dewoun remarks, "I feel that my journey of learning has led me to Trinity and am pleased that I can use the skills I have obtained from various institutions in one place."
Feel free to contact Dewoun to provide feedback or ask questions about the upcoming SALT season, 708-293-4570 or email, dewoun.hayes@trnty.edu. Be sure to visit www.trnty.edu/SALT for news and upcoming events.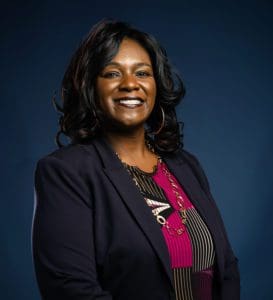 Advisory Board
Bob Rice
Marjorie Perkins
Merrill Riddering
Lynn Tenkate
Dan Lynch
Partners
Trinity Christian College: Bootsma Bookstore Cafe, Library Services, Faculty & Staff, Creative Dining Services, Illinois Philharmonic Orchestra, Southwest Symphony Orchestra, Lake Katherine Nature Center & Botanic Gardens, and Lutheran Church Charities