Speech-Language Pathology Above and Beyond

Speech-Language Pathology Students Take Hands-On Approach
Students in Speech and Hearing Sciences 212 recently completed an assignment of drawing and labeling the muscles of respiration on t-shirts as part of learning about respiration and the biomechanics of breathing.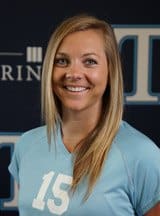 Speech-Language Pathology Major Volunteers in Uganda
Danielle Oeverman '17, a speech pathology and psychology major, volunteered in Uganda over the summer to work with children with speech issues. Read more about her journey here.