1871's Ziegler Talks about Innovation and Entrepreneurship at TBN Event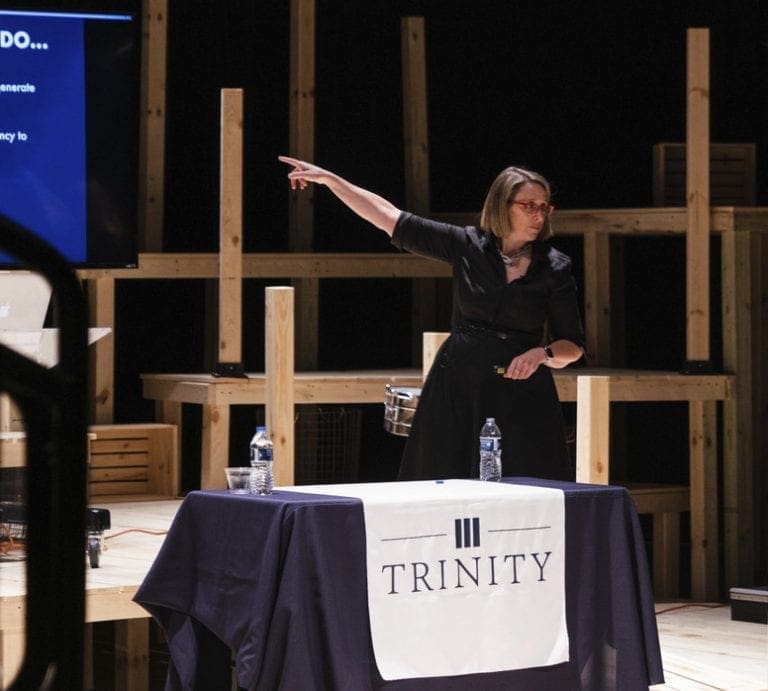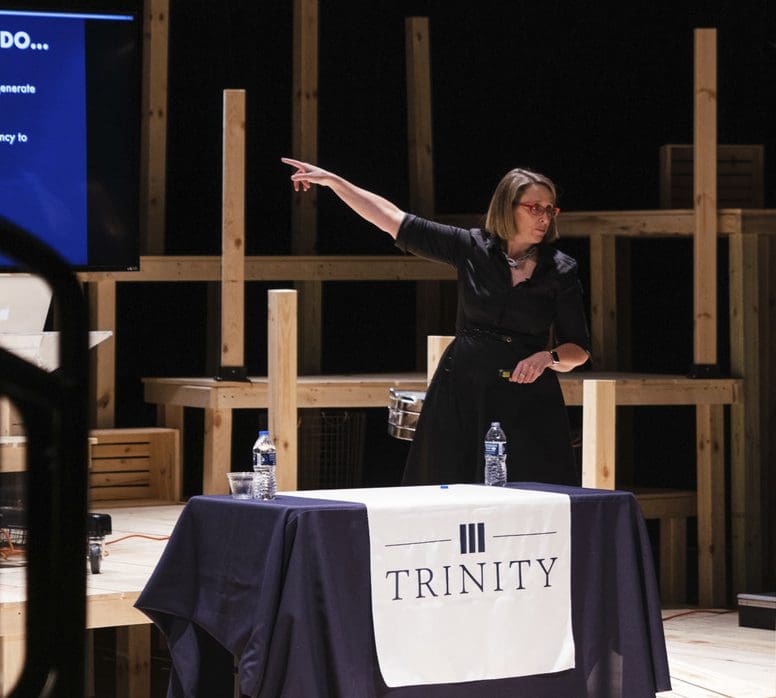 "The rate of change is increasing, and today is the slowest day you will have for the rest of your life."
That is the according to Betsy Ziegler, CEO of 1871, who spoke on March 13 at a TBN event at the Marg Kallemeyn Theatre. "The future is here," she said. "And the most successful companies should be the ones most concerned about the future."
Ziegler is the first female CEO of 1871, which was ranked as the number one university-affiliated tech incubator in the world in 2018. "1871 exists to inspire, equip, and support founders to create great businesses," she said.
Previous to 1871, she was the chief innovation officer at the Kellogg School of Management at Northwestern University. Prior to Kellogg, Ziegler served as a principal in McKinsey & Company's Chicago office.
Located in the historic Merchandise Mart in downtown Chicago, 1871 is the hub for Chicago's thriving technology and entrepreneurial ecosystem and home to nearly 500 early-stage, high-growth digital startups. Trinity is the eighth institution of higher learning to form a university partnership with 1871, along with others such as the University of Chicago, Northwestern University, Loyola University, University of Illinois, Illinois Institute of Technology, and DePaul University.
In her wide-ranging discussion, Ziegler touched on the high-tech environment in Chicago. "Something special is happening here," she said. "And it's our time to rise."
She also spoke about the growth of technology and the intersection of higher ed, innovation, and entrepreneurship.
TBN, the Trinity Business Network, sponsored the event, along with Fusion 59, Trinity's incubator. The event drew business leaders and members of Trinity's community, who also participated in networking before Ziegler's talk. Attendees of Ziegler's talk included TBN Partner Rick Powell and Palos Heights Alderman Jeff Key, who expressed their excitement about the launch of Fusion 59 and the spirit of entrepreneurship that is flourishing on Trinity's campus.
Located in the Jennie Huizenga Memorial Library, Fusion 59 is a place where Trinity and the Palos Heights community can come together to connect, collaborate, and create–all for a better tomorrow. Fusion 59 is open to business owners and others in the area who are looking to dream up their next venture or brainstorm on a project, according to Assistant Professor of Business and Department Chair John Wightkin. "It is designed so that everyone can use their creativity in utilizing this space," he said. "The space is whatever people can imagine it to be."
---