Trinity Hosts Annual Mathematics Triathlon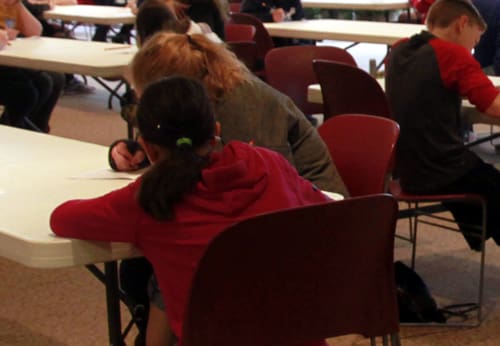 Trinity hosted our annual Mathematics Triathlon on April 20—in Palos Heights, Ill. and Grand Rapids, Mich. Along with welcoming approximately 200 7th and 8th graders to campus, the College hosted a parallel event at Grand Rapids Christian Middle School, where about 125 students participated.
Trinity professors Christine E. Henle, Dr. David Klanderman, Dr. Mandi Maxwell, Dr. Jeff Nyhoff, and Dr. Sharon Robbert oversaw both triathlons, with the assistance of Trinity students.
Twenty schools from Illinois, Wisconsin, and Indiana participated in the campus event, with one school taking part via Skype from Redlands, Calif., led by their teacher Chad Westenbroek '15. Nine schools took part in the Michigan event, including students at New Era Christian School, led by their teacher Alyssa Roon '16.
This year's winning schools at the Trinity event included:
1st place: Timothy
2nd place: Highland
3rd place: Brookfield
4th place: Potter's Hand Home School
The winning schools of the Michigan events included:
1st place:  Kalamazoo
2nd place:  Hudsonville
3rd place:  Grand Rapids
4th place:  Legacy
At the Mathematics Triathlon, three major competitive events target individual and collaborative problem solving skills of participants. Competitors begin with a 30-minute individual test consisting of 20 problems of increasing difficulty. The second 30-minute team event is a set of five problems to be solved by a team of three to four students. Following a fun-filled half-time, the third and final competitive event is a relay-type competition where all participants from each school cycle to solve as many "quick-think" problems as possible in a five-minute period. Click here to learn more about the Triathlon.
---