Need, Purpose, and Comfort - Lessons from Trinity's 59th Annual Convocation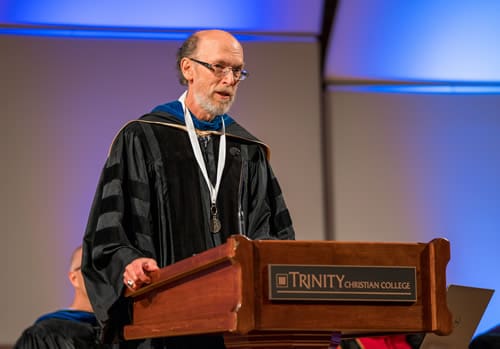 The word "convocation" means "assembly" in Latin. And the Trinity community assembled again to mark the traditional start of the new academic year at the 59th Annual Opening Convocation on Aug. 23.
Dr. Michael Vander Weele '73, professor of English and the College's Professor of the Year for 2017-18, offered the address. Vander Weele spoke about need, purpose, and comfort in a talk that ranged widely from the current state of political affairs, to Christian educators through the centuries, to Mahalia Jackson's music, to Trinity's history, and his own experience as a freshman here.
He pointed to how Trinity's founders believed that education is not neutral and that sin affects social structures as well as individual hearts. In what he described as the second phase of Trinity's history, from about 1973 to the early 1990s, the emphasis turned to "practical good." That included new professional programs such as nursing, and a greatly expanded Education Department. Trinity has now entered its third stage. "I think our third period has the possibility of learning from each of the first two—and needs to, if it is to address our nation's most pressing needs," Vander Weele said.
He encouraged the Trinity community to be fearless. "Don't engage in escapism or its debilitating cousin, cynicism," he urged. "Let discernment and hospitality be our friends, nudging structures, systems, institutions, the communities we live and work in, ourselves, towards greater faithfulness."
The convocation began with the faculty and staff procession, and Trinity President Kurt D. Dykstra, provided the welcome. Ryan Hesslau '18, campus ministry prayer leader, offered the pray of invocation, and Craig Mattson, Ph.D., professor of communication arts, and Mallory Boyce '19, women's ministry leader, led the litany.
Provost Aaron Kuecker, Ph.D., Dean of Students Mark Hanna, and Student Association President Casey Huisenga '18, gave the prayers of thanksgiving and procession.
Rev. Bill Van Groningen, Ph.D., Trinity's chaplain, offered the closing remarks and benediction as the Trinity community embarked together on the new academic year.
---