Trinity Reveals Updated Troll Mascot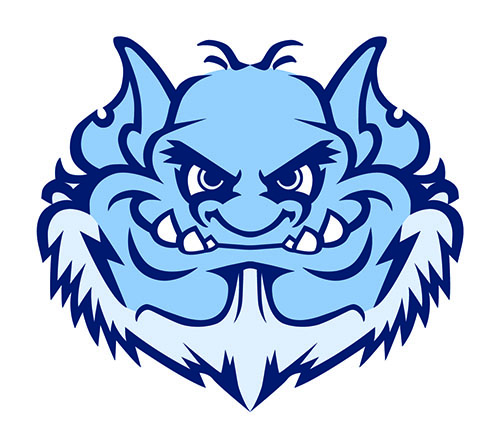 The Trinity Troll, one of the most unique mascots in all of college sports, has received a new look for the first time in decades. While the Troll remains easily recognizable, the redesign reflects the College's commitment to adapting to changing times while staying true to her roots.
Said President Kurt D. Dykstra, "The Troll has been the symbol of Trinity Christian College since our very beginnings, and it continues to represent an integral part of who we are. Though the image may change, we will always be proud to call ourselves Troll Nation."
The new Troll, designed by Trinity's Senior Graphic Designer Pete Vega, was unveiled on Aug. 25 during a women's volleyball match between Trinity's defending National Christian College Athletic Association (NCCAA) national champions and Mt. Mercy University of Cedar Rapids, Iowa.
A sold-out crowd witnessed a video that highlighted past versions of the Troll, and introduced the latest iteration. The video was narrated by Wayne Messmer, nationally recognized as the "voice of the national anthem" for the Chicago Cubs and other professional sports teams. The occasion marked the first significant redesign of the Troll since the 1990s.
"The Trinity Athletics Department is exceedingly grateful to all who contributed to putting on such a wonderful event last Friday night," said Bill Schepel '85, head women's volleyball coach and Trinity's athletics director. "The packed house created an electric atmosphere for the volleyball match and the excellent work that Pete did in updating our Troll mascot and creating new logos was well received by the Trinity community."
The history of the Troll dates back to the early days of Palos Heights, when a troll guarded the golf course where the College now stands. As the College has grown, so has the Troll's reputation. In 2009, ESPN named the Troll one of the 10 best college nicknames in college sports.
Check out the Reveal video and the night's highlights.
---