WorldView Dr. John Inazu Discusses "Confident Pluralism"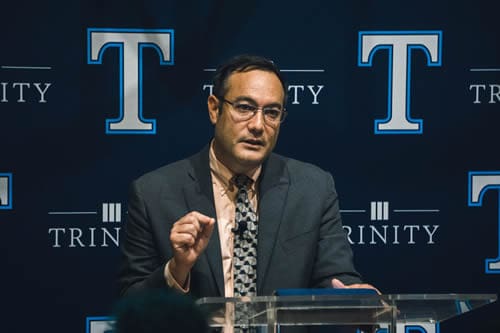 Trinity was pleased to welcome Dr. John Inazu, Ph.D., to campus in honor of Constitution Day. Inazu spoke on the topic of his most recent book, "Confident Pluralism: Surviving and Thriving Through Deep Difference". Inazu is the Sally D. Danforth Distinguished Professor of Law and Religion at Washington University in St. Louis, where he teaches criminal law, law and religion, and the First Amendment. The Trinity community had multiple opportunities to hear from Inazu as he spoke in classes, at an afternoon faculty forum, and an evening WorldView lecture open to the public.
In his book, Inazu addresses a most timely topic: "With all of this turmoil in law and society and such seemingly irresolvable differences in our beliefs, values, and identities, we are forced to ask—can we really live in peace together?"
Inazu argues that yes, we can, and that confident pluralism is the answer. "How seldom we name our differences, but in fact our differences matter deeply," said Inazu during the evening discussion, which took place in the Vermeer Fireside Room. "A shared existence is not only possible, but necessary. We can choose to coexist rather than sink into chaos and find a common existence in spite of our differences."
Confident pluralism rests on three aspirations: tolerance, humility, and patience. "At its core, confident pluralism depends on confidence in our own views which then allows us to be able to pursue dialogue with those of different views," explained Inazu. "Through tolerance, humility, and patience, we can listen and learn from other perspectives, engage, and be active participants in our communities, and find common ground even if not fully aligned."
WorldView is Trinity's annual community and college series for film, word, current events and music, held at the college.
The next WorldView session will take place on Wednesday, Sept. 20. Josh Larsen '96, co-host of the radio show and podcast "Filmspotting" and film critic for "Think Christian," will discuss join us for two events. He will speak at Chapel at 10 am in Ozinga Chapel Auditorium about, "Don't Use that Tone with Me." At a 7 pm discussion in the Grand Lobby of Ozinga Chapel, he will discuss "Movies as Prayers of Anger and Reconciliation".  Larsen will highlight select scenes from Spike Lee's Oscar-nominated 1989 film "Do the Right Thing," which is notorious as an expression of righteous social anger while offering a prayerful hint of reconciliation.
---