Annual Alumni Golf Outing a Success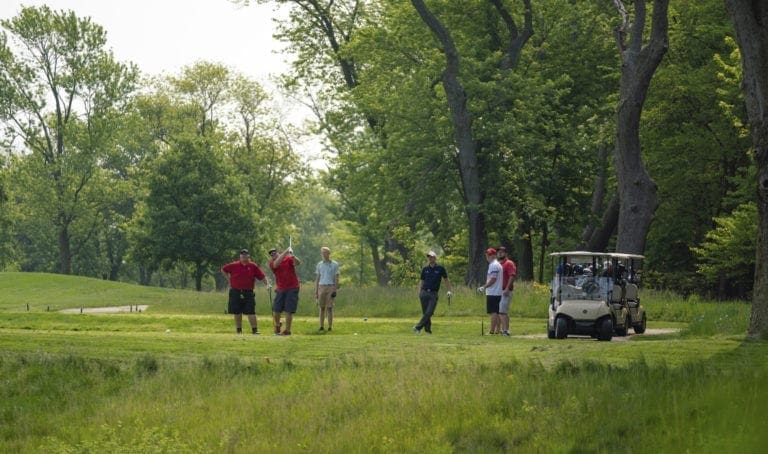 Coyote Run Golf Course in Flossmoor, Ill., was the perfect setting for the Annual Alumni Golf Outing on June 1. The event raised $11,500 for the Alumni Excellence Scholarship Fund, which benefits the children of alumni.
"We were blessed with a sunny, breezy day which created a great setting for good fellowship, a lot of fun on the course, and some great golf as well," said Rick Van Dyken '83, Vice President for Advancement. "The Alumni Board was very helpful in raising significant scholarship support for Trinity students of alumni parents. The course was great, the food was delicious and the fellowship was fantastic. I hope we will get more alumni out next year to experience this great event."
For Jeremy Klyn '02, the event marked the first time he attended the golf outing in his new role of Director of Alumni and Family Engagement. "While so many things have changed in our nearly 60 years of existence, the one constant has been the rich relationships that develop on campus and continue beyond graduation," said Klyn, who recently transitioned from his previous position as the College's Executive Director of Admissions. "The passion our alumni have for this place helps ensure that the next generation of Trolls can afford Trinity and leave this place ready to impact our world."
Thanks to the generous support of event and hole sponsors, the funds raised by the outing will go directly to the Alumni Excellence Scholarship Fund.
Event Sponsors
Clarence Davids & Co.
Evenhouse & Co., P.C.
FutureCeuticals
Homewood Disposal Service
Ozinga Bros, Inc.
Proven IT
Van Drunen Farms
Hole Sponsors
Aspen Group
Colonial Chap
Edward Jones
In His Image Prints
Lambert Kamp, CPA
Legacy Insurance Group
Media Resources, Inc.
Midwest Insurance
PDJ Inc. Concrete Contractors
Poly John
R Brand Homes. Inc.
Schepel Auto Group
Silva International
Bev VanDyken
Rick & Sue VanDyken
Lunch Sponsor
Warehouse Direct
Golf Ball Sponsor
Schaaf Window
Raffle Donors
Bettinardi Golf
Crystal Allen
Darwill
Homewood Disposal Service
Wentworth Tire
---