Athletics Department 2018 Fall Honor Roll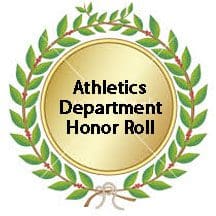 The Athletics Department Honor Roll reflects the department's commitment to excellence in the classroom as well as on the playing field.  For the 2018 fall semester a total of 113 student-athletes were named to that honor roll. This academic acknowledgement is given to athletes who earned a minimum grade point average (GPA) of 3.50 for the semester, with High Honors going to those with at least a 3.75 GPA.  A total of 16 student-athletes achieved a perfect 4.0 GPA for the semester.
"Our student-athletes continue to perform at high levels in the classroom," said athletics director Mark Hanna. "This semester's honor roll includes 46 percent of our athletes and each of our sports teams is represented. These student-athletes are to be commended for their outstanding work."
In addition to those on the honor roll, an additional 46 athletes achieved at least a 3.0 GPA for the fall semester.  Overall, nearly 65 percent of all the student-athletes are at or above that 3.0 mark.  The overall combined fall semester grade point average for Trinity's 245 athletes is 3.218.
Honor Roll for 2018 Fall Semester (min. 3.50 GPA)
Julia Belcher, Freshman–Women's Volleyball
Nicole Belcher, Freshman–Women's Volleyball
Jessica Bianchi, Senior–Women's Soccer
Ben Boers, Sophomore–Men's Soccer
Jim Bruinius, Sophompre–Men's Track and Field
Jamie Budreau, Senior–Softball
Taylor Busker, Sophomore–Women's Soccer
Jessica Eckberg, Freshman–Women's Volleyball
Joey Davidson, Sophomore–Men's Golf
Hope Fathman, Senior–Women's Cross Country/Track
Brianna Figueroa, Sophomore–Women's Volleyball
Alysia Folkersma, Senior–Women's Volleyball
Moira Garvey, Sophomore–Women's Basketball
Noah Groen, Freshman–Baseball
Brenna Groenewold, Freshman–Women's Basketball
Val Guzman, Sophomore–Women's Basketball
Nick Heidinger, Senior–Men's Cross Country/Track and Field
Andrew Heun, Sophomore–Men's Soccer
Brittany Hoekman, Senior–Women's Cross Country/Track
Selah Hopkins, Freshman–Women's Soccer
Vanessa Huizenga, Sophomore–Women's Soccer
Kris Kirchhoff, Senior–Men's Soccer
Danny Lawrence, Junior–Men's Volleyball
Ryan Mathes, Freshman–Men's Cross Country/Track and Field
Sean McLaughlin, Junior–Men's Soccer
Mathis Muller, Sophomore–Men's Soccer
Abbigal Nienhuis, Junior–Women's Basketball
Jake Ostema, Freshman–Men's Volleyball
Makayla Otto, Sophomore–Softball
Catherine Price, Junior–Softball
Rachel Rasmussen, Sophomore–Women's Soccer/Basketball
Brandon Riemersma, Junior–Baseball
Frank Romano, Junior–Baseball
Lydia Smallwood, Freshman–Women's Soccer
Nicole Syverson, Senior–Women's Cross Country/Track
Lexxy Trujillo, Junior–Women's Soccer
Brianna Uhl, Freshman–Women's Soccer
Cassidy VandeKamp, Sophomore–Women's Soccer
Bryan Vanderlee, Senior–Baseball
John VanderWall, Sophomore–Baseball
Brantley VanOverloop, Junior–Men's Cross Country/Track and Field
High Honor Roll for 2018 Fall Semester (min. 3.75 GPA)
Ben Andringa, Senior–Men's Basketball
Ryan Bakke, Junior–Men's Volleyball
Ross Barz, Sophomore–Track and Field
Allie Boss*, Freshman–Women's Cross Country/Track
Jessica Boyd, Senior–Softball
Matthew Butnariu, Junior–Men's Volleyball
Elly Brummel, Senior–Women's Soccer
Dylan Busscher*, Junior–Men's Soccer
Brevin DeBoer, Sophomore–Men's Soccer
Kate DeKryger, Freshman–Women's Cross Country/Track
Katlyn Demas, Freshman–Softball
Sarah DeVries, Sophomore–Women's Track and Field
Caleb DeWeerd, Sophomore–Men's Cross Country/Track and Field
Megan DeWeerd, Senior–Women's Cross Country/Track
Andrew Dobrescu, Freshman–Men's Cross Country/Track and Field
Juliana Dykstra, Junior–Women's Volleyball
Alicia Enz, Junior–Women's Soccer
Indira Escalante*, Junior–Women's Golf
Alissa Gardenal*, Freshman–Softball
Ava Gomez, Sophomore–Women's Soccer
Sarah Hernandez, Freshman–Women's Volleyball
Sam Herzog, Junior–Baseball
Olivia Hoekstra, Sophomore–Women's Track and Field
Valerie Hoekstra, Freshman–Women's Track and Field
Zach Huisman, Sophomore–Baseball
Luke Jager, Freshman–Men's Soccer
Nate Kamp, Sophomore–Men's Golf
Sarah Kiwan, Freshman–Women's Volleyball
Miranda Kortenhoeven, Freshman–Women's Soccer
Allyson Kranstz, Sophomore–Women's Soccer
Anna Maatman, Sophomore–Women's Volleyball
Tyler Massa, Senior–Men's Soccer
Steven Massey*, Senior–Men's Golf
Mike McIntyre, Freshman–Men's Soccer/Baseball
Dara Megyesi, Senior–Softball
Alyssa Mulligan, Sophomore–Women's Basketball
Alex Nisle, Senior–Baseball
Josh Olson, Junior–Men's Basketball
Amanda Ophoff, Freshman–Women's Basketball
Jessica Owen, Senior–Women's Soccer
Shaelyn Postmus, Junior–Women's Soccer
Audrey Ricker, Sophomore–Softball
Paige Rogers*,Sophomore–Women's Soccer
Tate Rozeveld, Sophomore–Men's Soccer
Mark Schaaf*, Freshman–Men's Golf
Bob Schaaf*, Junior–Men's Golf
Sara Shea, Freshman–Women's Soccer
Jared Smaga, Sophomore–Baseball
Gabriel Soler, Junior–Men's Soccer
Colin Stravers*, Sophomore–Men's Track and Field
Francesca Strolia*, Senior–Women's Cross Country
Alexis Suwyn, Sophomore–Women's Soccer
Leah Sweetman*, Sophomore–Softball
Breanna Toppen, Junior–Women's Basketball
Lindsey Vanderlaan, Sophomore–Women's Soccer
Bethany VanderPloeg, Sophomore–Women's Track and Field
Mikayla VanLaan*, Junior–Women's Cross Country/Track
Dani Van Laten*, Junior–Women's Volleyball
Case VanWingerden, Junior–Men's Soccer
Daisy Vazquez, Senior–Women's Track and Field
Christa Veenstra, Senior–Women's Volleyball
Dan Vos, Sophomore–Men's Golf/Baseball
Jim Vos*, Senior–Men's Golf
Pete Vos, Sophomore–Men's Golf
Carissa Wisse, Sophomore–Women's Track and Field
Noah Wolters*, Senior–Men's Cross Country
Taylor Yanke, Senior–Women's Track and Field
Josh York, Junior–Baseball
Sara York*, Freshman–Women's Volleyball
Lexi Zambrano, Senior–Women's Soccer
Danielle Zander, Sophomore–Women's Volleyball
Madysen Zula, Sophomore–Women's Volleyball
*indicates a 4.0 GPA
---