Ballet 5:8 Opens Satellite Campus at Trinity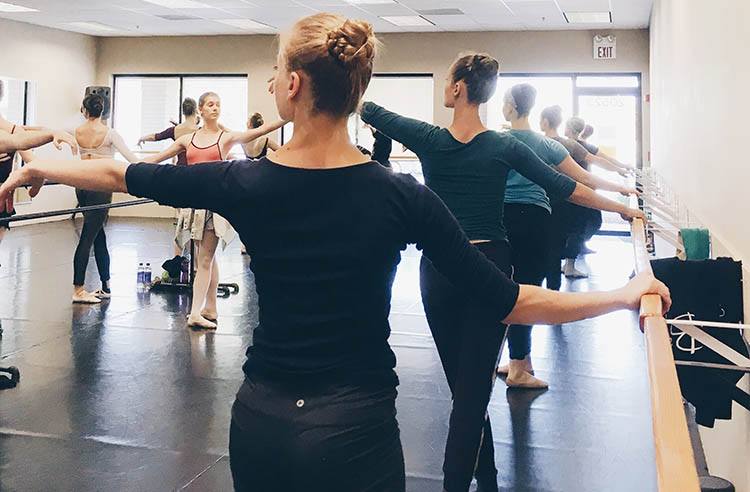 Want to dance? You can now take ballet classes right on Trinity's campus. Ballet 5:8, a local non-profit dance education organization, has opened a satellite studio at the College.
Every Tuesday night, Trinity's Classroom Building takes a step outside of its traditional role as an academic center to host ballet classes. The company offers ballet classes for dancers of all ability levels and is still accepting students.  According to Julianna Slager, Artistic Director and Resident Choreographer for Ballet 5:8, students who attend the class can expect "a fun and challenging class that will give you a good workout, and also leave you feeling uplifted."
Ballet 5:8 is a young but well-established dance education company that serves dancers of all styles and ability levels in the Chicago South Suburbs area.  According to its website, the company's goal is "to make high-quality dance training accessible to students… in a uniquely nurturing environment where students thrive."  Slager says that Ballet 5:8 achieves this mission by teaching students "how to find their identity in Christ and how to worship through work."
The addition of Trinity as a satellite campus for Ballet 5:8 has been an excellent way for this nonprofit to spread its influence and expand its mission.  "We believe in working together with other organizations to provide services that enrich our communities. Our residency at Trinity does this, and we're so blessed to be able to be on campus this year!" said Slager.
All Ballet 5:8 classes at Trinity are held on Tuesday nights in Room 215 of the Classroom Building.  Dancers should plan to attend whichever class best fits their age: Pre-Ballet for three- and four-year-olds from 4:30-5:15; Elementary Ballet for five- and six-year-olds from 5:15-6; Ballet 1A for ages seven and up from 6 to 7; and Teen/Adult Ballet for ages 14 and up from 7-8.  Ballet 5:8 offers the first class free. Classes are $15 each for the public and $5 for current Trinity students with a valid ID. More information can be found here.
Ballet 5:8 hopes to see you there next Tuesday night!
---