Bringing Success to Those with Autism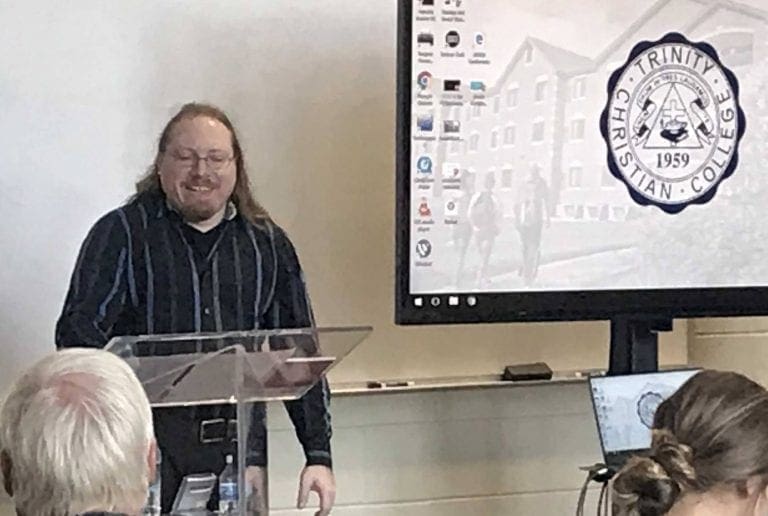 Jonathan Chase, Trinity's guest speaker on Sep. 21, was diagnosed with Asperger's Syndrome at 14. He knew he was different, and unfortunately, students at his high school did too. He was bullied and cast out of the usual social structure for being different, said Chase, speaking on the topic of "Breaking Out of the Bubble," at a luncheon hosted by Trinity's Education Department through the Alexander DeJong Center for Special Education.
This experience prompted Chase to begin to moving forward, with the understanding that his view of life was always going to have a distinct perspective. This led him to research, writing, publishing, and presenting his findings so children with autism, their parents, friends, and communities can benefit from his first-hand experiences and understanding of how autistic people can grow to maximum independence.
According to Chase, autism is a term that is applied to a very broad spectrum of individuals, and it is important to remember that autism impacts and affects each individual's view of everyday experiences and conversations in completely different ways. Chase demonstrated this by giving the example of the casual and over-used vernacular of one person passing another and asking, "How are you doing?" To most people, that calls for a simple answer, usually a response of "Fine." However, a person with autism may process the question literally and respond with a detailed answer such as, "Well, I'm a little nervous today. My cat is sick and I'm just getting over a cold."
Having autism may result in experiencing the world in a unique and personal way. While this can apply to many areas, individuals with autism tend to experience change differently. Since life is rarely predictable, individuals with autism may find that change can be tougher to handle.
Chase describes his experience with autism as having a different life clock.  Understanding this was vital to a successful mentoring of other individuals with autism. For example, he didn't get his driver's license until he was 27. This resulted in part from the well-intentioned people in his life who protected him from experiencing failure. The steps in completing his driving lessons were challenging for him, because as a person with autism, he had not experienced many opportunities to fail. Oftentimes, parents with children without autism allow their children to fail in their everyday lives in school, in relationships, and sports, whereas children with autism are often protected from these experiences. This results in children with autism not learning how to deal with failure. And as Chase noted, "Humans fail all the time. Every day we fail in several things we do. From those failures, we learn that failure is part of our day and our life and accept it and move on. Individuals with autism should be allowed do the same," he said.
Chase offered attendees several tips to understand how to support those with autism to succeed in adulthood. As we mentor, parent or befriend a person with autism, it is important to not only learn about their individual traits, talents, and goals, but also to understand how to support an adult with autism in such a way that maximizes their possibilities and independence.
Chase suggested:
Plan long term (So change can be gradual and not frightening)
Start early (Make sure you communicate what is coming and why)
Take small steps towards being uncomfortable (So they understand that its part of everyday life)
Push yourself in small ways. (Planning, communicating, guiding, and allowing some failure along the route is OK)
Chase emphasized that individuals with autism often lack the opportunities to safely fail that others take for granted. Small bits of failure slowly built into their lives can help them transition successfully to adulthood. "Everyone has to do something uncomfortable every day, even people with autism," he said. This statement underlined his focus that small steps taken over time make a difference towards success. As he ended his lecture, he closed with a powerful reminder that not only applies to people with Autistic Spectrum Disorder, but to everyone: "Being uncomfortable can't kill you."
Jonathan Chase is a Portland, Ore., resident, autism activist and professional bass player. He is a board member of the Autism Society of Oregon (ASO). He also lectures on ways to improve the lives of those with Autism and has also authored "From Surviving to Thriving, Classroom Accommodations for Students on the Autism Spectrum." Learn more about his work here
---