"Bigger Than What You See"—Launching Next Step 2022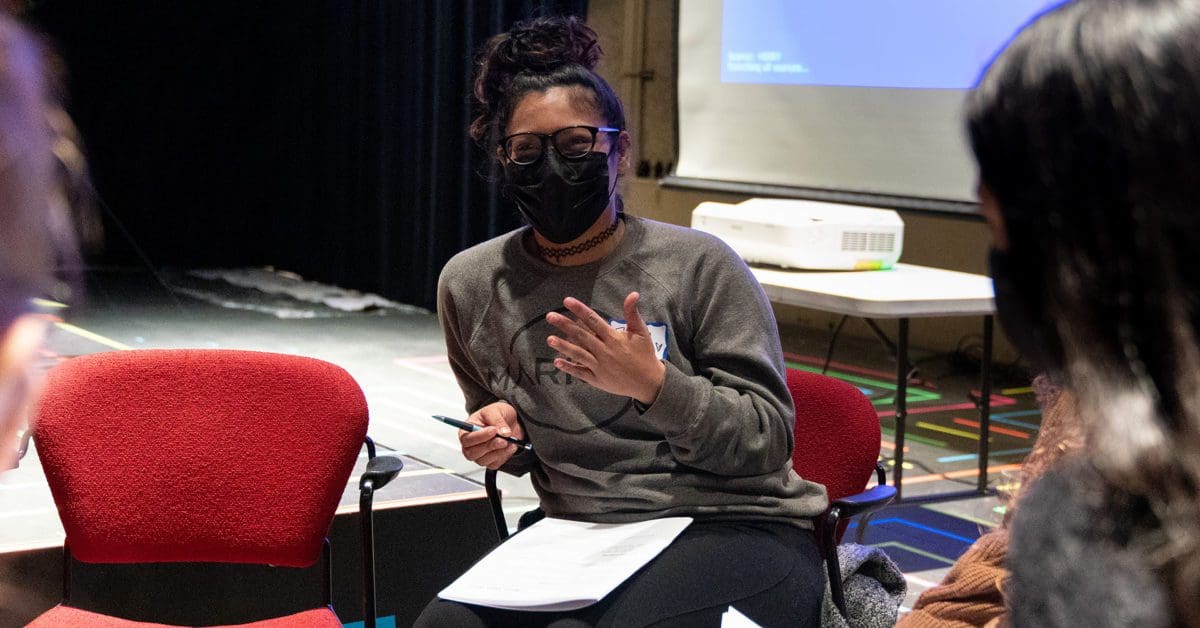 —Patricia Yang '25
Saturday,  February 19 was Multicultural Team's annual Next Step event! The event's speakers eagerly shared their knowledge and insight and spoke on the greatly diverse and unique community present not only at Trinity Christian College, but also throughout the world. Headed and organized by Marissa Barnes '22 and Caleb Rivera '24, this year's Next Step was held in the Marg Kallemeyn Theatre of Trinity's Arts and Communication Center, where listeners could huddle together and learn eagerly about our culturally diverse world.
This year's Next Step theme, "Bigger Than What You See," speaks especially to the hidden, unseen parts of an individual's identity. This session touched down a lot on that aspect, including disabilities. Barnes and Rivera wanted to tie everything back to the Kingdom of God and Christian roots. Said Rivera: "We want to be able to bring the campus back to those Christ-centered events where we talk about these things, and we talk about them first to glorify God."
Next Step is a seminar-style workshop, an integrative experience that revolves around culture. "The goal," said Rivera, "is to make people aware of things that are happening socially." In a combination of lectures, panels, and group sessions, this event strives to talk not just about cultures, but also society, biodiversity, identities, and more. This year Next Step hosted Prof. Aron Reppman of the Philosophy department, Prof. Keith Starkenburg of the Theology department, Prof. Jonathan Brooks from the Chicago Semester faculty, and adjunct faculty member Prof. Boaz Johnson, who also teaches at North Park University. Each spoke on identity, and how all work to perceive one another; the impact of culture on worship; systemic racism and its effects; and the significance of names, respectively.
This large Multicultural Team event originated at Trinity in the early 2010s and was inspired by a workshop of the same name at Moody Bible Institute. A band of individuals came together to create Trinity's very own Next Step, and it has been held regularly ever since. This year in particular was a unique experience, considering that Next Step 2021 was held online. Because of that, Barnes shared, there were a lot of unique challenges in re-orienting how to host Next Step back on campus and in-person.
Barnes and Rivera were thrilled with how this year's Next Step came together. "It was superb! We put many hours of planning into it, and I can confidently say that it went well," said Barnes. "In the planning stages, I was nervous about the setup, our speakers, the location… but once the day started, everything seemed to come together. We took time to pray and ask for the Holy Spirit to guide us through the day."
Barnes added, "I am so incredibly thankful to every speaker, as they each made a huge impact on everyone in that room. They all had different perspectives on the same topic, with similar experiences. Each perspective came from Indonesia, Nigeria, Chicago, and Mexico, with the conversation on poverty, immigration, gentrification, and more. I could have sat there and listened to them speak all day. I encourage everyone to show more support by simply listening to these organizations more! There is incredible history behind the fun events they host. Even as a Multicultural Team leader, I forget that. By listening to these leaders talk, and the speakers overall, I remembered why being present at their events and Next Step is so important. I am glad that I got to plan, participate, and learn from Next Step all at the same time."
With the closing of another successful and fruitful Next Step, Barnes and Rivera now plan to collaborate and help all the other cultural organizations around campus, such as African Student Union. While Trinity was operating in a hybrid environment in the 2020-2021 year, leadership of cultural organizations were scattered between being present in-person or attending via online methods, making it a tricky year to navigate through. "Last year was definitely difficult for all the organizations," said Barnes. The plan now is really just working with them. "We plan to put all the organizations in just one space and help them by training them with leadership things"—and alongside that, just giving them all the support they can.
Learn more about Multicultural and the events they host via these emails: Marissa.Barnes@trnty.edu, Caleb.Rivera@trnty.edu, Nicole.St-Victor@trnty.edu, or Rebecca.Carlson@trnty.edu.
---