Business Department Accreditation Reaffirmed by ACBSP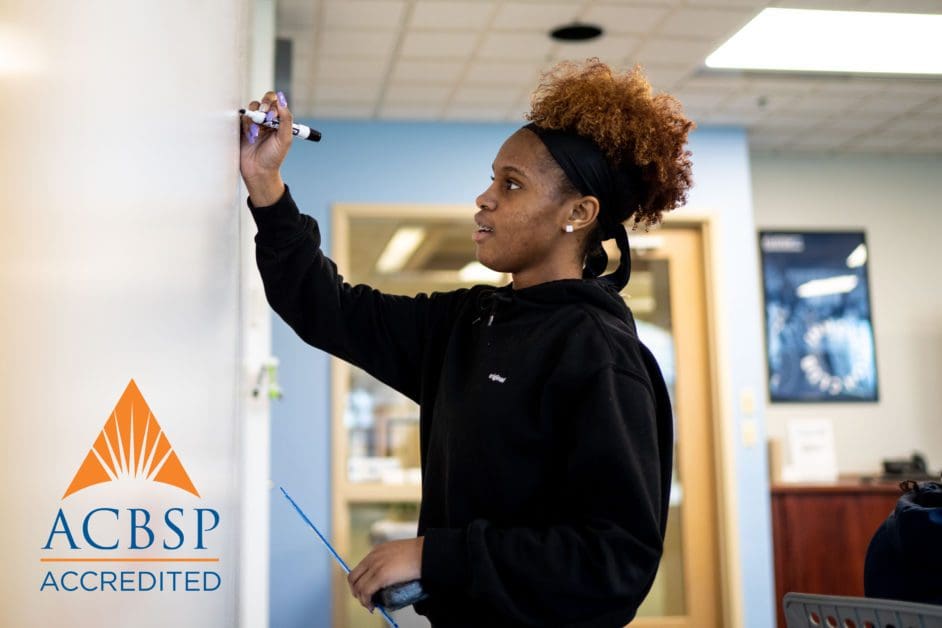 Graduates of Trinity's business programs are prepared to become leaders who make a difference, with successful careers built on intellect and integrity. As part of our ongoing commitment to this kind of excellence, Trinity is pleased to announce the business department's reaffirmation of accreditation by the Accreditation Council for Business Schools and Programs (ACBSP).  
"This affirmation from the ACBSP is a sign of our commitment to a rigorous, quality business education for our students," said Professor of Business and Department Chair Deb Windes. "We are pleased to receive this important validation of the quality of the education that students in our business programs receive." 
ACBSP accreditation certifies that the teaching and learning processes within the business degrees and programs offered through Trinity meet the rigorous educational standards established by ACBSP. The business programs at Trinity were first accredited by ACBSP in 2011. The College is required to go through the reaffirmation process every 10 years to maintain ACBSP accreditation.  
Trinity's business department offers a vast wealth of knowledge and experience for students looking for a career in the world of business, said Haley York '20. "I was fortunate enough to have so many opportunities in the start-up community and on campus to grow my experience and skills I learned in the classroom. My four years in the business department at Trinity were foundational to my life and career," said York, who is now director of expansion at Next Door Photos and the Fusion59 Innovation Center coordinator. "Both of these positions lean on the experiences, knowledge, and mentorship I gained while at Trinity and I am so thankful for the time I had on campus." 
Based on the Baldridge Education Criteria for Performance Excellence, ACBSP accreditation evaluates aspects of leadership, strategic planning, relationships with stakeholders, quality of academic programs, faculty credentials, and educational support to determine whether the business programs offer a rigorous educational experience and demonstrate continuous quality improvement. 
"Trinity Christian College has shown its commitment to teaching excellence and to the process of quality improvement by participating in the accreditation process," said ACBSP Chief Accreditation Officer Dr. Steve Parscale. "This reaffirmation of accreditation is evidence that they are committed to maintaining the highest quality business education for their students for the next 10 years, just as they have done since 2011." 
Trinity's business program has been recognized for the quality of its teaching and ability to prepare graduates for their vocations, including by Colleges of Distinction.  
---