By the Bog of Cats – An Intense Heartbreaking Story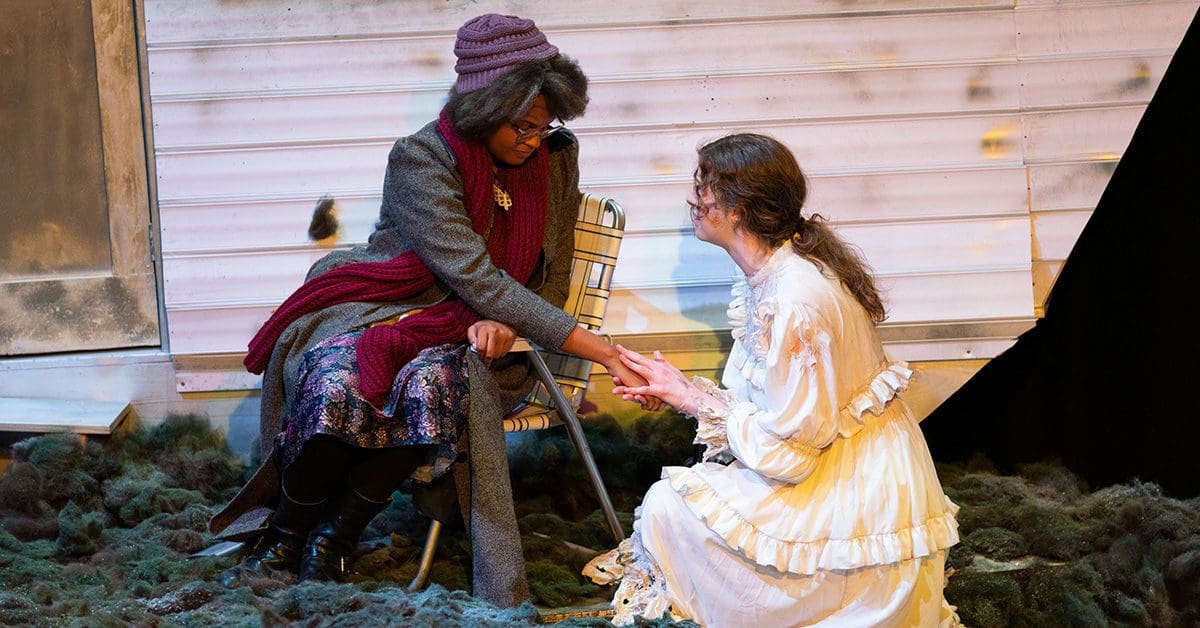 -Julia Oostema '23
This fall, Trinity staff and students joined together to stage a haunting play titled By the Bog of Cats. The play followed Hester Swane, a woman who was abandoned by her mother at the age of 7 and has remained on the Bog ever since. At the time that the play takes place, Hester has a 7-year-old daughter of her own and is determined to be a good mother. Broken relationships and community tension make this resolution difficult, however, to the point that Hester's and her daughter's lives both hang in the balance.
Due to the mature content of this play, Trinity Theatre recommended the production for audience members aged 13 or older. Mental illness, abuse, assault, and more are all mentioned or portrayed, so viewers were advised to attend with caution, and various mental health resources were listed in the program.
Director Emma Schneider chose this play because of its themes of brokenness and reconciliation and the dangers of communal harm. As human beings living in a time of fierce division and disagreement, By the Bog of Cats speaks into our current situation and acts as a "tragic cautionary tale of what happens when we isolate and ostracize those around us."
Throughout the play, we witness the rejection and mistreatment of Hester compounded by her own trauma and self-isolation. Especially in the second act, it becomes clear that personal healing needs to take place, but taking those steps is incredibly difficult without a loving community.
Although this play was at times difficult to watch, it invites us into an intense, heartbreaking story that prompts us to ask hard questions: "What causes our relationships to fracture? How can this lead to larger communal brokenness? What do we do when mending one relationship means further breaking another? And to where can we turn to truly mend the brokenness we see in our world?"
Despite the play's serious tone, By the Bog of Cats is not all gloomy. Hester's daughter is innocent and delightful; Mrs. Kilbride is spectacularly obnoxious; and Catwoman and Father Willow provide much-needed comic relief.
Overall, members of the cast and crew did a wonderful job putting the show together and bringing this story to life. It touched my heart, made me think, and left me wondering: What can I learn from the ending of this play? Who might be the Hesters in my own life? How can I better recognize and love people on the outskirts?
Many thanks to the cast, crew, designers, managers, technicians, and directors who made this production possible. It was truly a job well done.
For more information about upcoming performances and events in the Marg Kallemeyn Theatre click here to visit the Trinity Box Office.
---