Canadian Alumni Meet for Tab Gathering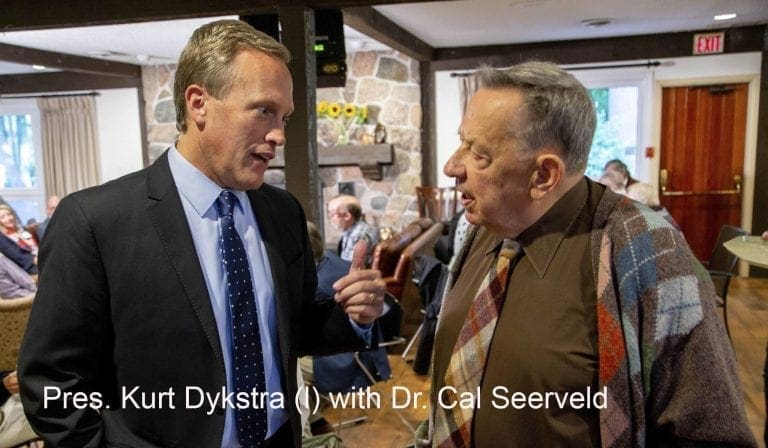 Even today's students know something about the Tab, Trinity's first and homemade, student union. After all, it is memorialized by a rock and plaque placed near the original site outside the Dining Hall, describing its use from 1967-1987.
Some have heard the story of its construction by students and a young Philosophy professor, Pete Steen (who also served, with his wife, as dorm parent) mostly between the hours of 11 p.m. and 2 a.m., with entirely donated materials (concrete from Ozinga and boards dissembled from the Jousma hunting lodge).
Once built, the Tab (short for "Tabernacle") served as a burger and hot dog joint, card-playing den, guest lecture hall, music venue, Sunday evening worship service gathering spot, and a place for students and faculty sometimes to meet outside of class.
(One student, Perry DeCastri, having arrived inadvertently at the Trinity in Palos Heights instead of the one in Deerfield, joined a game of hearts and graduated four years later with a degree in biology!)
During the Tab's early years, about 20% of the student body was Canadian. Canadian students came to Trinity because of the Reformational philosophy taught here, which tried to carry forward Abraham Kuyper's insight that Christ's lordship is comprehensive, extending to all of life. (They also left their mark in sports history when Trinity's hockey team defeated the University of Illinois 2-1 in 1968.)
So it made sense to call the Sep. 22, get-together in Mississauga, Ontario, the Tab Gathering. The invitation for the gathering went out to Canadians of all eras and to Americans who attended Trinity during its first two decades. About 55 people attended, mostly from southern Ontario (Toronto, Hamilton, St. Catherines, London, etc.) but also from Chicago, Philadelphia, Michigan, and Alberta, Canada. They were joined by former professors Mary Vander Vennen, Thomas McIntire, and Calvin Seerveld, with his wife, Ines. They were greeted by a Trinity team, including Pres. Kurt Dykstra, Provost Aaron Kuecker, Director of Alumni & Family Engagement Brad Laninga, and several faculty members, mostly to listen to stories about heritage but also to answer questions about Trinity today.
After an informal time of greeting and catching up, Dykstra gave an opening welcome and prayer and then invited all to begin the catered dinner. After dinner, alumni came forward to tell stories about places on campus that were important to them–the Tab, of course, but also the Fireside Chapel, classrooms, and residence halls–and stories about what in their Trinity education has stuck with them through the years. This included a professor's care, a permanently dusty chalkboard, the first appearance of a future spouse, the care for language, hands cramped from taking notes, and an exciting vision of the reach of faith into more of life than most of us had imagined.
A question-and-answer segment followed, with alumni thankful for the opportunity to pose questions about Trinity's educational program today to Kuecker and Professor of Philosophy Aron Reppmann, Ph.D., and Professor of English Karen Dieleman, Ph.D..
The final surprise was a 10-minute reading of Psalm 71 by Seerveld, with introduction and commentary that doubled as a benediction for those in the room and those at Trinity, more broadly, trying to carry on the work of the Lord in higher education. Then the Serveelds distributed a book of talks that Cal gave at Trinity from 1993-2018, including the present benediction. Someone started the doxology, "Praise God from Whom All Blessings Flow." It was a fit ending to a night of many blessings.
–Dr. Michael Vander Weele '73, Professor of English
---