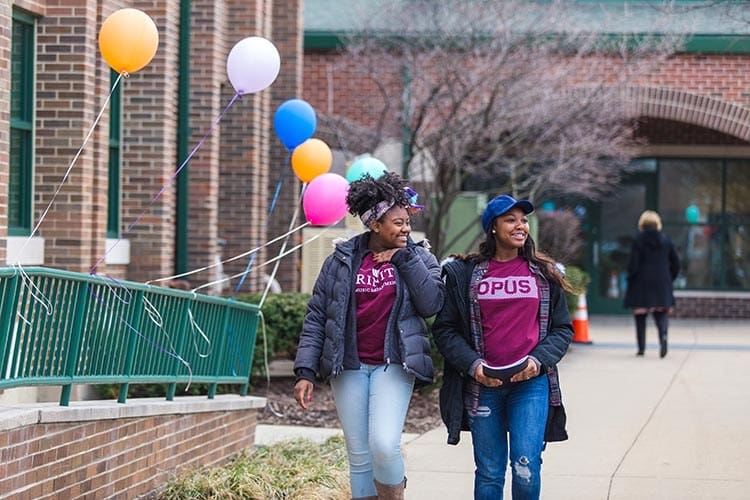 Trinity's community came together on April 10 for OPUS! At Trinity, OPUS is one of the biggest events of the year. It's where everyone at the College spends an entire day together celebrating Christian scholarship and seeing all the work and achievements of students in different departments and concentrations.
From the arts to the sciences to music to nursing, students showcase their best work during OPUS. For the second year, Trinity also hosted Admitted Students Day on OPUS.
"OPUS is an amazing way to celebrate excellence in student learning," said Dr. Sharon Robbert, Ph.D., professor of mathematics and chair of the OPUS Committee.
Literary Arts Competition Winners
Fiction
1st Place: Indira Escalante, "Emma Goes to the Market"
2nd Place: Sarah Kliora, "Polar Opposites"
Non-Fiction
1st Place: Denise Hallstrom, "My Momma Says I'm Special"
2nd Place: Deborah Fry, "Centers for Improvement and Information Transmission"
Poetry
1st Place: Jessica Slinkman, "Snow Day":
2nd Place: Jessica Slinkman, "Five Senses"
Awards in Music
Instrumental
1st Place:  Benny Munoz, guitar, "Flight of the Bumblebee" by Rimsky-Korsakov
2nd Place:  Hannah Slager, French horn; Kate Meyrick, piano, "Romance" by Saint-Saens
3rd Place: (tie)  Gabrielle Lenting, violin and Ivy St. John, piano, "Sonatina, op.100" by Dvorak; Rachel Walby, piano "Summertime" by Gershwin
Vocal
1st Place:  Aaron De Boer, baritone, "Vergen, tutto amor" by F. Durante
2nd Place: Breanna Eissens, mezzo-soprano, "Silent Noon" by R. Vaughan Williams
3rd Place:  Matthew Meyrick, tenor, "Create in Me" by F. Mueller
Art & Design Winners
Graphic Design
1st Place: Mariah Nelesen, "Limetta"
2nd Place: Yeonji Choi, "Endangered Animals"
3rd Place: Jessica Lemmenes, "Flora Organic Toilet Tissue"
Honorable Mention: Alex Lauriano, "Metal Vision"
Printmaking/Photography
1st Place: Claire Sukamto, "Part of me, apart from me #3"
2nd Place: Pierce Cruz, "Untitled"
3rd Place: Yeonji Choi, "Untitled"
Honorable Mention: Jacob Boglio, "The Perception of Self is a Parasite of Persistence"
Sculpture/3D
1st Place: Agnes, Zabawa, "Shadow Hands"
2nd Place: Claire Sukamto, "Look Close"
3rd Place: Kacie DeKleine, "Experiences"
Drawing/Painting/Mixed Media
1st Place: Pierce Cruz, "Come a Little Closer"
2nd Place: Jacob Boglio, "Untitled No. 15"
3rd Place: Tara Vandermeer, "Plane Paper Bag"
Best in Show (Printmaking/Photography)
Kacie DeKleine, "Inside Out"
Awards in Theatre
Dramatic Interpretation
1st Place: Amanda Garcia, "If It's Not One Thing, It's Your Mother; Forgetting to Be Afraid; Surfer Girl"
2nd Place: Ben Friesen, "Resten's Monologue" from The Language Archive
Original Oratory
1stPlace: Soraya Limon, "We Need to Talk"
2nd Place: Jess Slinkman, "My Good Father"
Poetry/Prose Interpretation
1st Place: Komaria Carpenter, "Uncomfortable"
2nd Place: Amanda Garcia, "We Have Always Lived on Mars"
Social Entrepreneurial Pitch Contest Winner         
Mikaela Kiel & Tracy Raikes, "Socially entrepreneurial bakery"
Presentation Showdown
Honorable Mentions
–Nicolette Vaccaro, Allison Koehler, Courtney Cramer, Caitlin Conners, Kailey McCarthy, "Perceived Health Needs of the Community and Impact of Lifelong Learning on Health"
–Morgan De Ruiter, "De-stigmatizing the Monster: HIV/AIDS and its Worldwide Attack"
–Megan Gjertsen and Morgan DeRuiter, "LSD-1 Knock-down in C. elegans"
1st Place: Michaela Kohlmeier, "Songs of Social Commentary: What Lecrae has to say about Race, Politics, and the Church in America"
2nd Place: Cara Horstman, "Light in the Darkness: Childhood Trauma, Memory Formation, Biological Implications, and the Restoration Found in Christ's Death and Resurrection"
The 2018 OPUS Golden Troll Winner: World Languages Department (Spanish)
(The Golden Troll is a travelling trophy given to the academic department each year with the largest combined proportion of reported external student academic recognition and OPUS presentations from all declared majors in that department)
And mark your calendars for our 20th Anniversary of OPUS: April 9, 2019!
---