TBN Panel Discusses Doing Well by Doing Good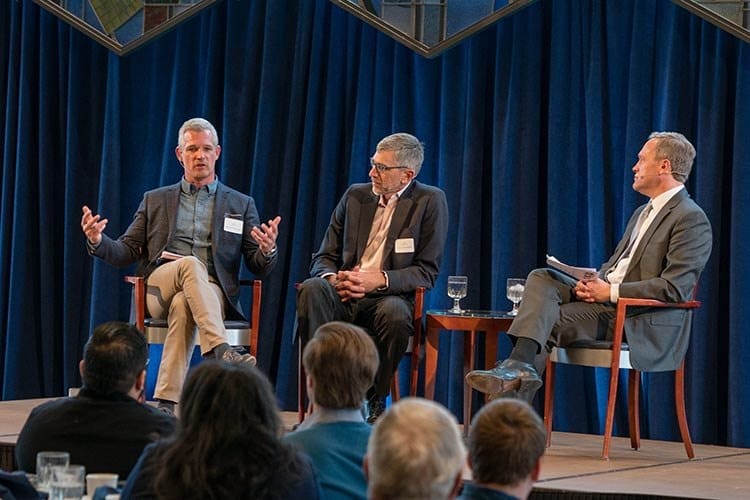 Corporations and other organizations have significantly evolved their views of social responsibility, and now many more of them realize that they owe more than just profits to their stakeholders. Corporate social responsibility policies can also lead to improved employee morale. Those were just a few of the topics that were discussed on April 9 during a Trinity Business Network luncheon as part of Changemaker Week at Trinity.
Corporate social responsibility, where companies voluntarily commit to high compliance and ethical standards, has become a new benchmark in today's business world, panelists agreed.
"Companies can and should be part of the solution to solving the world's greatest problems," said Matt Vander Laan '97, public relations and crisis management professional who was formerly vice president of Edelman.
Corporate social responsibility actions don't just improve the world outside of companies–they can inspire employees, too, according to Eric Schoonveld '88, founding partner at the law firm of Hall, Prangle and Schoonveld. "People with purpose have energy," he said. As the son of a preacher, Schoonveld used to presume that the world was divided into kingdom work and market work. "But the greatest commandment is that we love God and our neighbors," he said. Now, his law firm focuses on the "triple bottom line" of providing great services to clients, having employees who want to work for the firm, and making an impact on the broader environment around them. The firm's corporate social responsibility activities include wellness programs for employees and raising funds for clean water in Africa.
Vander Laan said Edelman allowed employees to move off of accounts where they felt uncomfortable. He also shared stories of how his former clients, such as United Airlines, Monsanto, and GE, work towards corporate social responsibility. That included advising United after an April 2017 incident where a passenger was forcibly dragged off a plane for refusing to give up his seat. "Using transparency is key," he said. "The demand for information is always highest when the amount of information is lowest."
Trinity President Kurt Dykstra, who served as moderator, asked the panelists about their experiences as Christians in the workplace. "There is no expectation that your clients are Christians. Were there conflicts in the trenches?" Such situations can be problematic, Schoonveld said. "But clients hire us for our advice. I used to be very hesitant to mention my faith, but I've realized I can be true to who I am." Consistency is very important, though. "You can't be lying and cheating, and then call yourself a Christian," according to Schoonveld.
For Vander Laan, it's important to realize that it's not always possible to act like Billy Graham in every work environment. "But people should be able to realize you are different and that you aren't just working for a paycheck."
Dykstra also asked the panelists about their advice for the students in attendance. According to Schoonveld, the ability to listen and learn is extremely important. "It takes a while to learn to listen to other people's perspective," he said. Vander Laan agreed, and also encouraged students to learn to become comfortable with being uncomfortable.
Along with the luncheon, other activities taking place during Changemaker week include a viewing of the documentary Poverty, Inc., on April 11 and a social entrepreneurship event at 1871 on April 12.
---