Celebrating the Class of 2019 at Commencement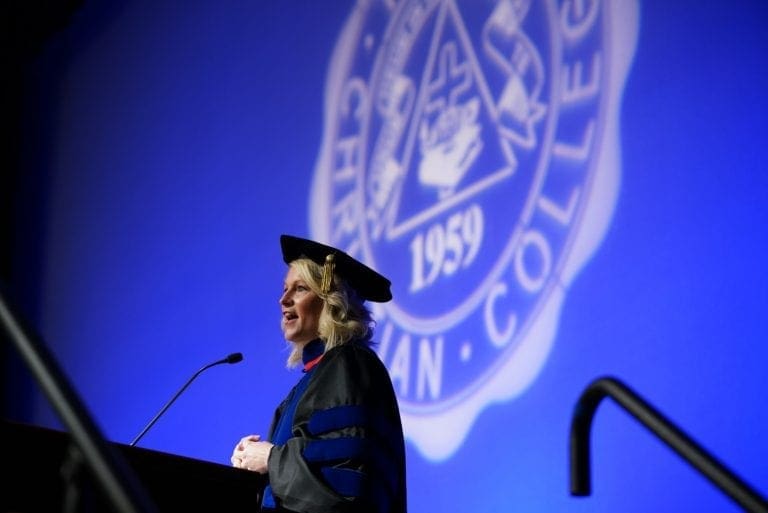 On May 4, nearly 200 members of Trinity's class of 2019 received Master's degrees, Bachelor's degrees, and professional licensures in a joyful ceremony that honored graduates, family, and friends.
"I want to not just celebrate your past work," said this year's commencement speaker Dr. Christina Ritsema, Ph.D., professor at Colorado State University. "I want to celebrate your future work." She urged graduates to have a different vision of work, and suggested five "P's": that work is promised; to have an eternal perspective of work; to be productive; to remember that work is powerful; and that work should be in praise of God.
Commencement began with a welcome from President Kurt D. Dykstra, J.D. Chair of the Board of Trustees Laura Zumdahl, Ph.D., '02 greeted the crowd assembled at DeVos Athletics & Recreation Center.
Kara E. Wolff, Ph.D., Associate Professor of Psychology, Chair of Psychology, and Director of the Graduate Program in Counseling Psychology and 2019-20 Professor of the Year, offered the invocation.
Trinity's Provost Aaron Kuecker Ph.D., honored the emeritations of two faculty members: Thomas R. Roose, Ph.D., Associate Professor of Physics and Science Education; and Michael Vander Weele, Ph.D., Professor of English.
Gyousam Yang, the father of Jinho Yang '19, gave the closing prayer, with Jinho.
The Honors Ensemble, led by Professor of Music Helen Hoekema Van Wyck, D.M.A., gave the song of response, "All the Day Long." Affiliate Faculty in Music Minkyoo Shin, D.M., and Professor of Music Mark Peters, Ph.D., provided music during the program.
Suzanne Jonkman '90, President of the Trinity Christian College Alumni Board, and Christian Perry '16, Vice President of the Alumni Board, gave the congratulatory greeting to the newest alumni of Trinity.
---