Honoring Athletics Night Award Winners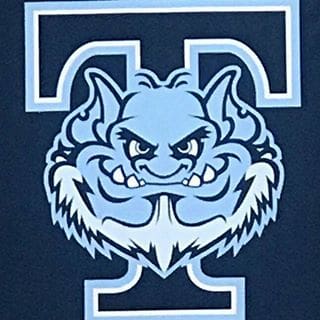 Trinity athletes, along with a contingent of the student body, gathered in the DeVos Athletics Center on April 25 for the annual Awards Night. The evening's program was a celebration of the year, a reflection on its accomplishments, and time to honor individuals from Athletics and Student Life with annual special awards.
The Athletics Department's highest honors are career awards given to a female and male athlete who exhibit exemplary play on the athletic field, high achievement in the classroom, and leadership in campus activities. This year the Liz Metcalfe Award was given to Elly Brummel '18 of Hudsonville, Michigan and the Keith Albers Award was represented to Kris Kirchhoff '18 of Frankfort, Illinois.
Brummel is a four-year starter and two-year captain as defender on the women's soccer team.  She was an integral factor in the success of the program that made four national tournament appearances, including a NCCAA national title and a NAIA Opening Round appearance, in her four years.  In her career she was a part of 41 defensive shut-outs, which accounts for 45 percent of the games she played in. She also scored five goals and had five assists.
Brummel earned CCAC All-Conference honors twice, NCCAA All-Region honors three times, and USC All-Region honors this season. In addition she was NAIA All-America Honorable Mention this past year and NCCAA All-America in 2017 and 2018. Brummel was also named to the 2018 NCCAA Nationals All-Tournament Team.
"Elly is authentic, steadfast, trustworthy, bold yet loving, and sacrificial," said women's soccer coach Josh Lenarz. "She faithfully led by example on and off the field and is guided in all aspects of her life by her personal relationship with Christ. She has had a profound and lasting impact on our program."
Kirchhoff is a three-year starting midfielder on the men's soccer team after transferring to Trinity. Over the past three seasons he has been a steady competitor and leader for the team and provided stability and direction for the program. As a midfielder, he helped direct play on the field and also recorded three goals and had three assists in his career.
Kirchhoff, as a sport and exercise studies major, earned CCAC Scholar-Athlete in 2017 and 2018. He completed his studies in the fall semester and graduated in December.  Kirchhoff was a team captain, a member of ALPS, and also active as a coach for Trinity's youth soccer program.
"We are grateful for Kris' impact on our program, on the field, in the classroom, and as an incredible leader," said Eric Sally, head men's soccer coach. "Kris' growth in our program exemplifies the very best of who we are and what we strive to be!"
For their outstanding individual accomplishment for the 2018-19 season, women's soccer player Jessica Bianchi '19 of Elmhurst, Illinois, was the Female Athlete of the Year and baseball player Chris Baker '19 of South Holland, Illinois, was the Male Athlete of the Year.
Bianchi is a stand-out on the soccer team and led the team to a NCCAA National Championship title. For the year she recorded 36 goals and 10 assists and led the team and the conference in those categories. She also ranked in the top five in the NAIA in goals, points, and shots. In addition she scored seven game winning goals, had four hat tricks, and set a school season record with 102 shots on goal.
The other nominees for the Female Athlete of the Year Award were Madelyn Clausen '21 (track and field), Megan DeWeerd '19 (cross country/track and field), and Kacie Stoll '19 (volleyball).
Baker is the starting center fielder on the baseball team. In the ongoing season, he is a leader with a .371 batting average and a .573 slugging percentage. He ranks in the top two on the team with 55 hits of which 18 are multiple-base hits. He also ranks in the top five in the conference in batting average, hits, runs, on-base percentage, and slugging percentage. In addition he leads the team with 12 stolen bases. Post-season honors for baseball are yet to be determined.
Other nominees for the Male Athlete of the Year Award were Caleb DeWeerd '21 (cross country/track and field), Ben Boers '21 (soccer), Steven Massey '19 (golf), and Jake Ostema '21 (volleyball).
Recognizing a member of the Trinity community who has made a significant contribution to the athletics department, the Rich Kooy Award was presented to Pete Vega, senior graphic designer. Pete has been instrumental in athletics through his work in designing the new Troll logo and athletics brand.  This past year he has diligently, meticulously, and cooperatively worked on the athletics brand and a graphics catalogue for each sport.
"We are extremely thankful for the work that Pete has done and for the excitement he has created with the new branding look," commented Amy Strong, Sports Information Director.  "We are also grateful for the way Pete goes about his work as he is gracious to listen, open to ideas, and always willing to help with projects and come up with new ideas."
---