Celebrating the Classes of 2021 and 2020 at Commencement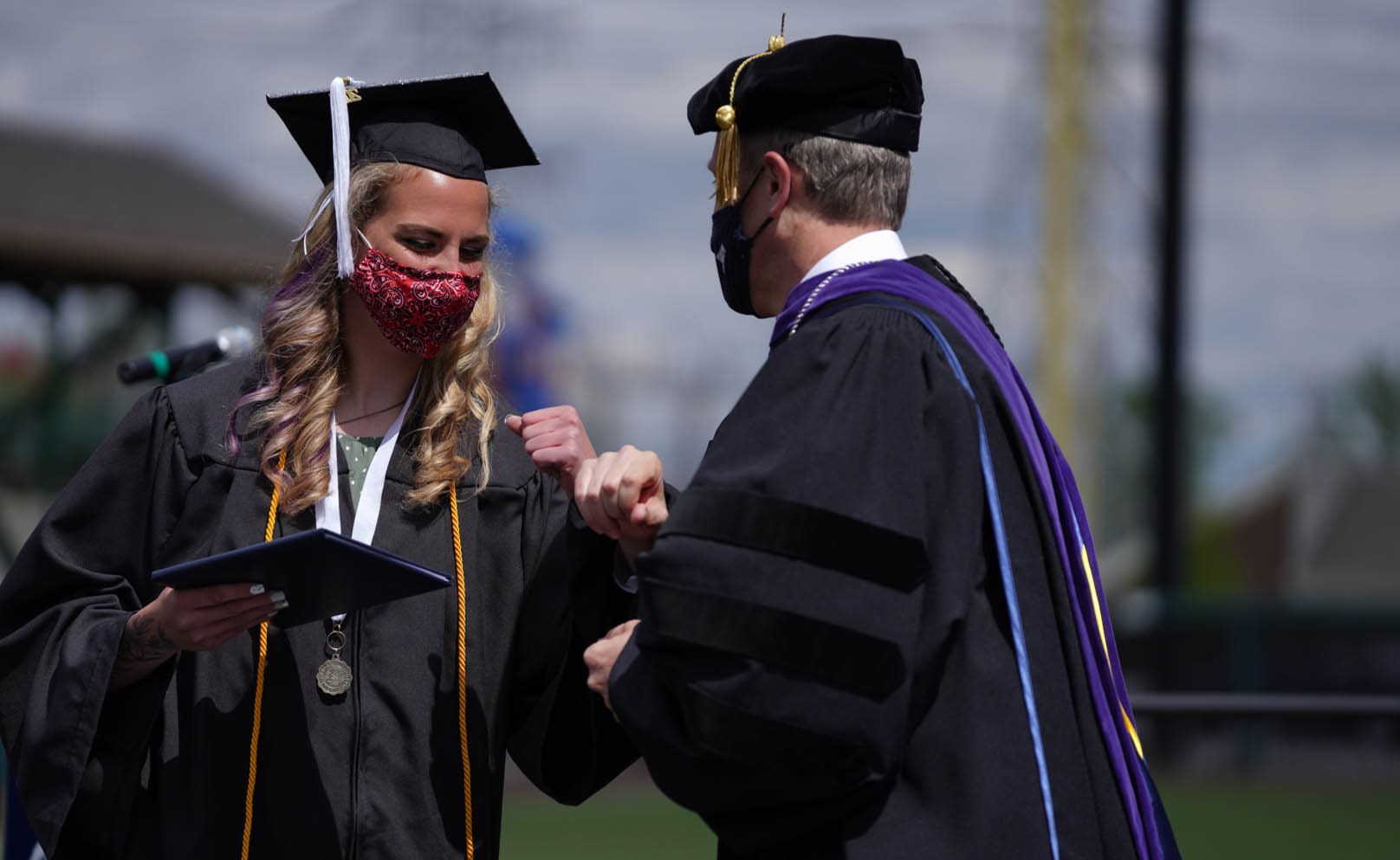 Commencement is always a joyful occasion as graduates, along with their family, friends, professors, and staff, come together to celebrate the years of hard work and accomplishments that has led to achieving academic degrees.  
This year's commencement represented twice the cause for celebration, as Trinity honored the graduates of both the classes of 2021 and 2020! Graduates were recognized in two different ceremonies at Ozinga Field in Crestwood, Ill., to allow for safe social distancing. 
The morning program was dedicated to traditional undergraduate students from the Class of 2021. The afternoon program focused on adult program and master's candidates, as well as members of the Class of 2020, who were honored virtually last year because of COVID-19. 
President Kurt D. Dykstra, J.D., welcomed everyone to this special day.   
In both ceremonies, the reflection, "Living Well in Liminal Times," was offered by Rev. Willis (Bill) VanGroningen, Ph.D., chaplain and dean of spiritual formation, who is retiring from Trinity this summer. 
"We are living in liminal times, in times of great transition and disruption," said VanGroningen. "But we can live well in liminal times."
He urged graduates to remember four ideas during these times:
Love
Nothing is more central or necessary.
Be generous
Live with an openness of heart and soul.
Courage
It takes courage to love God and live generously.
Beauty
Beauty carries its own justification and reward.
"With Jesus, we truly are all in this together," he said.
In both ceremonies, Laura E. Zumdahl, Ph.D., '02 Chair, Board of Trustees, greeted graduates and their guests.  
Provost Aaron Kuecker, Ph.D., lauded two long-time Trinity professors who are retiring and receiving emeriti status: Joy Meyer, Ed.D., associate professor of education, licensure officer, and dean of education; and Rick Snoeyink, Ph.D., professor of education and director of online instruction. 
Kuecker also presented Professor of History David Brodnax, Sr., Ph.D., with the professor of the year award for 2021-22, as well as recognizing Trinity's Honors students, departmental award winners and Diversity Scholars. 
As part of the afternoon event, Kuecker again recognized faculty members Dr. Helen Van Wyck, professor of music, and Dr. Liz Rudenga, professor of education, who retired in 2020 and had received emeriti status. Dr. Yudha Thianto, professor of theology, was also acknowledged as Trinity's Professor of the Year for 2020-21.
During the morning ceremony, Ross Barz '21, Trinity's 2020 Lincoln Laureate, provided the invocation. Noelani Cortina, M.A. '20, provided the invocation for the 2 pm ceremony. 
Vice President for Student Life & Title IX Coordinator Rebekah Starkenburg, M.A.,  gave the benediction.  
Trinity's Gospel Choir,  directed by Nicole Saint-Victor '15, performed the postlude.  
For the 10 am ceremony, the livestream can be viewed here, and the program is available here.
For the 2 pm ceremony, the livestream can be viewed here and the program is available here.
The commencement photogallery can be found on Facebook.
---