Class of '25 Experiences Trinity Life with Blueprints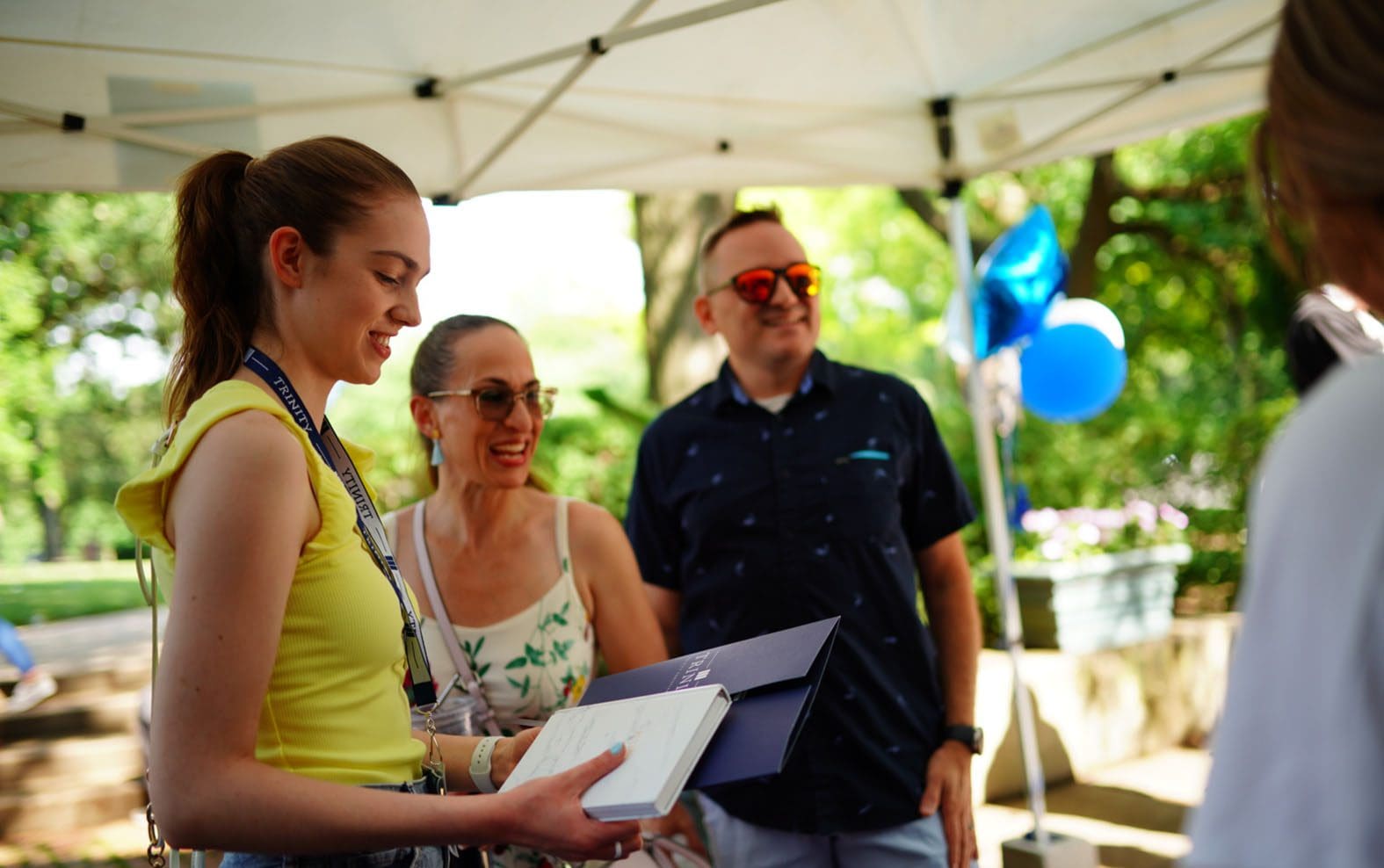 Blueprints Weekend is one of the most beloved traditions at Trinity. During this weekend, incoming freshmen and their families gather on campus for summer pre-orientation and registration and so much more—the chance to get to know each other,  meet others in their new community, and to get a glimpse of what life will be like as Trinity students in just a few short months. 
In many ways, this year's Blueprints on June 18-19 continued those traditions. But it also represented a particularly significant milestone for the Class of 2025, many of whom had never met in person because of COVID restrictions, and who may have spent much of their senior year of high school in virtual learning. And the approximately 250 students and family members who took part in Blueprints got a chance to see what Trinity will look like in the fall, when it returns to normal, pre-COVID operations.  
From meeting with professors to a praise service in Ozinga Chapel to spending a night in Alumni Hall, Blueprints attendees got to experience the full range of what Trinity offers! 
"It was such a wonderful weekend, with the campus teeming with life as we welcomed our incoming students into a glimpse of what a more full campus experience will look like this fall," said Director of Admissions Jeanine Mozie. "For some students, it was their first time stepping foot on Trinity's campus. And for most, it was their first time meeting key members of the community face to face. Blueprints was an incredible time of connecting, encouraging, and preparing our next class of Trinity Trolls." 
Students and Parents Appreciate Experience

For Andrew Ardon '25 of Johnsburg, Ill., Blueprints provided a chance to get a closer look at what college life will be like when he returns in a few weeks as a full-time student and member of Trinity's cross country and track teams. 
"It's been a pretty good experience," said Ardon, who graduated from Johnsburg High School and is still settling on a major. Ardon had visited campus previously and met with Men's and Women's Cross Country Coach Bob Brickman '03, and those visits helped convince him to continue his education at Trinity. 
Andrew's mother Alma said the weekend's activities reinforced the sense that Trinity was the right college for her son. "There is a real community feel here, and everyone has been very helpful," she said. 
For Zanthe Scott's son Zakary '25, Trinity was already a familiar place, thanks to the time he spent attending Troll Athletics' sports camps. Zakary, a graduate of Curie Metropolitan High School in Chicago, had considered several other colleges in the Chicagoland area. But Trinity offered a perfect mix of size, location, and Christian focus, and attending Blueprints reinforced that feeling. "This has been a very informative, and we are very blessed that we are here," said Zanthe.  
A Welcome by President and Mrs. Dykstra, with Mr. Bates

As part of Friday evening's events, incoming students and their family members were welcomed by President Kurt and Mrs. Leah Dykstra, with a special appearance by Trinity's First Dog Mr. Bates! 
"Every year, we are excited to welcome our new class of students," said President Dykstra. "But to be gathered together in this space is the answer to a prayer." 
He said to students, "We are here tonight to begin this next step in your life. You are going to work and you are going to have fun. At Trinity, we believe in connecting the mind, body, and spirit." 
Dykstra also assured the parents in attendance that he knows exactly what they are feeling, since the Dykstras have a daughter who recently graduated from Trinity and another who is a current student.  
The welcome ended with pro tips on navigating Blueprints by Erin Nagelkirk '07, assistant director of admissions for visits and operations, who offered suggestions on getting the most from Blueprints for those gathered on Trinity's campus, as well as those attending virtually. 
A Weekend Full of Information, Activities, and Fun

Trinity's Admissions team, working with many others on campus, assembled a dynamic program that offered crucial information, the opportunity to ask questions, time for taking care of paperwork such as getting photo IDs, and lots of chances to meet with new friends. 
Informational sessions focused on a range of topics, from off-campus study programs to academic overviews for different majors to resources for academic and emotional support. The Financial Aid Office hosted multiple sessions to answer any questions about billing, and deadlines. Every student also participated in one-on-one advising sessions. 
There were also many sessions focused on student life and athletics, including student leadership positions, multicultural engagement, and what to expect on move-in day, as well as break outs targeted to first generation students and Diversity Scholars. 
And of course, attendees had many opportunities to get to know each other, relax, and enjoy snacks. That included a visit by the food truck of Doughs Guy's Bakery, another Trinity tradition. 
Saturday ended with a closing session and farewell…for now! We can't wait to see all our freshmen back on campus in August. 
Missed out on Blueprints, or just want to relive the fun? Check out this video here. 
---