Coach Lenarz Earns 300th Career Victory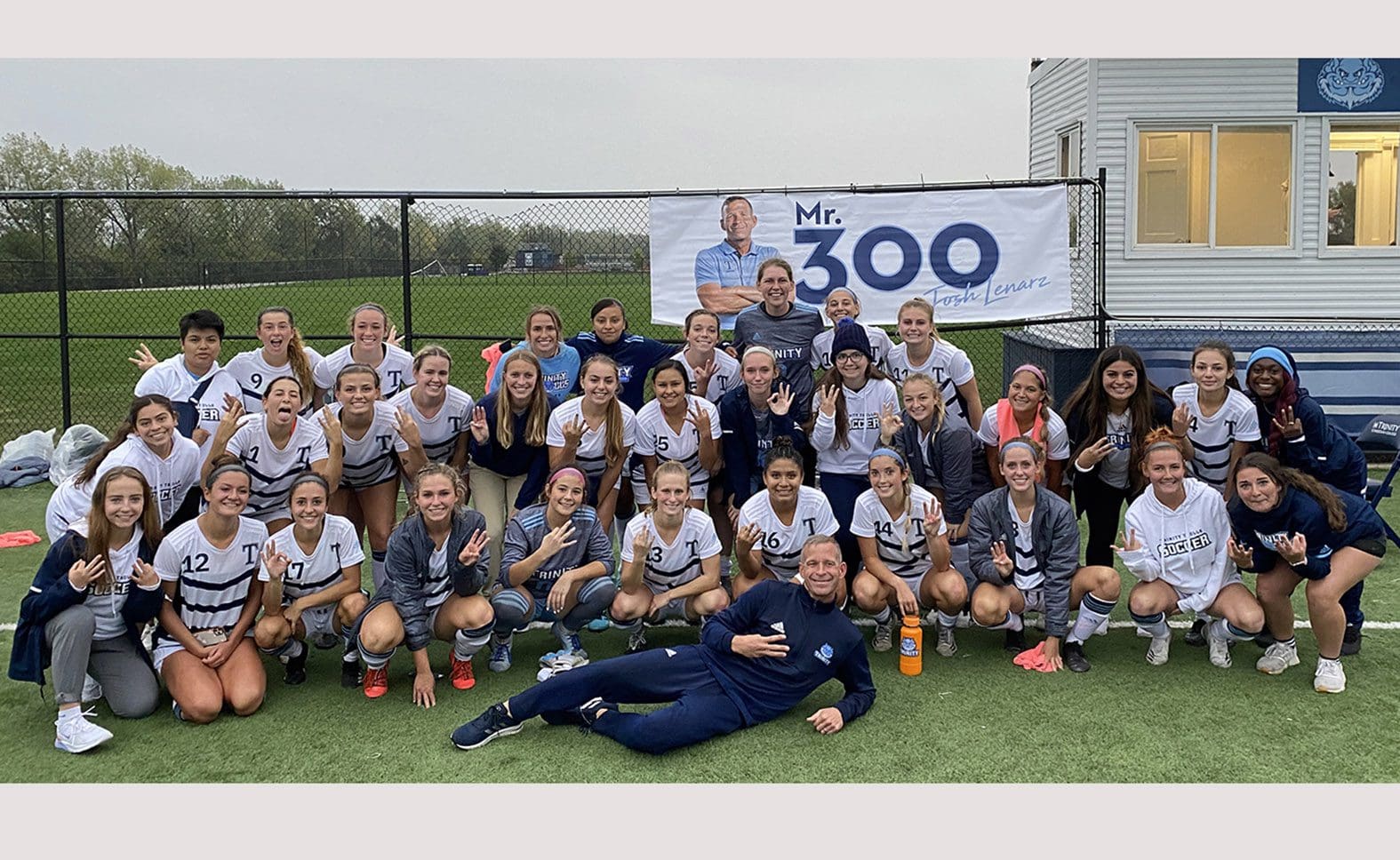 Trinity's head women's soccer coach Josh Lenarz '98 notched his 300th win when the Trolls scored in the 10th minute of their game against Judson University on Oct. 6.  Lenarz, coaching in his 20th season at Trinity, now has an overall career record of 300-113-28.
Trolls from all over sent their video congratulations on this remarkable achievement!
The victory came when Brianna Uhl took a pass from Katie Drenth and shot it past the Eagles keeper for her 16th goal of the season. The win also brought the Trolls' record to 10-2.
Along with his 300 wins, Lenarz is one of the most winning active coaches in the NAIA. Lenarz has led teams to the post-season national tournaments 13 times in the past 15 seasons, which includes five appearances to the NAIA National Championships. In addition, the Trolls advanced to the NCCAA National Championships eight times with the latest appearance being in 2018.
Under his leadership, the team also earned conference regular season championship titles in the 2008 and 2009 seasons. In 2009 and 2017, they claimed the conference tournament title. The team also earned the CCAC Karl Boeck Champions of Character Award four times.
Lenarz was named the CCAC Coach of the Year in 2008, 2009, 2013, 2018 and 2020. He has also been recognized as the NCCAA National Coach of the Year in 2005 and 2008, the NCCAA North Central Region Coach of the Year 13 times, and the 2005 NAIA Region VII Coach of the Year.  In 2016, he received the NISOA/NCCAA Frank Jewell Award for Christian character and integrity while coaching.
A graduate of Trinity, Lenarz received a bachelor's degree in physical education. He also has a master's degree in higher education-college student affairs from Azusa Pacific University. He was a four-year soccer player at Trinity and earned all-conference honors for four years and was an NCCAA All-American three times.
---