CSO Concertmaster Will Join IPO for All-Mozart Concert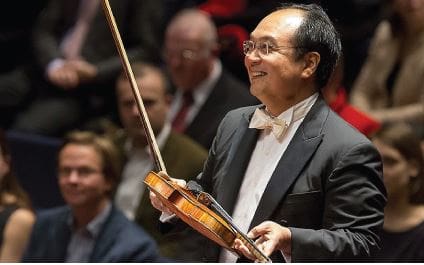 As part of its Mozart celebration, "From Wit to Wonder," the Illinois Philharmonic Orchestra welcomes Robert Chen, acclaimed violinist and Concertmaster of the Chicago Symphony Orchestra. The evening showcases the range of Mozart's melodic gifts conducted by Maestro Stilian Kirov. The concert begins at 7:30 pm on April 27 at Trinity's Ozinga Chapel Auditorium.
This all-Mozart performance features some of Mozart's most famous and beloved works, including: Overture to The Marriage of Figaro, k. 492,  Violin Concerto No. 5 in A Major ("Turkish"), k. 219, and Symphony No. 41 in C Major ("Jupiter"), k. 551.
Guests will also have an opportunity to attend a free pre-concert lecture from 6:25 pm until 6:50 pm featuring Robert and moderated by IPO Assistant Concertmaster, Elizabeth Huffman.
"Mozart's genius music is quite immortal," said Kirov. "His works are quite extraordinary and timeless. You never get tired of Mozart. A major part of IPO's programming concept is diversity, and as we have a substantial amount of American music, early and late romantics, Slavic and Russian composers, we thought that an all-Mozart program would be a nice musical gift to our audiences."
Guest artist Robert Chen is generously sponsored by Four Seasons Heating and Cooling in loving memory of Jozef Maka.
Concert single tickets start at $27 in advance. Student tickets are $10, and group tickets are available with a minimum of seven patrons. Ticketing fees may apply.
To order, or for more information, visit ipomusic.org or call 708.481.7774.  IPO Ozinga Chapel box office opens one hour before the performance on concert night.
---