Dieleman Publishes Book on Sabbath in the Dutch Reformation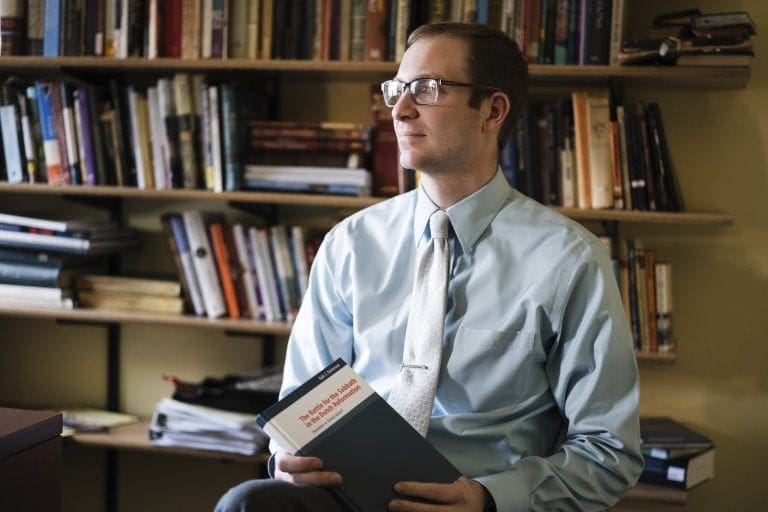 Congratulations to Assistant Professor of History Kyle Dieleman, Ph.D., on the publication of his book  The Battle for the Sabbath in the Dutch Reformation: Devotion or Desecration?
According to Dieleman, the book, which is published by Vandenhoek and Ruprecht, began as his dissertation project while earning his Ph.D. from the University of Iowa.
In the book, Dieleman focuses on the doctrinal and practical importance of Sunday observance in the early modern Reformed communities in the Low Countries of the Netherlands. "My project investigates the theological import of the Sabbath and its practical applications," he said.
Dieleman's family and faith backgrounds have Dutch connections, so the topic seemed like a natural fit for his interests in church history and theology. "I started exploring the Sabbath the first year of my doctoral program when I saw it coming up in a lot of the church records I was looking at," he said.
His book delves in to the ways that the theology of the Sabbath moved over time from an emphasis on spiritual rest to participating in the ministries of the church to a strict rest from all work and recreation. The book also looks at congregants' actual Sunday practices.
Dieleman's book brings to life how people during that time and place truly observed worship. Among the stories he discovered was how a local tavern was supposed to close during church services. "That wasn't happening," he said. "And when the consistory brought the owner in for his discipline, the owner mentioned that he didn't know when to close because he didn't have a clock telling him when the services would start—an obvious lie they didn't buy!"
He reveals another anecdote about the general reluctance of congregants to go back to the second service, which took place on Sunday afternoon. "There's a church document where the church authorities demand those services be held even if the only people present are the preacher and his family," he said.
To research the book, Dieleman visited the Netherlands. "I mainly went to one archive in the city of Kampen, connected through a Dutch friend," he said. "There I looked at the manuscripts of consistory records from their Reformed church from the early 1600s. I was, of course, paying close attention to the ways in which they talked about and disciplined Sunday observance."
A friend of Dieleman's, Herman Selderhuis, connected him to the publisher. "He recommended I submit the book to the publisher and series, so I did. It was accepted, so then it was a matter of some revisions, edits, and so on," he said.
And while much of the work for the book was completed before joining the College in 2017, Dieleman said he appreciated the insights and encouragement of his colleagues here. "I want to thank Trinity for supporting the latter stages of the project," he said.
---