Dykhouse '22 Named Lincoln Laureate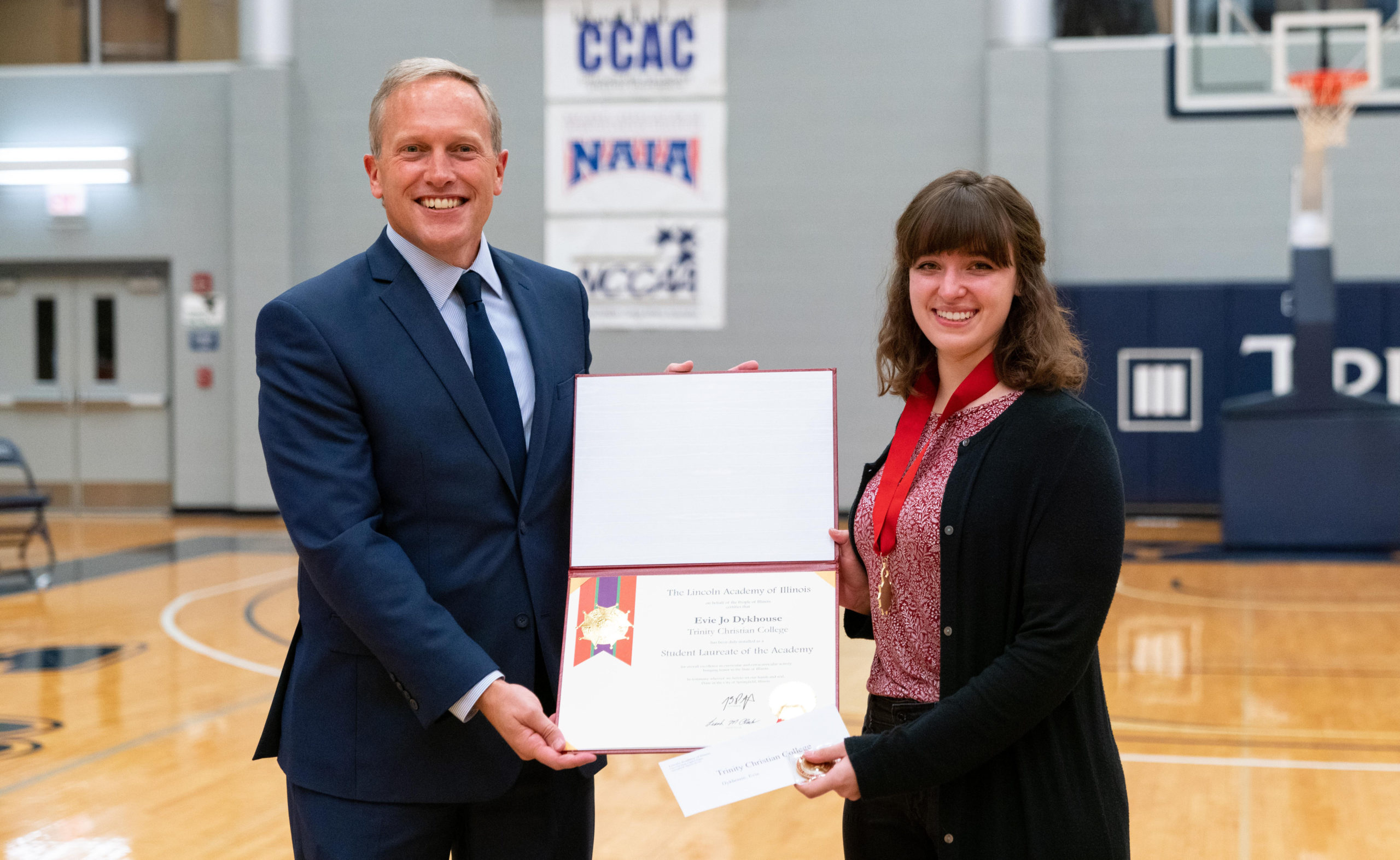 The Lincoln Laureate Student Awards honor Illinois college seniors for their leadership and service in bettering humanity and for their excellence in their academic and extracurricular work. And this year, Trinity is pleased to announce that Evie Dykhouse '22 has been named the College's Lincoln Laureate. 
For Dykhouse, who is double majoring in theology and communication arts with a concentration in media studies, the award came as a surprise. "I was honored to be selected," said Dykhouse, a native of Byron Center, Mich.  
While Lincoln Laureates are typically recognized in a ceremony in Springfield, that tradition has been altered because of COVID. So, the Trinity community applauded Dykhouse during halftime of the men's basketball game against University of St. Francis (Ind.) during Fall Fest. 
Along with maintaining excellent grades, Dykhouse is deeply involved on campus. She serves as a representative for the Student Government Association, as a tutor at the Writing Center, and as a prayer team leader. She is also, in her words, "incredibly involved" with Trinity's Theatre program, working in the box office and as president of Theatre Club. Along with directing a one-act play earlier this semester, Dykhouse is part of the Fall Mainstage Production "Macbeth," acting in the role of one of the witches and handling hair and makeup.  
Dykhouse also sets herself apart by how she serves, according to Trinity's Lincoln Laureate Committee. "Evie is an empathetic, kind, and thoughtful leader who is committed to the betterment of others. She demonstrates a generosity of spirit that is marked by humility and worthy of admiration. Her peers respect her deeply and Trinity's campus is a better place for her having been a student in this community," the committee noted. 
When she came to campus as a freshman, Dykhouse wasn't planning to major in either communication arts or theology. Instead, she was considering pursuing a psychology degree. "But I fell in love with communications," she said. In the summer of 2020, in the midst of COVID, she decided to add a second major in theology. "I've gone to Christian schools my entire life," she said. "I wanted to inform my morals going to work in the media world, which is known for being more secular. The theology degree has allowed me to think in different ways. It's the best decision I ever made." 
When Dykhouse graduates in May, she plans to pursue a job in the broadcast field.  
The annual Lincoln Academy Student Laureate Ceremony recognizes excellence in curricular and extracurricular activities by seniors from each of the state's four-year, degree-granting colleges and universities, and one student from the community colleges in Illinois. 
Trinity Christian College Lincoln Laureates  
2020—Ross Barz
2019—Indira Escalante 
2018 – Mallory Boyce 
2017 – R. Josiah Rosario 
2016 – Courtney Kalous 
2015 – Hallie Wisse 
2014 – David (Woody) Lucas 
2013 – Megan Anderson 
2012 – Adam Perez 
2011 – Alberto LaRosa 
2010 – Joseph Wydra 
2009 – Jon Vander Woude 
2008 – Caitlin Fillmore 
2007 – Elizabeth VanderSpek 
2006 – Allison Backous 
2005 – Erin Marshalek 
2004 – Rachel Van Oort 
2003 – Yvana Hansen 
2002 – Evan VanderZee 
2001 – Nate Bosch 
2000 – Laurie Johnson 
1999 – Hanna Vancer Zee 
1998 – Kristen Devine 
1997 – Heidi Boeck 
1996 – Julie Tinklenberg 
1995 – Keri Dyksterhouse 
1994 – Mark Mulder 
1993 – Kristen Hart 
1992 – Sarah Ver Velde 
1991 – Aron Reppmann 
1990 – Nathan Van Der Male 
1989 – Drew Sweetman 
1988 – Erik Hoekstra 
1987 – Kimberly Dykema 
1986 – Edward Wiener, Jr.  
---