One-Act Plays Return to the Stage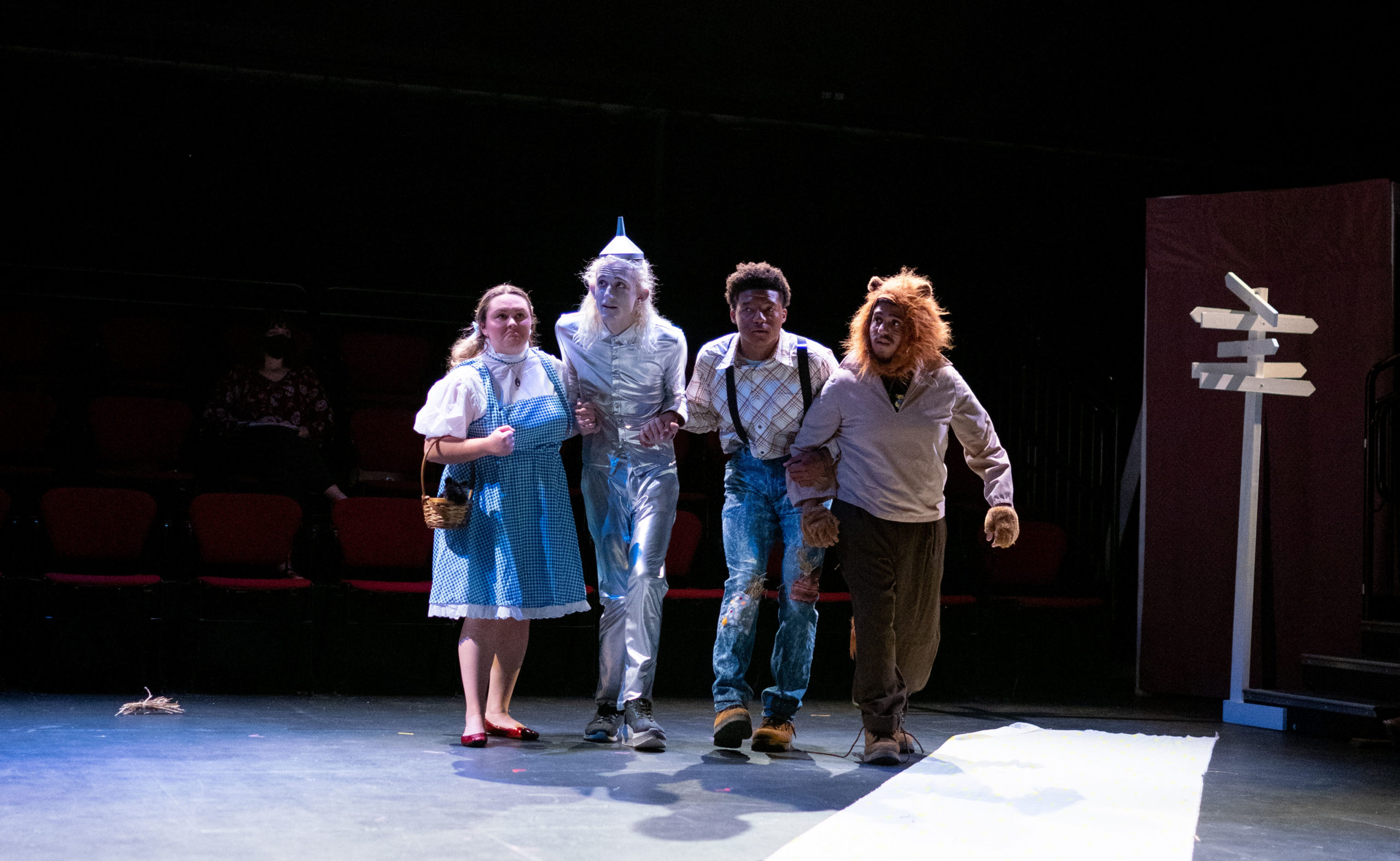 —By Patricia Yang '25
It had been a very long time since Trinity's theatre department has performed live, in-person, in the Black Box of the ArCC (Arts and Communication Center), in front of an eager audience. But this year was a step back to that: the 16th Annual Student-Directed One-Acts brought life into the Black Box on October 22 and 23!
Three unique plays were scrutinized, selected, carefully rehearsed and brought to life for this year's One-Acts: "Dorothy and the Wizard of Oz," by Steve and Kathy Hotchner; "Visitor from Forest Hills," by Neil Simon; and "One Lane Bridge," by Stephen Gregg. With each having its own fascinating and personal style, these selections gave everyone their own set of challenges, fun, and memories. All three plays also tied back to the Theatre Department's theme for the 2021-2022 season: "Resilience and Rebirth," a phrase loaded with the hope of returning to normalcy, determination to move forward, and finding new ways to perform on-stage.
Professor Emma Schneider '19, theatre's program coordinator since September 2020, was beyond thrilled to have this experience come around after the trying times of COVID. She, along with the directors and some actors of the One-Acts, joyfully relayed their experience.
How does it feel having performance in-person again?
"Oh, it feels so good. It's been since November 2019 that we had an in-person performance… So being able to be back in person feels like a return to normalcy in some ways. Even though the pandemic is still here and we're still making accommodations, it felt really meaningful to get back to a place where we could see live theatre, in person, indoors again." —Schneider
"It is amazing to be back indoors for theater performances. In the past year we've come up with creative alternatives to indoor in person theater which were still pleasant experiences; however, there's nothing quite like being back in the black box." — Matthew Huizenga '24, actor, "Dorothy and the Wizard of Oz" and "Visitor from Forest Hills"
"It felt amazing to perform in person again. I was blessed enough to perform in person for my last musical during my senior year of high school, but we had to do it in masks and that was a lot. But it was fun to perform in this show without masks in front of a big audience. It brought me a lot of joy to see people so interested in the arts again after being away for so long." — Michael Moore '25, actor, "One Lane Bridge"
"I am unbelievably grateful to have indoor, in-person performances again. While there were interesting challenges to working outdoors, there is nothing quite like having people in the intimate Black Box space to watch a story together. The energy is so much more electric when acting close to the audience; I was glad to have my actors—particularly in a comedic play—act in this space." — Alexandria Eggert '22, director, "Visitor from Forest Hills"
"My favorite part was the first day where we got to know one another and learn who our characters are. We read the script and made some inside jokes that I will never forget!" — Mariel Martin '23, actress, "Visitor from Forest Hills"
What were some memorable or favorite parts of the process?
"My favorite part of directing was meeting new people and seeing everyone grow in their skills. I really enjoyed being the introduction that many of these students had to Trinity Theatre as well. I had so much fun with the cast and crew of my production, and it was an honor and a joy to see them lean into their roles and produce an amazing show. We made a lot of friendships in a very short amount of time." — Evie Dykhouse '22, director, "Dorothy and the Wizard of Oz"
"My favorite part of this whole process was working with my fellow cast members. Since the cast was small we got to all know each other fairly quickly! There were a couple of times we would get done early with rehearsal and just have tea times or talk about our lives. By the end of the production, I felt like I'd gained a new family. And I am extremely grateful for the experience." — Moore
"The most memorable part of my directing experience would be getting to know the actors in my cast and being able to also act alongside them. My cast had a lot of people who were new to Trinity Theatre, and it was great to get to know them and introduce them to our traditions." — Ryan VanGilst '22, director, "One Lane Bridge"
"My favorite part was probably sitting in on each of the rehearsals. I get to see these plays at lots of different steps of their processes. I really loved going to each of the plays when they were in the middle of their work. It feels really special, because it's like watching something grow up, in a way. It's really cool to see how their ideas on paper were coming to fruition." — Schneider
"The experience felt memorable being the first time I've directed a play before. As an actor first, being on the other side of the process has given me a more rounded understanding of theatre. I would even say that it's more nerve wracking as a director than an actor. I remember walking out of the green room being more scared than I ever have before, realizing that stepping out of that room I had done everything I could. It was all out of my hands, what happened on the stage that night was now in the hands of my actors. I shouldn't have been that nervous, though. My actors made me so incredibly proud to have my name attached to that production. After so much dedicated work, they performed better than I could have hoped for." — Eggert
"I really enjoyed playing the role of the Tin Man in the "Wizard of Oz" – it was really fun to just randomly burst out in tears on stage and hear the audience roar in laughter." — Huizenga
 What were some challenges you faced?
"Something that was challenging for me and this production was learning how to balance theater with my other responsibilities as well as personal life. They are all things that require a lot of my time, so it was at times difficult to make them work together." — Huizenga
"On the COVID side, it posed some issues in terms of the big question: 'Can we perform unmasked or not?' We were really glad though that in the end we were able to! We're also all having to relearn, revamp our understanding of what it means to do in-person theatre with all the different production elements, with lights, sound, costumes, and the indoor space." — Schneider
"The most challenging part for me was during performances when I would hear the audience laugh but I could not see the hilarious actions on stage. I just wish there was a way for me to see it!" — Martin
"There were a few challenges that came with this production, some more physical ones in trying to figure out how to fit an actor out of a window, create a door that could withstand quite a beating, and set a blank space as one of the most expensive hotels in New York City. There were also some more soft challenges in making the cast feel cohesive even though Mimsey and Borden are only on stage for a brief moment." — Eggert
"One Lane Bridge did get off to a slow start because of some casting challenges. The actor pool was smaller than planned this semester which made it hard to cast every role in each show. It took a while to look for someone to act in the missing role. Because of this situation, I had to step into that role in the cast. This presented the new challenge of directing the one act while also acting in it." — VanGilst
How was your experience with the cast?
"I have never met a group of people who have clicked together so quickly to have a ton of natural chemistry and to have lots of fun together. It was a joy to watch them grow closer together and to grow in their acting abilities. Many of my cast members had not previously done any theatre before, so it was my honor to guide them through rehearsal and performance processes and to get to know all of my cast members as the wonderful people that they are." — Dykhouse
"Casting was interesting! There were many roles to cast and so many great actors that could fill them. The most particular challenge for me was trying to get a sense of the comedic timing and range of different actors in so little time. I only had the space for about five minutes per actor, so it was very condensed. I was very grateful for advice to come in with a plan for note-taking, because the whole process moves at such an incredibly fast pace." — Eggert
"My experience was amazing because my cast is so talented, lively, funny, and sweet. Steven Polcyn and Adriana Klein are honestly the most dramatic, hilarious, and nicest people to be around! They brought so much life and energy to Mr. and Mrs. Hubbly that I sometimes actually thought they were going to smash through the bathroom door to get me out. MJ, who played Borden, is so nice and he always has a smile. The first dress rehearsal, I remember him backstage whispering to me 'Hi, honey', which made me laugh because it was unexpected. I love them so much because they are always great company, even though conversations take strange and wacky turns. I will always consider them my family, the Hubbly and Isler Family!" — Martin
What are you looking forward to in future performances?
"I am very much looking forward to the musical aspect of next semester's Main Stage Production, 'The Miraculous Journey of Edward Tulane'!" — Huizenga
"Moving forward, I am the most excited to switch back into my regular role of acting for the future productions. I love all branches of theatre and I feel so grateful to have been able to direct this semester as it was all fun. However, I love acting too and I am excited to return to that familiar space for 'Macbeth'." — Dykhouse
"I am looking forward to being on the hair and make-up crew for Macbeth. There are a lot of special effects make-up for the show and I'm excited to show everyone what we have been preparing." — VanGilst
"The thing that I am looking forward to the most in future performances is what role I get to play next! I am also looking forward to acting in 'Macbeth' in a couple of weeks. This is another role that has pushed me as an actor as well!" — Moore
"Come to 'Macbeth'! It's going to be a really incredible show." — Schneider
With the close of the One-Act Plays, another performance is heading up stage. Coming soon is the Theatre Department's first mainstage play of the 2021-2022 academic year, "Macbeth." Directed by Kim Darling, this version will include a note of hope, tying in with the Resilience and Rebirth theme. There will also be sword fights, dramatic lights, and murder!
Performances of "Macbeth" are taking place Nov. 12, 13, 19 & 20 at 7:30 pm in the Marg Kallemeyn Theatre in the Arts and Communication Center. Reserve your tickets here to witness one of Shakespeare's famous tragedies.
---