Emma (Darcy) Schneider '19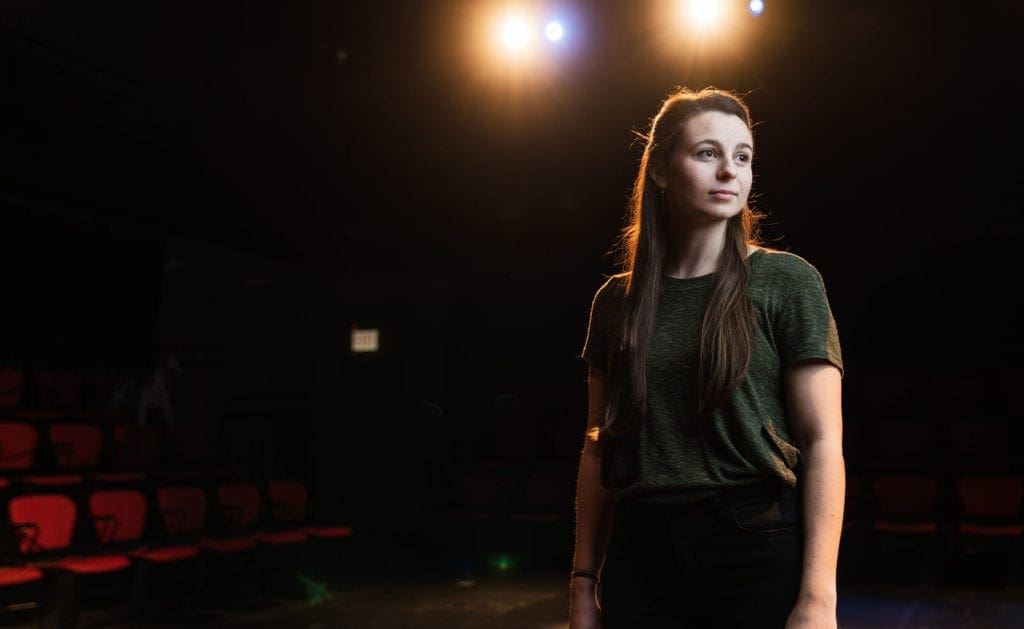 During her time at Trinity, Emma (Darcy) Schneider '19 explored her love of theatre. As part of Trinity's Theatre Club, the English education major participated in plays on campus and was nominated for the Kennedy Center American College Theater Festival's prestigious Irene Ryan Acting Scholarship.  
After graduating in 2019, she spent a year teaching English at the high-school level. But she missed theater and decided to earn a graduate degree from the University of Chicago in Theater & Performance Studies while serving as theater program coordinator at Trinity. Now, Schneider's connection to Trinity is deepening as she looks forward to serving as adjunct faculty and interim president of the Theatre Department 
Schneider said her time at Trinity enhanced her appreciation for both theatre and literature. "Dr. John [Sebestyen, Ph.D., associate professor of communication arts and director of theatre] has certainly been one of the most influential people in my life, and that started in our collaborations within the theatre department. I also took several of his classes just because I loved theatre so much, and I always enjoyed learning from him," said Schneider. She pointed to other life-changing courses as well, such as Dr. Mark Jones's Shakespeare class, Dr. Michael Vander Weele's English Senior Seminar, Dr. Erick Sierra's Transatlantic Literature class, and Dr. Bill Boerman-Cornell's Secondary English Methods.  
Schneider enjoyed teaching high school students after she graduated from Trinity but realized she was missing theatre. "While I was teaching high school students, I was able to incorporate one play into my curriculum for each class. These units were my favorite to teach, and my excitement about them translated well to my students, too," she said. "Teaching these units made me realize how much I missed being involved in theatre and theatre studies, so I decided that as I moved into a goal to teach at the collegiate level, I would focus my work in theatre and theatre literature." That involved exploring grad school. 
A Degree from University of Chicago, a Return to Trinity
A native of Morton, Ill., Schneider was living in the Chicago area with her husband Tyler Schneider '18. After exploring area theatre programs, she decided on University of Chicago's master's degree program in Theatre and Performance Studies and began classes there in the Fall 2020. Around the same time, she was in conversations with Sebestyen. The opportunity to take on the part-time role of Trinity's theatre program coordinator developed from there. 
Like so many aspects of life over the 18 months, particularly in education and the arts, COVID-19 impacted Schneider in her work and studies. Yet she adapted and brought her creative talents to new ways of expression within COVID constraints. 
For example, during the Spring 2021 semester, she wrote and directed her own interactive play on campus, "Investigative Support," which premiered at Trinity. The play was inspired by work on her master's thesis, which involves the role of audience members in the theater-going experience. "Investigative Support" took place outside on the Trin Trail in March, to allow for safe social distancing.   
At University of Chicago, most of her classes were virtual, presenting a unique way of studying performance arts. Schneider prepared a piece for presentation that involved the audience in a unique way. "It was more of a performance piece that reflects members of the BIPOC and LGBTQI community," she said. The actors participating in the piece formed a circle while delivering monologues, and audience members were surrounded by voices, with the opportunity to step out of the cacophony and focus on just one speaker.  
Now that she has finished her master's degree, Trinity will continue to be a home for Schneider as she takes on additional roles here. Along with teaching as an adjunct professor in the Communication Arts department, Schneider will stay in her role as theatre program coordinator and serve as interim president of the Theatre Department while Sebestyen is on sabbatical during the 2021-22 academic year. She will also be directing Trinity's mainstage play in Spring 2022. 
"Trinity has always been a strong home to me. I'm blessed to be here," she said. "I'm really thankful to be part of this community and to see my roots here continuing to grow."