"Nailed It!"—STAC Brings Back Exciting Cake-Decorating Event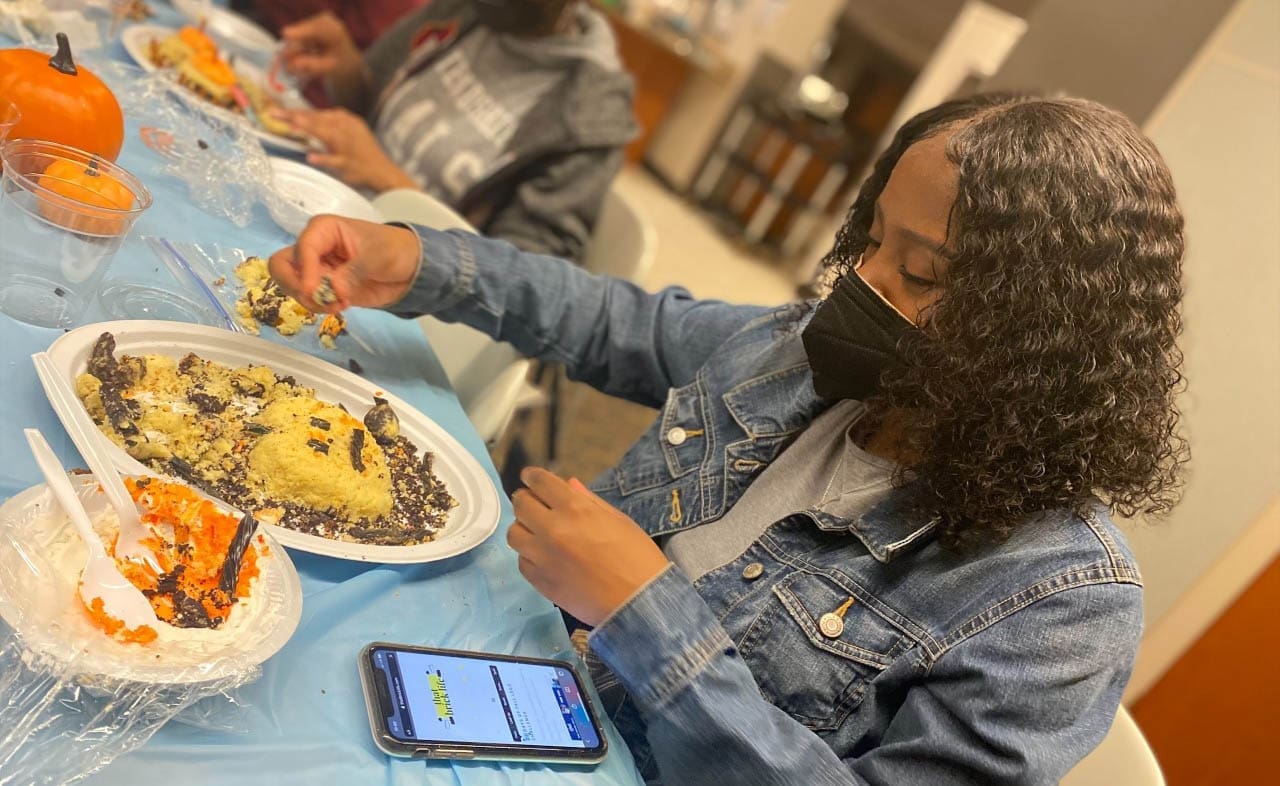 — by Patricia Yang '25
The Dining Hall was alight, active, and alive in the late hours of the night. Students clamored around tables, excitedly decorating cakes, throwing on any (or all) decorations they could find. It's a competition where the best cake—or the worst–wins. It's "Nailed It," the cake-decorating event by STAC (Student Activities), led by sophomores Adriana Klein and Zain Fakhoury.
Inspired by the Netflix show of the same name, "Nailed It" had been hosted last year, when Fakhoury was seeking an activity that was COVID-friendly but still enjoyable and fun. "It was one of the highest turn-ups during COVID," said Fakhoury. Because of its huge success, Fakhoury was excited to host it again this year with Klein, who loved the idea.
She and Klein had planned this event four weeks in advance, making sure to coordinate with the Dining Hall staff, seeing to it that all supplies were accounted for, and having enough time to set it all up. Even then, little things like forgetting to buy knives for cake decorating tools happened. "I feel that people don't know how much planning goes into events," said Fakhoury. "Even the smallest details have to be put into consideration."
Klein and Fakhoury related that the biggest challenge to hosting this event was keeping the cost of the cakes manageable. "We also wanted the students to have the option of eating their cake, so we had to be cautious of that," said Klein. They explored seven different bakeries, all of which were above budget. "Adri came up with the idea of going to Sam's Club and asking them for sheet cakes," said Fakhoury. "So, we went there, and we came in under budget!"
Fakhoury also mentioned how she had to lead the event that night due to Klein's involvement with the Theatre Department's One-Act Plays, which were being performed at the same time. Fakhoury explained: "So I had to actually work the whole event while she was acting." Next time, said Fakhoury, she hopes that "Nailed It" would be on a different day so this time difference would not need to occur.
But despite all difficulties, both Klein and Fakhoury thoroughly enjoyed the planning process and the event itself. Fakhoury added that she was thrilled how the committee all came together this year to bring the event to life. "We never had that last year," said Fakhoury. It was a good bit more work to put the event together last year, and this year, Klein and Fakhoury were happy to have help from more people in STAC. They also agreed that the shopping experience for "Nailed It" was a grand time for the both of them. "Planning everything, going on shopping trips, and preparing the ingredients the day of were some highlights for me," said Klein. "We worked really well together!" Fakhoury added: "Adri's such a chill person, and I really enjoyed the bonding time we had together. It felt like two friends hanging out, which was really nice."
"Nailed It" was a blast and simply a thoroughly enjoyable experience for all. The Dining Hall was filled with laughter and chatter as Fakhoury announced the winner and wrapped up the event. "Though at times we were very stressed, everything came together beautifully," said Klein.
The cake-decorating event inspired by the Netflix show will most definitely come back again next year, as confirmed by both Fakhoury and Klein. "People love it," smiled Fakhoury. "It's just a tradition at this point."
Contact or find out more about the STAC Club through its Instagram page.
---