Dykhouse Advances to Finals in KCACTF Competition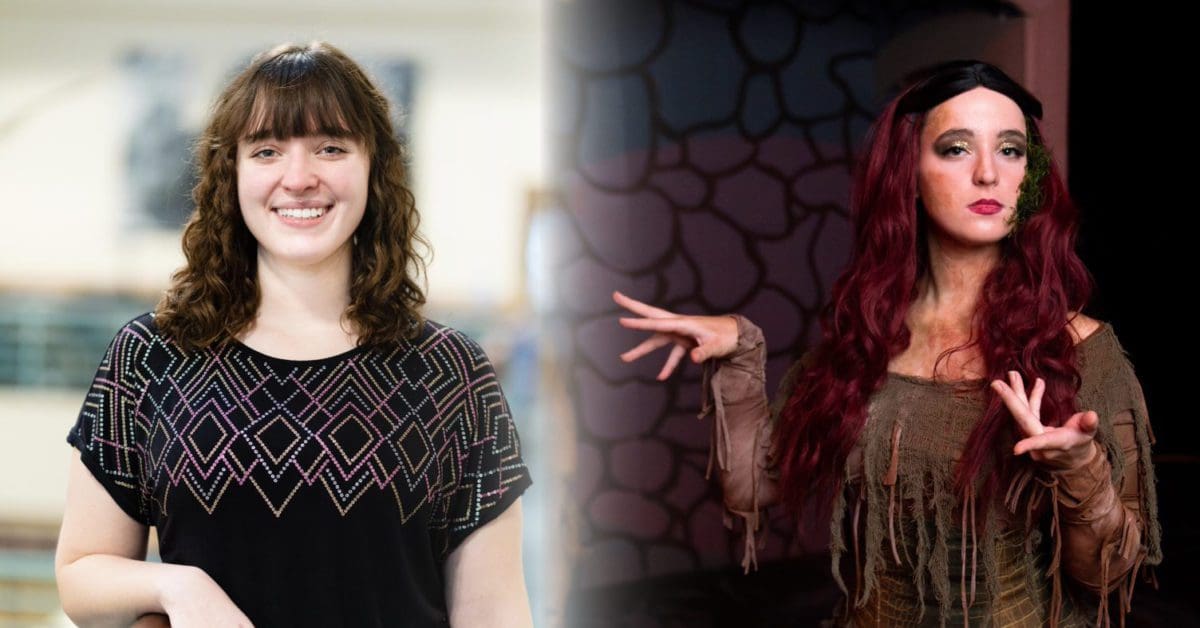 —Patricia Yang '25
We congratulate Evie Dykhouse '22 for advancing to the final round of KCACTF's Region 3 "Allied Design and Technology Expo" competition! Her submission and presentation of Trinity's Fall Mainstage Production of "Macbeth" makeup and design, which she co-designed with Dani Daujatas, has progressed far into the competition, much to her surprise and delight. Her submission included makeup and design for the Weird Sisters, Banquo's ghost, and the subtle changes of Lady Macbeth's makeup.
KCACTF stands for the Kennedy Center American College Theater Festival. The purpose of this festival is to gather theatre students and practitioners from all around and present them the opportunity to share their work. Design, acting, production showcases, and journalism are but a few of the events and competitions KCACTF hosts. Region 3 includes Illinois, Indiana, Michigan, Wisconsin, and Western Ohio.
"I participated in the festival in person in January of 2020, and I wanted to go back," Dykhouse shared. "I had such a fun and great experience last time, and I wanted to make sure that I had the chance to participate again before I graduate this semester." She also mentioned that a respondent had come to Trinity's "Macbeth" production, which Dykhouse herself also acted in as one of the three Weird Sisters. "She was super appreciative of the design and told me that I should really consider entering it into the competition."
Dykhouse put together a presentation complete with overarching motifs, hair and makeup inspiration photos, process documentation, and pictures of the final result. "I focused heavily on the design for the Witches. I knew that the three-dimensional aspect of this part of the design would appeal to the respondents," said Dykhouse. "However, I also had slides dedicated to the hair and makeup for Banquo's ghost, the hair and makeup that differentiated characters who were double-cast, and the hair and makeup that represented psychological changes that characters went through," such as Lady Macbeth.
The most challenging part for Dykhouse was trying to be prepared for any questions the respondents would ask. She shared, "Many of the schools that Trinity competes against have complete departments dedicated to theatre. Their budgets are much higher, so they are able to spend more money for elaborate designs. Since it is a competition, Trinity has to stack up with the schools known for their theatre programs. This was a challenge, but it also made it more of a delight to advance to the final round."
The most memorable experience was listening to the other presentations from the student designers, said Dykhouse. "I learned a lot and it was super interesting to see the creativity of the other presenters." Another fond memory for her was when she found out that her design was moving onto the final round. "The celebration with my family and Trinity theatre friends from a distance was a very memorable moment in my experience of the festival this year."
"Even though I ended up not being able to return to campus for KCACTF this year, I was still incredibly thankful for the chance to present the 'Macbeth' hair and makeup design at the festival. It was an absolute blast, and I would do it again in a heartbeat," said Dykhouse. "A part of me was feeling unmotivated that the hair and makeup design for 'Macbeth' was not worth entering because it would not be able to stack up against the others in the virtual festival. But now I am feeling so incredibly grateful and blessed to have had the chance to present Dani and my work and receive recognition for it in the festival."
Trinity Theatre is blessed to have such talented designers and production artists, Prof. Emma Schneider '19, Trinity's theatre program coordinator, said. "Evie's presentation of the Hair and Makeup design, which she and Dani co-designed for 'Macbeth,' was truly stunning. I am so proud of Evie for the poise, professionalism, and attention to detail with which she approached the Allied Design Competition, and I am thrilled that the judges recognized and appreciated the hard work that she and Dani put into their design."
Along with Dykhouse's award, Adriana Klein '24 and Jacob Contreras '23 advanced to the semi-finals of the KCACTF Irene Ryan Acting Competition!
Find out more about Trinity's theatre department by following @trinitychristiantheatre on Instagram, or email Schneider at Emma.Schneider@trnty.edu.
---