Escalante '19 Participates in Wylie Internship Prep Program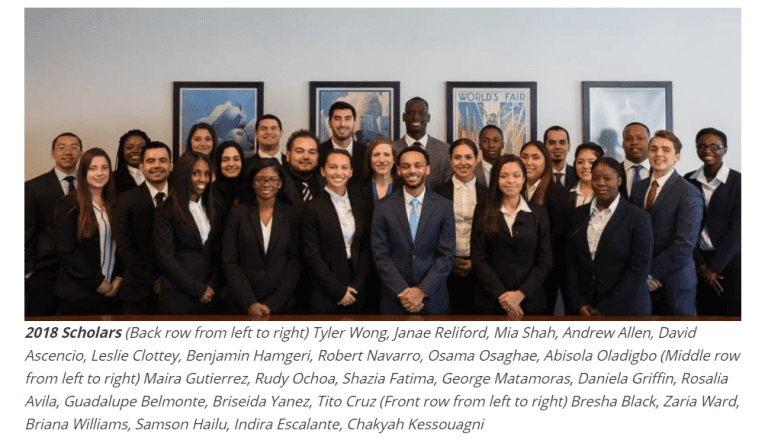 Thanks to her recent participation in the prestigious Mary T. Washington Wylie Internship Preparation Program, accounting major Indira Escalante '19 has secured an internship at Deloitte, made valuable connections, and gained a better understanding of the accounting industry.
Escalante, who is a native of Honduras and a graduate of Hoffman Estates [Ill.] High School, was one of only 25 students accepted into three-day program, which took place in January. The annual event, which is organized by the Illinois CPA Society (ICPAS) and sponsored by the CPA Endowment Fund of Illinois' Mary T. Washington Wylie Opportunity Fund and other private firms and public accounting firms, is designed to launch minority college students into the accounting profession.
"I'm grateful for the team that worked really hard to support us through our application process, through the program, and after the program," said Escalante, who first heard about the program from Dr. Lynn Spellman White, professor of accounting. "I learned valuable information about job opportunities in accounting, was given the opportunity to start networking and build relationships with people in the field, and I learned a lot about what I need to start working on to prepare for the CPA exam and my career."
According to White, Escalante is the first Trinity student to be accepted into the program. "Indira is a fantastic student, and this is an incredible opportunity," White said. "She has the heart to serve in God's kingdom, and every industry needs accountants and those with financial literacy."
Throughout the program, Escalante and other participants stayed in downtown Chicago and attended workshops and sessions at the ICPAS headquarters. "Each day, we heard from a panel of professionals in public accounting and accountants in private organizations. We also had presentations by guest speakers from PricewaterhouseCoopers, Sikich, Deloitte, Ernst and Young, Crowe Horwath, Abbott, and DePaul University on topics about resume building, interview skills, business etiquette, CPA exam preparation, working styles and skills, mentorship, and internship expectations and preparation. At the end of the program, the participants got to interview with three to four recruiters from various public accounting firms for accounting internships."
Escalante and the other participants also learned more about Wylie, the first female African-American CPA in the United States. In 1939, Wylie founded her own firm, known today as Washington, Pittman & McKeever. "We learned about her dream of seeing African American and other minority students succeed as accountants. Due to systematic racism and sexism, it was very challenging for her to succeed in a field with a predominant white, male population. Her story is very inspiring to me," Escalante said.
Participating in the program has already led to an internship, she said. "One of my interviewers at the program works at Deloitte. A few days after the program, I was contacted by the recruiter from Deloitte, who had given a presentation at the program. I was given the opportunity to be interviewed by the firm again," she said. Escalante recently found out she has been accepted into Deloitte's summer internship program, known as the Discovery Internship. "I know that this will definitely prepare me well for a career in accounting," she said.
---